This National Scotch day, I'm going deep with some of my frustrations with my past, and highlighting some of the best that the scotch world has to offer. I've even thrown together a delicious sipper that combines a bit of China China liqueur and Chocolate Bitters to highlight the complexity of the scotch featured here.
Throughout my bartending career, I always seemed to work in an environment where it's assumed that the female bartender is just a cocktail waitress and couldn't possibly understand the depth of knowledge when it comes to scotches. Whenever I know I've gotten this assumption, I find a subtle way to educate and offer suggestions, which 9 times out of 10 always surprised people. I'll admit that I'm hiding a massive grin at this point, because I see the light in their eyes when they realize that they are communicating with a professional. And that's the thing… I've been wanting to change the face of a bartender for a long time now. Before Liquid Culture (B.L.C.), I'd always feel frustrations with this very COMMON scenario, and the reality is, the cocktail scene still has a lot of learning and growing here in Canada.
So what made me interested in scotches? Well, like anyone else, in ANY industry, you have to learn and understand what your clients want. Having worked in the financial district, I knew this was something that I would have to invest some time and knowledge in. I don't drink enough scotches anymore, because I've replaced it with aged tequilas, but my basic understanding is there, and you'll be surprised when it comes in handy.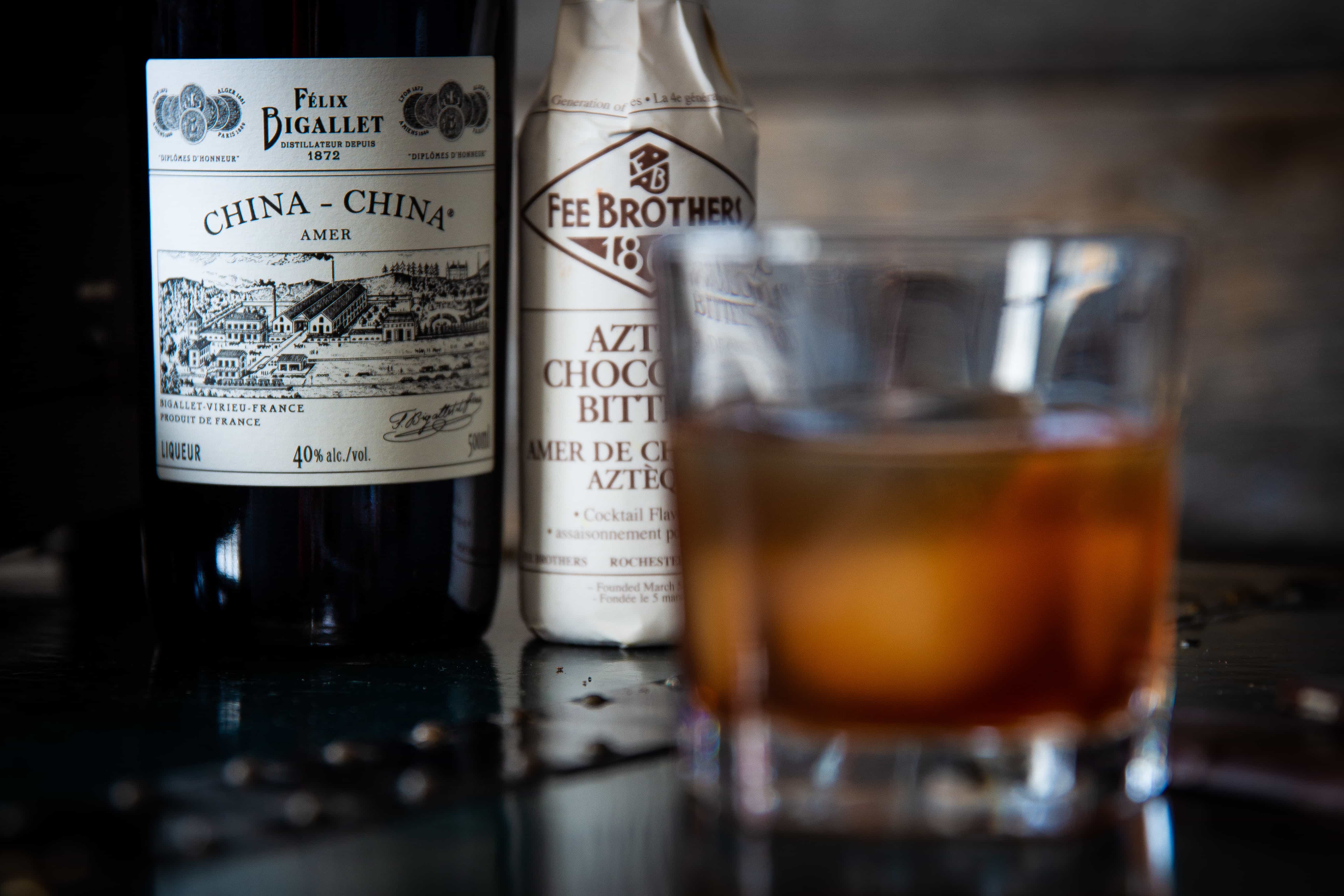 I mentioned earlier that I paired this cocktail with China China Liqueur. You probably haven't heard of it either. I know I didn't, until a fateful day browsing through my local LCBO. The best way I can describe this product is the happy medium to a Fernet Branca which can overwhelm in bitters and herbs, but not as sweet as a red vermouth. Coming out of France (having nothing to do with China), I found this to be the perfect balance of bitter and sweetness, and it even got recognized in the 2014 San Francisco World Spirits Awards with a Silver Medal.
Because I wanted the scotch to be a predominant feature here, I kept the liqueur to a minimum, with a gentle introduction to some chocolate bitters. You don't see a ton of 'single malt' scotch recipes, because it's like shaking a cocktail with aged tequila. They are meant to be consumed on its own, so it's hard to cloud it with other spirits that don't match up or masks its unique flavours. I think I've done it justice here though by choosing a truly special liqueur that highlights the scotch, rather than masks it. Cheers to a responsible and delicious weekend!
National Scotch Day - Bitter Cocoa
A sweet and savoury cocktail highlighting the delicious components to this single malt scotch.
Difficulty: Easy
Ingredients
2

oz

Glenmorangie Original

¾

oz

China China Liqueur

3

Dashes Chocolate Bitters
Instructions
In a mixing glass filled half way with ice, stir all ingredients and strain over 1 large ice cube.

Garnish with shavings of dark chocolate
Recipe Notes
I chose Glenmorangie here because I think it's one of the most approachable scotches in the market. Whenever anyone is looking to get into scotches, this is one of the first bottles I grab. It's a smooth, rich and subtle introduction, and great for those that appreciate a good bourbon. They can definitely appreciate this, before jumping into some of the other single malts out there.