You know what I love about this cocktail? Even though it has a hint of chocolate, this cocktail is deceptively refreshing, with an abundance of mint, cherry, herbs and citrus to balance! So I decided to name this is the cherry bounty, and I'm excited to bring you this recipe today!
I created this cocktail with one focus in mind, and that's to find new ways to utilize Green Chartreuse. I'm a big fan of Yellow Chartreuse, but I find that I'm still shy and timid to experiment with the green variety. If you're unfamiliar, Green Chartreuse leans towards a more bitter and herbacious style of liqueur, while the yellow is a touch sweeter with hints of honey and saffron. Yellow Chartreuse is extremely easy to work with, whereas the green variety is a bit more particular with who she wants to be paired with.
Since I wanted to highlight the bright and sharp notes of Green Chartreuse, I knew I needed flavours that would compliment and that were loud in nature, so it would not get overwhelmed by this liqueur. While trying to decide what I was going to create here, I noticed that I had a ton of cherries lying around in my fridge, and I hadn't created a cocktail with this summer ingredient yet. From that point on, the rest of the ingredients just seemed to naturally come together. I threw in some fresh mint, soaked a white sugar cube with chocolate bitters for a touch of a sweet and savoury note, and I decided to use a Gold Rum!
So why did I choose a Gold Rum? In truth, I still wanted to keep this cocktail refreshing, and going with a dark, syrupy, vanilla over-dosed rum was not going to do it for me, but on the other side of things a white rum would get easily masked with everything going on in this cocktail. That left me with the alternative, which is a happy medium of a gold variety. I've always been a fan of Mount Gay, so I ended up using this brand for the cocktail featured here. Don't feel restricted by this though, you can always experiment with some of the other delicious rums out there and let me know how it tasted!
OH and as an added bonus…No syrups are required for this cocktail! I know what a relieve, since I love to be extra with the syrups. So make sure to check out the recipe below!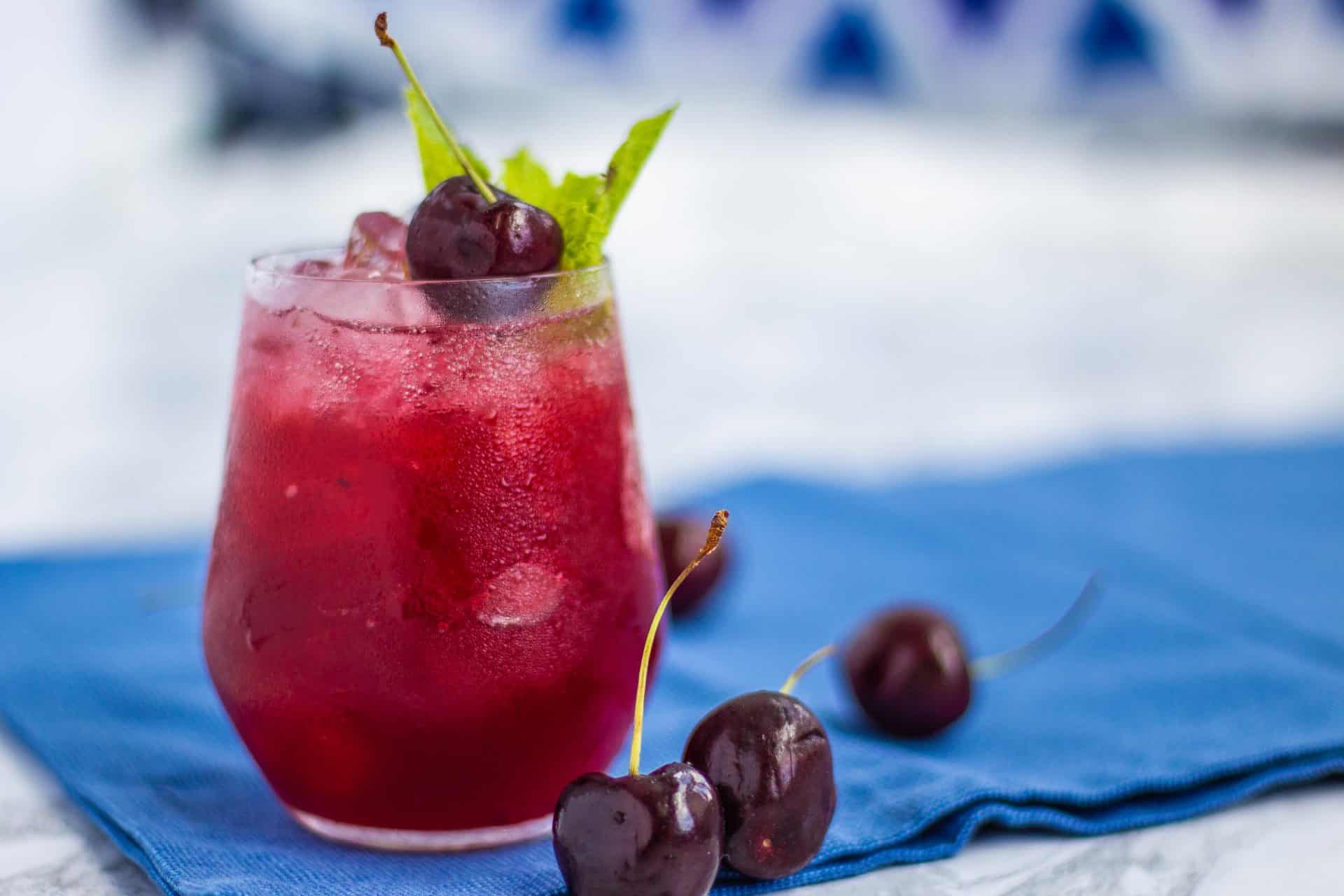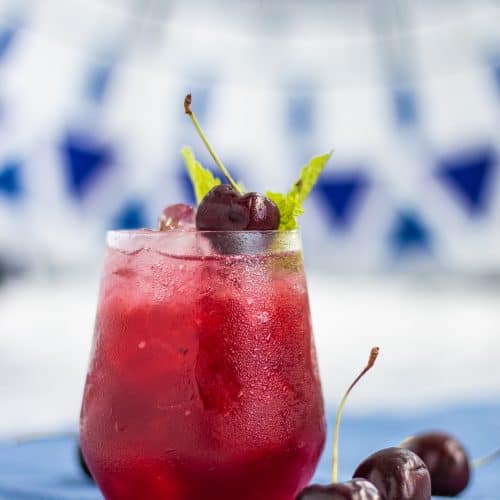 Cherry Bounty - Cherry, Chocolate and Mint Cocktail
A refreshing beverage that combines some bright summer flavours with hints of Green Chartreuse, Chocolate and Rum!
Difficulty: Intermediate
Ingredients
6

Cherries

pits removed

1

White Sugar Cube

4

Dashes Chocolate Bitters

1/3

oz

Green Chartreuse

6

Mint Leaves

plus one sprig for garnishing

1/3

oz

Freshly Squeezed Lemon Juice

1¾

oz

Gold Rum

Mount Gay Eclipse used here

½

oz

Club Soda
Instructions
In a shaker, place sugar cube and soak with chocolate bitters. Place 5 cherries inside and muddle until well dissolved, and sugar incorporated.

Add Green Chartreuse, 6 mint leaves (lightly pressed), lemon juice, and Rum. Fill shaker half way with ice and shake.

Strain over glass with crushed ice and top with soda. Garnish with extra mint sprig and cherry.