Boozy Gelato Floats will always be an obsession of mine, especially with Summer packing in some serious heat. No I'm not a Canadian that's about to start complaining that it's too hot…because I have this refreshing Strawberry gelato, lavender, mint and Creme de Violette Beer Float to help save the day!
I created this concept with one vision in mind, and that's to utilize Creme de Violette in a totally different and unique way. Thanks to this creation here, it landed me a pretty amazing gig, and you'll start to know what I'm talking about in a couple weeks! In the meantime, to tie in my article of how to utilize bottles that like to just hang out at your bar and collect dust, I've brought an exceptional floral and berry beer float to get you all sorts of cool this summer.
What I love about these boozy gelato treats is that they are a two-in-one STEAL, combining gelato and booze all into one final course. Not to mention, this is INSANELY SIMPLE to create. No syrups or prep work necessary! So this can be a delicious treat on the fly!
In terms of the flavours I chose, I knew I needed a berry to compliment the Creme de Violette, which in essence was the star ingredient I was trying to highlight. This floral and violet liqueur can be hard to pair at times, except for the obvious Classic Aviation cocktail, but I think I've found the perfect balance here, especially for those that hated how sweet this liqueur can get. Don't have Creme de Violette? You can easily supplement it with the Creme Yvette, or even St Germaine would go nicely. Tell me how you prefer it best by commenting below!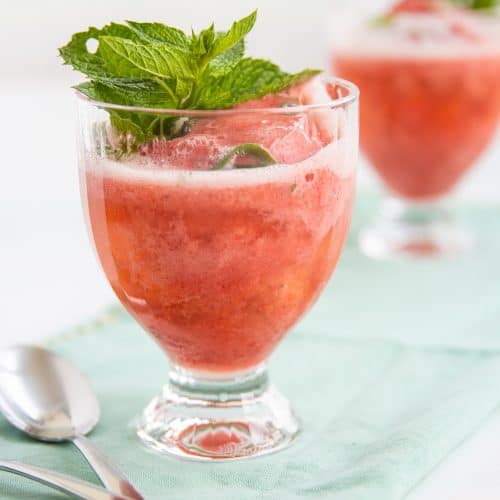 Strawberry, Lavender and Creme de Violette Float
A delicious sorbet boozy float that combines a Strawberry Gelato, Lavender, Mint, Creme de Violette and a Wit Beer!
Difficulty: Easy
Ingredients
2

scoops

Strawberry Gelato

1/3

oz

Creme De Violette

2

sprigs

Lavender

Slightly chopped

1

sprig

Mint

2

oz

Wit Beer
Instructions
Place 2 scoops of Strawberry Gelato or Sorbet in container of your choice

Place chopped up lavender inside bowl, topped with Creme de Violette and Wit Beer
Recipe Notes
The strawberry gelato can easily be replaced with a berry or floral sorbet to tie in the flavours of Creme de Violette! Berries are definitely a win here!