The 2022 Holiday Season is already off to a terrific start on Liquid Culture. From the #AmarulaGives campaign, to the 2022 Holiday Beverage Gift Guide, and NOW an easy recipe to build for your Holiday Festivities. We're making a Holiday Vodka Spritz, stirred with a homemade Cranberry and Jalapeno Syrup and sparkling wine. But the star of this show is the Latvian Stoli Premium Vodka, and I'm ready to share the details!
Choosing Your Vodka
First and foremost, this is a paid post. The holidays are a busy time, and a business woman needs to get paid! But I want my readers to know, even if I didn't have the support of Stoli, I would support this Vodka regardless. This Vodka is a wonderful Budget-Friendly option for my friends here in Ontario and abroad. They're an easy go-to for delicious Vodka recipes, and I'm happy to have them behind my bar.
Of course, if you have other vodka's in hand, or want to support a local variety, by all means do what you gotta do. But for accessible options, Stoli Vodka is definitely a favourite in this household.
Making your Cranberry & Jalapeno Syrup
I mentioned in the beginning of this post of a Cranberry Jalapeno Syrup. Before you start thinking "oh no, another syrup recipe", I did pick these ingredients with purpose. With the Holiday Season here, Cranberry sauce typically makes its way to the table. So with that said, I wanted to make sure you utilized ingredients that were accessible and likely part of your menu this season!
The Naughty part of this recipe would definitely be the Jalapeno infusion. My only thing with this is to be mindful of how much you put. A little goes a very long way, even if you love your spice. Because the last thing you want to do is create a syrup that's too hot, and then you can't taste any of the other ingredients in the cocktail. So stick to a small amount, taste the syrup throughout to make sure there is some sort of heat and then remove and strain!
As promised, for those really not wanting to go into the kitchen longer than necessary, I'm sharing some other syrups suggestions you can use in this recipe; KVAS Ginger Wildflower Syrup, KVAS Cranberry Rosemary Syrup, RAFT Cranberry 5 Spice, Porter's Cardamom Orange Tonic Syrup, Split Tree Cranberry Ginger Syrup. The brands listed were just from a quick search at my local Cocktail store here in Toronto. But look into other specialty shops in your area as well!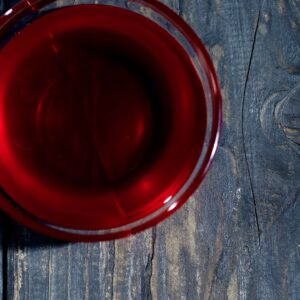 Cranberry Jalapeno Syrup
Easy Holiday Cranberry Syrup for your cocktails, with a bit of heat to the mix.
Difficulty: Easy
Ingredients
1

cup

Fresh Cranberries

or frozen

1

cup

Water

1.5

cup

Granulated Sugar

2

Orange Peels

1

Cinnamon Stick

1/4

Fresh Jalapeno

seeds removed and sliced
Instructions
In a small saucepan, combine fresh cranberries (or frozen), water, granulated sugar, 2 orange peels and 1 cinnamon stick.

Stir to dissolve sugar and let this come to a boil. Bring to a simmer.

Add in ¼ sliced Jalapeno (without seeds – adjust to your preference). Let this simmer for 5 – 8 minutes while

cranberries pop.

Strain and let the syrup sit until it reaches room temperature before use.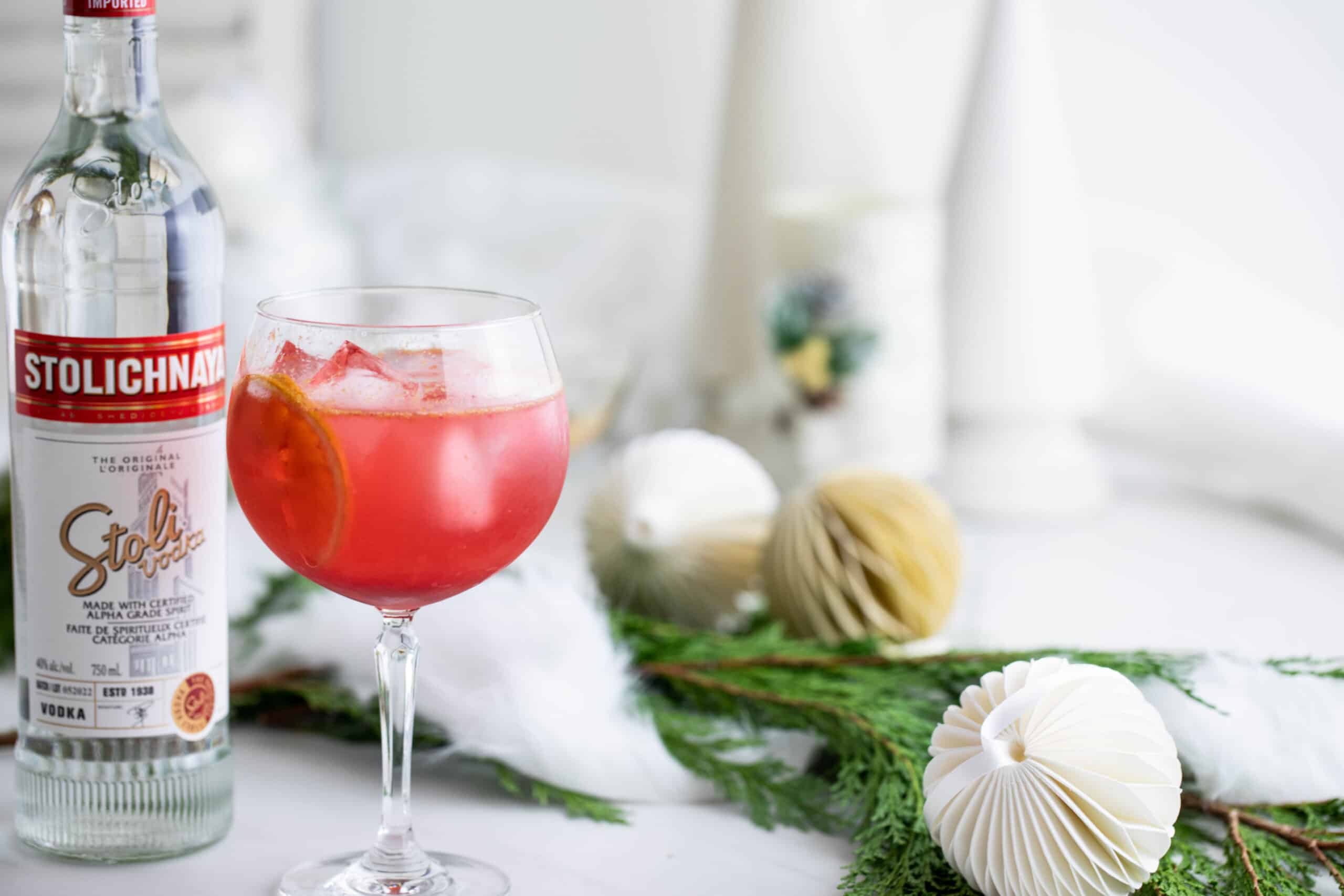 Building your Holiday Vodka Spritz
Here's the thing about this recipe, if you've read this whole write up, it probably took you longer to read this than what it would take to make this cocktail. So I'm keeping things short. Cranberry Sweetness with Jalapeno were the Naughty and Nice component. Stoli offers that great, easy base, where any flavour combination becomes a possibility. And of course, there needs to be the sparkling element. I typically lean towards something local, which is why I brought out the Henry of Pelham, but use a Brut or Dry Sparkling Wine that is accessible to you! Just try to avoid one with a ton of sugar as that will affect how much Cranberry Jalapeno Syrup you put in this Holiday Vodka Spritz.
Naughty and Nice Vodka Spritz
This Holiday Vodka Spritz combines Cranberry and Jalapeno with the iconic Latvian Vodka – Stoli!
– Difficulty: Easy
Ingredients
1.5

oz

Stoli Vodka Premium

1

oz

Cranberry Jalapeno Syrup

3

oz

Sparkling Wine

1

Dehydrated Orange Wheel
Instructions
Fill your Balloon Glass with ice and add in your ingredients.

Top with Sparkling wine and garnish.
Want to find more Holiday inspiration here? Check out all the possibilities this Holiday season!