I'm going out on a limb here and state that everyone in Ontario is over winter. After an insane weekend of freezing rain and what felt like an ice storm, I almost question why I don't live the coastal life. But in all honesty, I love Toronto, and I'm happy to call it home. Plus with a bit of tequila stacked up on my bar, I can easily create the illusion of summer vibes with a margarita cocktail. So this Spicy Peach Margarita is for all my Torontonians out there, desperate for some Vitamin D. Liquid Culture's gotchu!
My homemade peach syrup plays an important role with this margarita. Since Ontario is limited in terms of high quality peach schnapps and brandies, I decided I would make my own syrup with a touch of peach liqueur to tie this margarita together. For this cocktail I use a favourite of mine called RinQuinQuin, but I understand this isn't always available.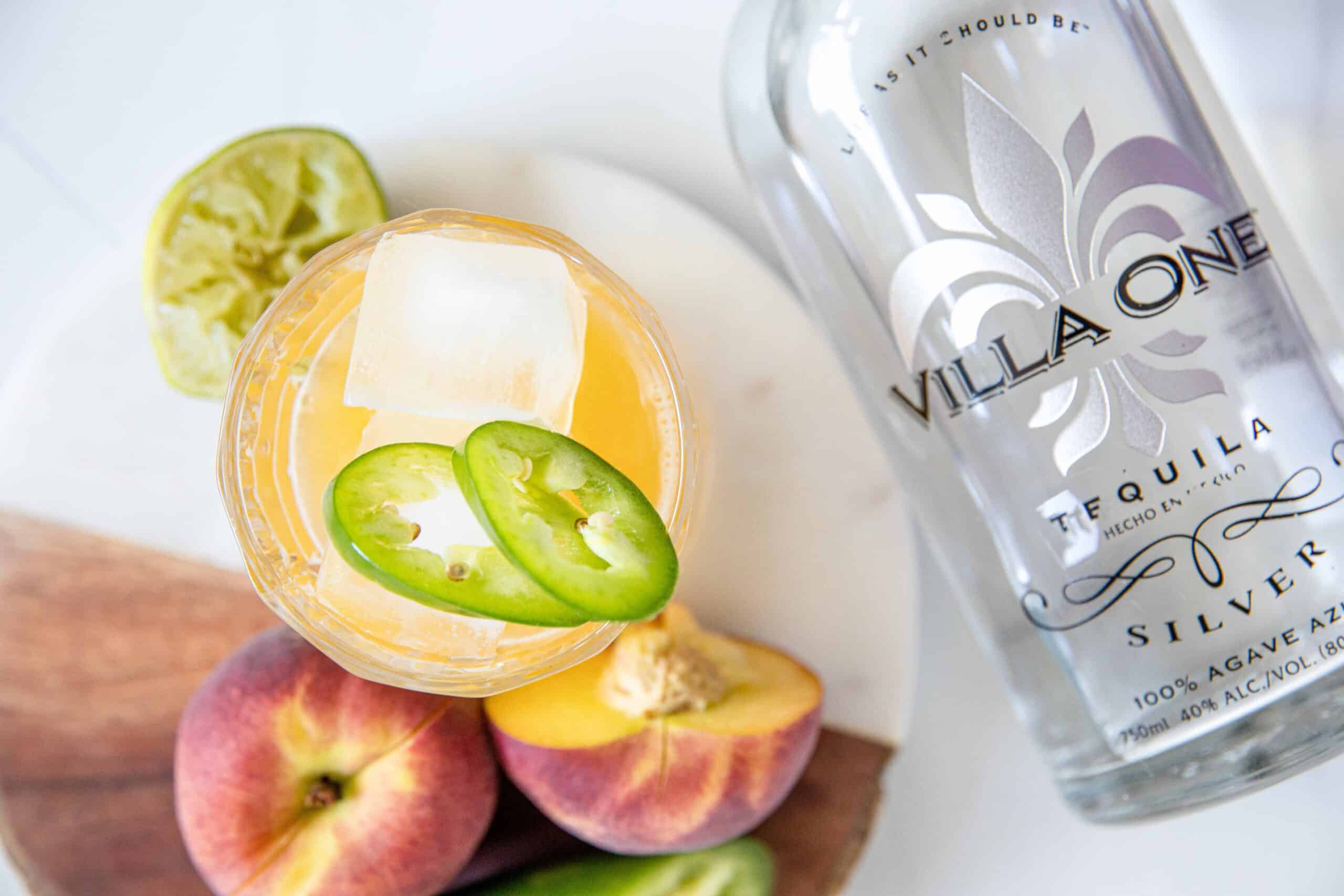 I like to pick items that can be found in our local LCBO, because there is nothing more annoying than having these delicious looking cocktail inaccessible to the general public. It's frustrating and with time I hope our systems improve. But until then, I'm going to give you the best that we have to offer and in future, hopefully provide you with some premium products you'll love! A Peach Schnapps can definitely work here or some sort of brandy. I may adjust it slightly though so we have a balanced cocktail (aka I may add a little less so it isn't as sweet!)
In terms of the spice, I throw in the jalapeno at the very end of the cocktail. Believe me, jalapenos can quickly overwhelm a cocktail, so I would use this sparingly so that you don't lose some of the other flavours. I would start off with two slices and build from there. Allow it to steep in the drink for 2 minutes before making your judgment. Of course, there is the option to add the jalapeno in the shaker, but I would recommended cutting the smallest slice possible, and leave it to just 1. Before you start assuming I can't handle spice, I live for curries and jerk spices, and if I could, I would eat roti's everyday. But the whole issue here is about balance, and it's the most important element to making this right!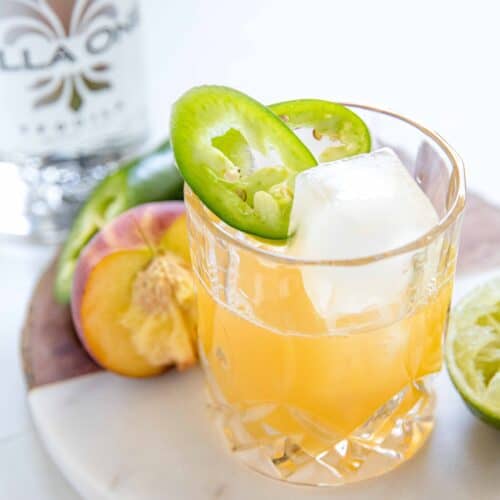 Peach and Jalapeno Margarita
A sweet and spicy margarita that you can quickly throw together for any occasion!
Difficulty: Easy
Ingredients
1.5

oz

Tequila Blanco

Villa One used here

3/4

oz

Peach Syrup

1/2

oz

RinQuinQuin

or Peach Schnapps if RinQuinQuin is unavailable

1

oz

Fresh Lime Juice

3

slices

Jalapeno

1

tbsp

Mixture of Himalayan and Maldon Salt
Instructions
Rim an old-fashioned glass with the salt mixture

In a shaker filled with ice, muddle one jalapeno and add your Villa One tequila, Peach Syrup, RinQuinQuin and lime juice and shake

Strain over a single large ice cube into the rimmed glass, and garnish with two jalapenos