If there is ANYWAY TO PUT ALL OF MY LOVE IN ONE GLASS, it's THIS DRINK RIGHT HERE. If you're just getting to know me, then you need to know 3 things. I can't live without Tequila, Negronis, and Peaches. I would take these items on a deserted island…with a few good books…and maybe some fresh bread and cheese.
So now that you understand my obsession, lets start drinking! With all good things in life, you sometimes have to wait, and with this, it calls for a bit of time to infuse. Do not get scared when you hear the word infusion. There isn't anything to it, other than throwing some peaches in a sterile container with tequila. That's it. For the recipe to the infusion, make sure to click here.
I switched out Campari with Cocchi Rosa, just so I could create a harmonic and less bitter cocktail. This is a wonderful way to slowly introduce Negroni's to those who have shut out Campari from their life, or for those who don't like/know what Campari is. This drink will make any Negroni fan happy, while introducing them to an exciting rendition with my amigo Tequila!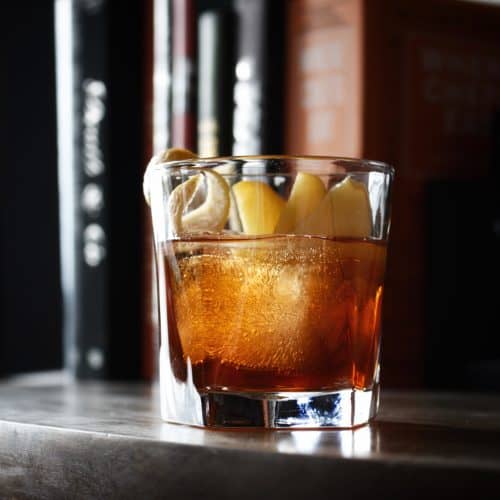 Peach-infused Tequila Negroni
One of my favourite variations of the classic Negroni with the agave influence!
Difficulty: Intermediate
Ingredients
1.5

oz

Peach Infused Blanco Tequila

¾

oz

Cocchi Rosa

¾

oz

Red Vermut by Lustau

1

zest

Grapefruit

2

slices

Peaches
Instructions
In a mixing glass combine Tequila, Aperol, Vermouth and stir until chilled

Fill a rocks glass with ice and strain the negroni into the glass

Zest with Grapefruit Peel and top with peaches
Recipe Notes
For access to the peach-infused tequila recipe, just click here!