Some posts come naturally to me, while others I pull my hair out trying to figure out what to say. But not today. The name came to me right away, the caption came to me RIGHT AWAY, absolutely everything hit me like a wave. And I honestly can't WAIT to share my excitement for this UN-REAL Swizzle that honours Liquid Cultures favourite fruit and day of the week!
Sometimes I think I'm going to run out of ideas for peach cocktails, but I get quickly reminded of all the possibilities that can be done with this fruit! I had some passionfruit lying around the condo and I knew that these two would get along VERY well. This time around, I wanted to change things up with the spirit and bring my people something different and unique, and that's definitely the case here.
Oh Mezcal, Mezcal, Mezcal. I wish we had more of you in Ontario, but the LCBO is like your Abuela that hides all the good booze. If you have never heard of Mezcal, well you are in for a real TREAT! For all my Tequila lovers out there, Mezcal will soon be your new best friend. In the simplest of terms, think of Mezcal as a smoky cousin to Tequila, and believe me, it's a smoke show. I go into a bit more detail about the Agave fruit in my educational segment 'Tequila is Your Amigo'. Give it a read if you want more details about this amazing plant!
So in this recipe you have a combination of Blanco Tequila and Mezcal, Passionfruit, Peaches and PORT! Say what? Port is such an under-utilized alcohol behind the bar, that I wanted to 'represent' with this cocktail. Again, if you're completely brand new to this whole scene, Port is fortified wine and traditionally served with dessert. That's all I'm going to say about the manner, because just like wine, there's a lot to learn about port, and I'll save it for another time.
And there you have it, what I like to call The Spanish Lover because of its delicious blend of Central and South American Flavours! This is a great way to get excited about summer drinks and patio, but this time around…you'll be the bartender that everyone loves!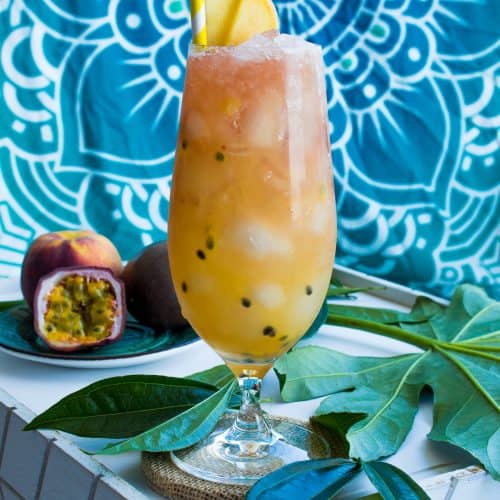 The Spanish Lover
A delicious blend of Peaches, Passionfruit, Port and Mezcal!
Difficulty: Intermediate
Ingredients
1

oz

Blanco Tequila

½

oz

Mezcal

½

oz

Lemon

Freshly Squeezed

½

Passionfruit

½

oz

Almond Simple Syrup

½

Peach

2

Dashes Angostura Bitters

3

Dashes Peach Bitters

1

oz

Port
Instructions
In a shaker, muddle the passionfruit and peach until well pureed

Add the tequila, mezcal, lemon, bitters, and almond syrup and give this a good shake

In a pilsner glass filled with crushed ice, strain the cocktail and layer the port on top. Add extra passionfruit seeds if preferred and garnish with peach slices
Recipe Notes
For the Almond Syrup Recipe, make sure to follow the recipe here!
And most importantly, crushed ice is ESSENTIAL to this recipe. You need the components to dilute quickly, for a balanced and tasty cocktail!