It's unbelievable what a little bit of sunshine can do and how quickly it can affect my mood. This winter brought an unprecedented amount of grey days, and after about three months of this torture, I felt myself turning into a wildling from Game of Thrones (Yes, I'm GOT-obsessed). Fortunately, there is A LOT to celebrate for today…BECAUSE IT'S THE FIRST DAY OF SPRING!
We've finally been blessed with more sunshine, teases of warmer weather, and a bounty of colourful bouquets in the market. It's fairly obvious my obsession with flowers and I knew I had to incorporate it in some way for this special day.
I've had Rose Water stuck in my pantry for the longest time because I figured it would be the perfect companion for spring cocktails. Now that it's here, I racked my brain around some possible ideas and this is definitely one of my favourites to date!
My appreciation for cocktails containing dairy is VERY new. I was shy and intimidated at first because I never really liked milk. I drank it sparingly throughout my youth, and it is pretty much non-existent in my adult life. As I welcome more unique and different combinations to my palate, I have been understanding the benefits of how certain flavours compliment each other. In short, everything is worth trying again, as long as you're willing to have an open mind. With that said, you have what I've created here, which is a delicious, refreshing and luxurious (you can thank the cream for that) cocktail with raspberry, almond and floral notes. It's a great way to kick off spring and be hopeful for warmer days to come!
There's so many important aspects to this drink, and the almond syrup is definitely a key factor to bringing it together. For the syrup recipe, make sure to follow the link here. For the rest of the cocktail, just scroll down a bit more for this TASTY cocktail.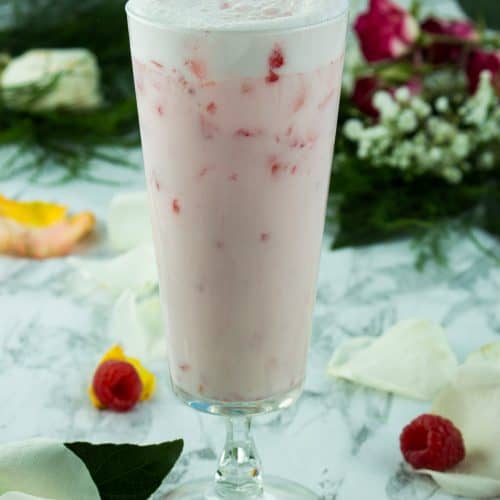 Raspberry, Almond and Floral Fizz
A take on a classic Ramos Gin Fizz but with the Spring and Floral influence!
Difficulty: Expert
Ingredients
1.25

oz

Hendrick's Gin

3/4

oz

Almond Syrup

1/3

oz

Lemon

freshly squeezed

1/4

oz

Rose Water

1

oz

Table Cream

3

Raspberries

2

dashes

Angostura Bitters

1

oz

Soda

1

Egg White

Optional
Instructions
Dry shake all the ingredients (except soda) for a good 5 seconds

Add ice to the shaker and shake vigorously until the shaker is too cold for the touch.

Strain over fresh ice in a Collins Glass and let it rest before topping with Soda
Recipe Notes
I kept the Egg White Optional for this drink. I love egg whites, and it adds a richness and velvety texture to the entire cocktail, but I understand that not everyone is into it. The best thing to do is to try BOTH! See what you prefer and let me know by commenting below!