You may be one of the many followers that gives me that slight confused, dazed look when I mention the word Shrubs. I had no idea what a Shrub was until about 4 years ago, and even then, I hadn't gone into depth of its rich history until recently. I'll be dropping an educational segment about Shrubs by the end of the month, but until then, enjoy the first Liquid Culture recipe of Shrubs pairing with my favourite fruit!
You'll be seeing a lot more of Shrubs on the Liquid Culture archives. It's been an amazing journey reading through its history, learning its benefits, experimenting with flavours, and working alongside Toronto's False Ox and their line of Shrub Concentrates. So, what is it? In short, it's a vinegar-based infusion with citrus and sugar. That's all the detail I'm going to go into for now, because soon enough, you'll be able to read through my Educational article titled 'What the Shrub'. In the meantime, I wanted to get your imaginations going and introduce this amazing recipe right here!
Seeing as vinegar has many health benefits, I knew this would work perfectly with my health conscious recipes. Let me remind you, these recipes don't have to include alcohol. But as we move towards a more health conscious lifestyle, here's a way to get some tasty vitamins in your system with the Liquid Culture Influence.
For this week, I had wanted to create a beverage that would pair my homemade peach shrub with bananas. I had a ton of ripe bananas laying around the condo, and I knew the sweetness from the banana would balance out the tartness of the shrub. Through trial and error, I ended up with a delicious smoothie that combines ginger, lemon, macadamia nuts and yogurt to tie in all the flavours! I'd even go far enough to say it's similar to a Lassi, since it combines yogurt, water and technically spices. For details of the Shrub recipe, make sure to follow here.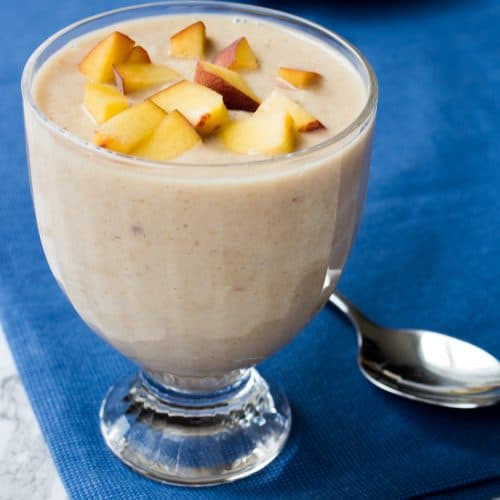 Peach Shrub and Banana Smoothie
A tart and sweet blend of a homemade peach shrub, banana, ginger and yogurt!
Difficulty: Easy
Ingredients
2

Ripe Bananas

1

Ripe Peach

½

cup

Peach, Raisin and Cinnamon Shrub

Find recipe in notes!

½

Lemon

Freshly squeezed

1

inch

Ginger

½

cup

Macadamia nuts

2/3

cup

Greek Yogurt

3

tbsp

Water

Optional - depending on your preference in consistency
Instructions
Combine all ingredients into the blend, for approximately 20 seconds (or more depending on your consistency preferences).
Recipe Notes
For this recipe, I find that rum works best. With the combination of nuts, ginger and cinnamon from the shrub, it only seems natural that rum would pair beautifully. If you'd like a more clear and neutral spirit, than Vodka is the way to go. Just make sure to keep the ratio 1:6 with this one. Alcohol in this mixture goes a long way!
For the homemade Peach, Raisin and Cinnamon Shrub recipe, follow here!