It's crazy to look back and to think about how your palette or tastes change. I'll be the first to admit that my OG drink at the club was soho and pineapple juice. I also enjoyed a period where I would drink Martini Rosso's Vermouth on its own, because I was a starving university kid, and a bottle would typically do the job (Yes, I had an insane sweet palette back then). So this cocktail brings me way back to when I was starting to invest some time behind the bar. I felt so cool, because none of my 'advanced' industry friends knew what a Sidecar was, but here I was bringing something new to the table. I will forever have a love and appreciation for Sidecars, because that was a major stepping stone to my love for cocktails. So in honour of what the Sidecar represents to me, I've created this gem here!
The classic recipes calls for cognac, an orange liqueur, followed with fresh lemon juice. It's profile is very tart, and savoury, and its sour notes is what drew me to it in the first place. It's as if I had all the sweet I can handle in my youth, and I went completely 360 and tried to omit sugar entirely. But this is the thing I've learned most throughout the years, and that is the importance of balance. Much like salt, we need sugar to help enhance and bring out the natural flavours of our produce. It ties everything together to make it drinkable, and it's all about learning just how much! If you are a fan of whiskey sours at all, then you will fall in love with this cocktail. I promise you that it's worth every second of infusing and shaking!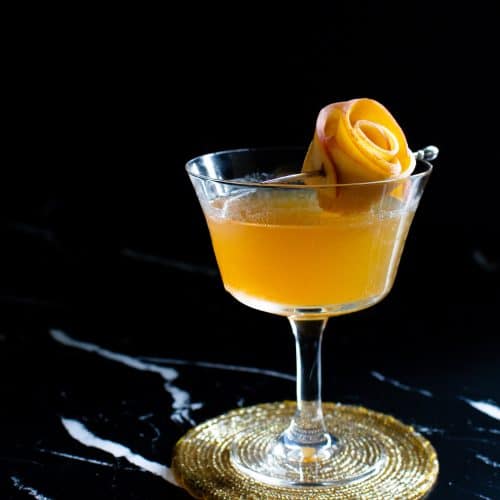 Peachy Sidecar
Here we have a delicious, peachy spin to the classic sidecar.
Difficulty: Intermediate
Ingredients
2

oz

Peach-infused Cognac

1/2

oz

Grand Marnier

1/2

oz

Peach Syrup

3/4

oz

Freshly Squeezed Lemon Juice
Instructions
Fill a shaker with ice and shake all ingredients

Strain into a coupe glass and garnish with orange zest or peach slices