I truly believe that every wednesday is cause for celebration; it's Hump Day. The light at the end of the Work week tunnel nears, freedom is in the air, and a weekend of boozing and celebrating await. This concept came into my head and immediately 112's Peaches and Cream came into my head. Needless to say, this drink is G rated, I promise, and OG certified.
I will say this, the recipe calls for a bit of technique, so if you are completely new to the game, I would put this one on the back burner until you're confident. But REMEMBER… if you don't try, you will never know your potential.
Most important to note with this recipe, you HAVE to dry shake the ingredients first before adding the ice. What's dry shaking? Shaking the cocktail shaker vigorously WITHOUT ICE. That's right. No ice. Don't worry, we cool it down later. But again, practice your shaking skills before heading into this one.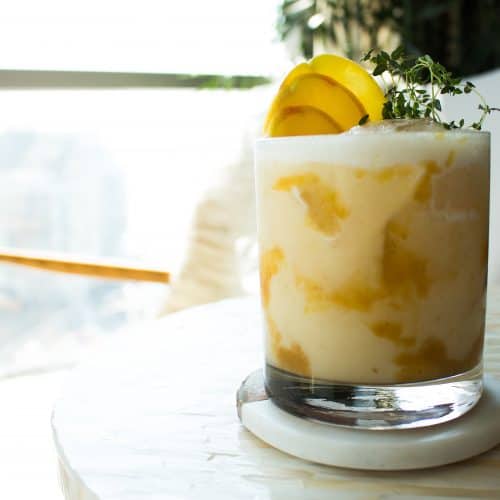 Peaches & Cream
Bringing together the perfect balance of cream, peaches and citrus to your hump day
Ingredients
1½

oz

Gin

1

oz

Simple Syrup

1½

oz

Roasted Peach Puree

1¼

oz

Fresh Lemon Juice

½

oz

Heavy Cream

1

Egg White

½

oz

Soda

2

sprigs

Thyme
Instructions
Dry Shake all of the above (except Soda) for approximately 20 seconds.

Add ice into the shaker and vigirously shake for approximately 10 seconds

Strain over fresh ice

Garnish with 2 Sprigs of Thyme.