I can confidently say that most people are afraid of what they don't know, and I'm going to tell you something that you don't know that you SHOULD know (know what I mean?…ok I'll stop with the "knows").
SWEET VERMOUTHS ARE DELICIOUS ON IT'S OWN #micdrop #ohnoshedidnnnttt
A lot of people just think of vermouths being used in manhattans or stirred in negronis, but you have no idea of the world of vermouths out there that are great for sipping on it's own. My love of vermouths started back in university, and thankfully I upgraded my game a bit, and I've fallen in love with the Cocchi Americano brand. Never heard of them? Go out sometime and hit up a bar that carries this brand, and IN PARTICULAR THE ROSE vermouth. It's a game changer. Period. With that said, this Rose vermouth can not be changed or altered from this recipe, but believe me, you won't have any trouble ordering a case of this once you've taste it. All that I have left to say is…you're welcome world.
Part of being a 3 Series cocktail, it has to be quick and simple and believe me, it's one of the easiest concoctions you can make on the run. Just simply pour Cocchi Americano Rose Vermouth with a bit of San Pellegrino Lemon Flavour and voila, you have the easiest and tastiest beverage. I added a slice of orange wheel to the mix for an extra citrus punch, plus it compliments the notes of the vermouth very well. As mentioned, do not attempt this cocktail with any other brand. You just won't get it or understand why this works so well.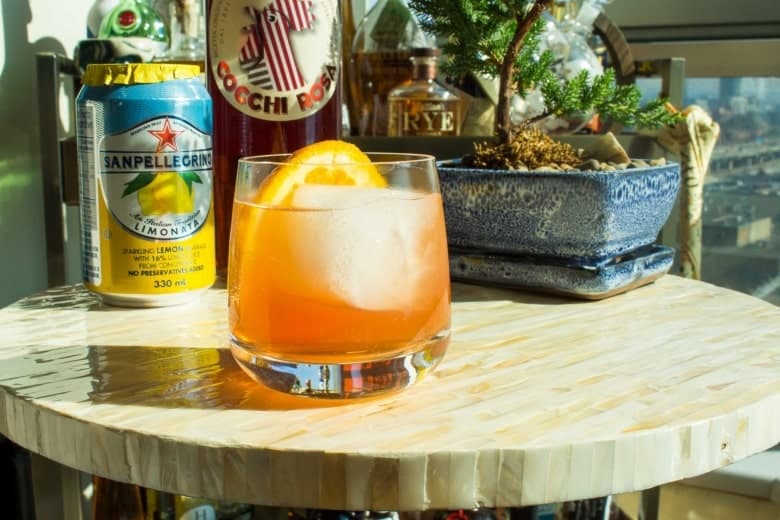 Cocchi Lemon
A delicious and low in alcohol solution for a quick fix beverage!
Difficulty: Easy
Ingredients
1

part

Cocchi Americano Rose Vermouth

1

part

San Pellegrino Lemon Flavoured Soda
Instructions
Just pour equal portions over ice