Eggnog was never really a tradition in my household. To be honest, alcohol was never a thing in my parents home…EVER. So I had this preconceived notion that eggnog was gross, and since I was never the biggest fan of dairy products, I wrote it off that I'd never like eggnog.Since starting Liquid Culture, we all know that this is a place to try new things, and explore new flavours! So what did I do? I stopped being a baby and experimented. It took me some time to adjust, but it hit me like a ton of bricks…and that's to create a Christmas Eggnog Pisco Sour!
Now those new to Pisco, it is basically a grape distilled alcohol that have debatable origins that will cause a war between Peru and Chile some day. But since I visited Peru, I kind of have my heart set that they know what they are doing. It's hard to describe, but I find that it's a cross between a vodka and rum (I know you Pisco fans are giving me a dirty look right now). I even found it similar to Dillons White Rye that they carry. Their truly is nothing like it, and what better way of showcasing a unique spirit with a unique product. This is definitely for those comfortable using egg whites in their cocktails, similar to what you find in a Whiskey Sour. In the end, what we got here is magic. You're welcome :)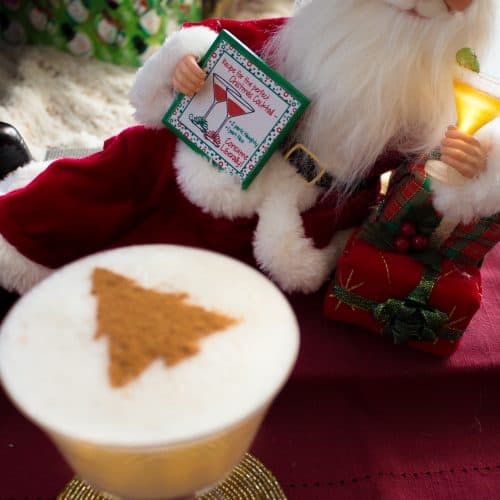 Pisco Eggnog Sour
An amazing addition to a Pisco sour with Eggnog. You will love this new festive cocktail for your holidays!
Difficulty: Expert
Ingredients
1½

oz

Pisco

1½

oz

Eggnog

½

oz

Fresh Lemon Juice

1

Egg White

2

Dashes

Angostura Bitters

½

tsp

Cinnamon Powder
Instructions
Vigorously Dry Shake Egg white, Pisco, lemon, eggnog and bitters for 20 seconds

Add ice to the shaker and shake until chilled

Strain into coupe glass and garnish with Cinnamon powder