Lately, Rum has been speaking to me. Not in the creepy, voices at night, kind of way, but in the way that I've been seeing it everywhere. From my new additions to the bar, to the assortment of rums and recipes on the gram, I've been wanting to take a deeper look into this category. I'm not even going to pretend that I know a lot about rum, but that's why I picked up the Smuggler's Cove book this week so that I can get a bit more knowledge when it comes to this spirit. Note: For my experts judging me hard that it's taken me this long to get this book, just stop, a girl only has so much room! I find that most recipes are NOT forgiving if you switch around the rum brands. They are all so unique and different in their own way, so when following a recipe, keep close watch on the brands and the exact style it represents. With the El Dorado lineup behind my home bar, I took this opportunity to make an insane Pomegranate and Cayenne Rum Julep that I know will be added to my all-time favourite list.
---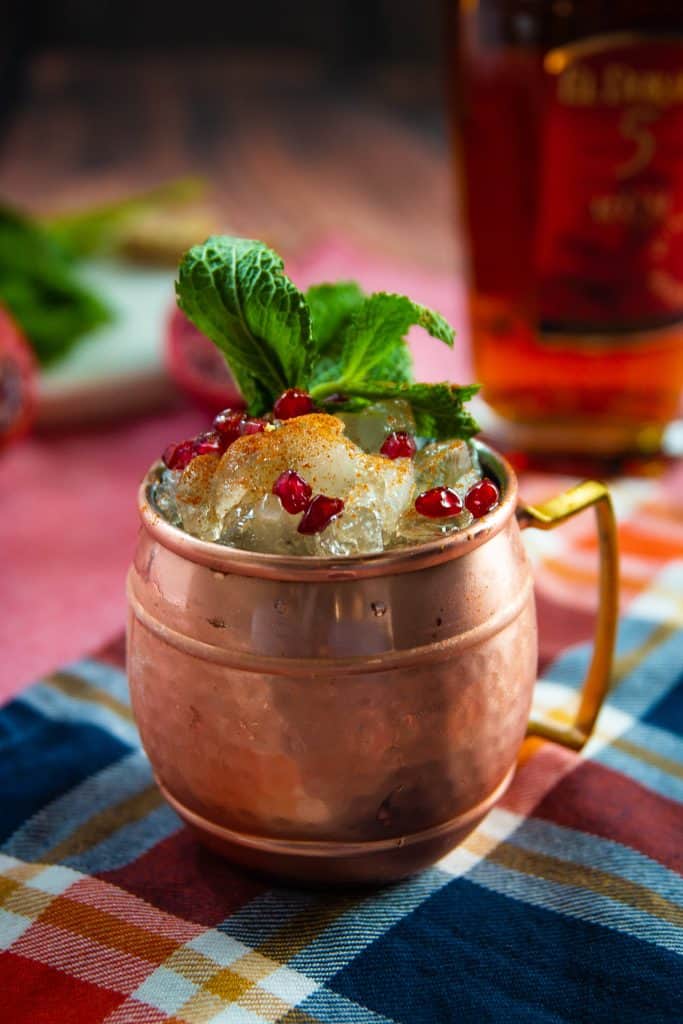 ---
With Fall in full swing in Toronto, I've been wanting to mix with some pomegranate for some time now. So why have I taken so long to drop a recipe? Well, I wish I had more time to just make and publish recipes for you, but mama has to pay the bills, and in due time you will be getting much more! Naturally, I knew that citrus and spice would compliment each other, but knowing the right amount and which spice to use is key. I loved what the added Cayenne did for this cocktail, because it adds that warming effect that completely gets me in the mood for the season.
Now I understand that Juleps tend to be sought after during the spring and summer seasons, but you're about to love it year round! The traditional Mint Julep has 4 simple ingredients; Bourbon, Mint, Sugar and CRUSHED ICE. I can't stress enough how important the ice is to this cocktail, so make sure not to deviate from it! So with this simple combination, calls for lots of opportunities to be flexible and creative with a Julep. You can have so many unique interpretations and infusions that the Julep will always be re-invented in some way.
I had experimented with Pomegranate Molasses and Pomegranate Juice, and I have to say, the molasses did not come through as much as I had anticipated. The taste of pomegranates just wasn't there, and that's when I brought out the juice instead. It ended up being the perfect match in this cocktail, and with a few small adjustments, this cocktail really came together. So without further ado, let's start mixing!
Pomegranate and Cayenne Rum Julep
A fall-inspired classic Mint Julep Cocktail, infused with fresh Pomegranate juice and Cayenne for a kick, made with El Dorado 5 year old Rum.
- Difficulty: Intermediate
Ingredients
2

oz

El Dorado 5 Yr Rum

2

Brown Sugar Cubes

1/2

oz

Pomegranate Juice

10

Mint Leaves

plus 1 sprig for garnishing

1

pinch

Cayenne Pepper

3

dashes

Angostura Bitters

optional
Instructions
In a tin cup, place mint leaves, sugar cubes, pomegranate juice, cayenne pepper and angostura (optional) and gently muddle until sugars are well dissolved.

Fill the tin cup half way with crushed ice and churn for 10 seconds.

Continue to fill the tin cup with crushed ice and churn until the cup is completely frosted.

Garnish with pomegranate seeds, dust of cayenne and mint sprig. Grab a re-usable straw and enjoy!
Recipe Notes
The Angostura Bitters is optional because it's not typically found in a traditional Julep. I added it because I felt the Rum needed that extra spice to tie in all the flavours. Try it with and without to see how you prefer your Juleps!