I'm getting a little ahead of myself for the holidays, but that's just who I am. I'm so excited to host, welcome family, create delicious meals, memories and most importantly, COCKTAILS! Whenever I'm setting up a get together at home, I always love to welcome guests with a spirit forward creation (if I know they're the type of crowd to appreciate it!). Being an advocate for Single Malt Cocktails, I can't tell you how excited I am for this one. I call this cocktail the Silent Night, because there's something very special and calming about this spirit forward cocktail that I love. And it's mixed with a favourite of mine; Glenfiddich 15 Yr Old Solera Cask.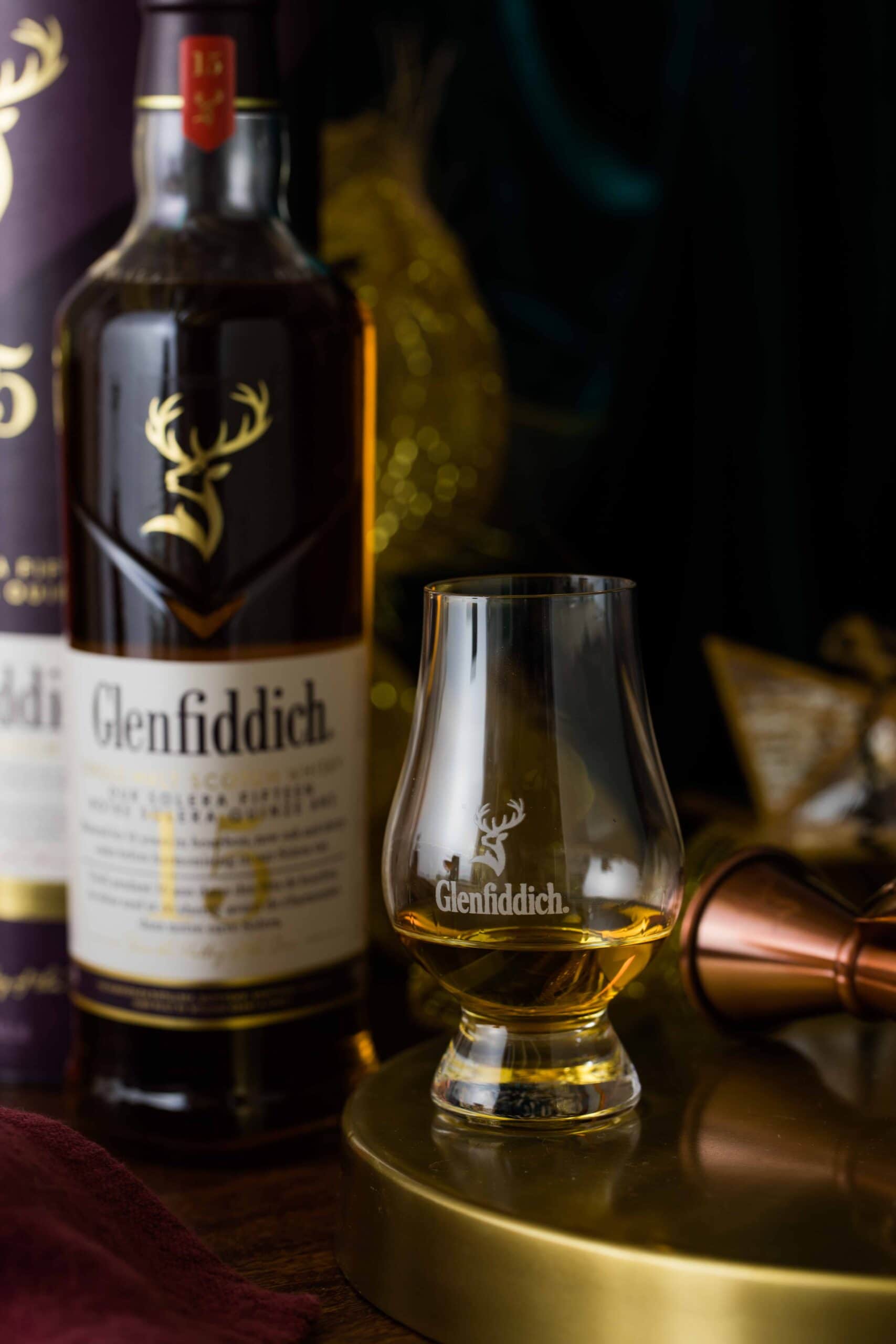 Mixing with Glenfiddich 15 Yr Old
I know with a pricey Single Malt Scotch, and many whisky experts, frown upon mixing with such a prestigious bottle. For me, I ask you, is your spirit good enough for my cocktail?
That's the energy I want to bring when it comes to Single Malt Scotches, and while there are times I wouldn't mix certain expressions, Glenfiddich's 15 Yr Old Solera offers an opportunity to enjoy it in both a cocktail AND on its own. What I particularly love is the time that is spent in a Solera Sherry Casks. Whether it's r(h)ums or whisk(e)y, there's something so magical about a sherry cask infusing with these spirits. I gravitate towards it. I LOVE IT. Which is why I wanted to make sure that was heavily highlighted in this cocktail creation.
Building this Spirit Forward Cocktail
The backbone of this cocktail has a Classic Manhattan Cocktail structure, but I've done a few substitutions and introduced a splash of surprise. We've substituted Vermouth with an Amontillado Sherry. Add a splash of Honey to help with the lack of sweetness missing from the Sherry (having replaced the vermouth), plus it brings out of the notes of the Glenfiddich 15 Yr. Then we have my other favourite component which is the Jamaican Rum! That little splash of funk, really adds to the complexity of this whisky that I absolutely love. Think of how you spritz a cocktail with Mezcal or an Islay Scotch to get a touch of that peat, smoky flavour. Jamaican Rum has that power as well, with its unique taste profile.
Now I love a bit of citrus in my spirit forward cocktails, which is why the orange peel came in handy. But if you're a cherry sort of sipper, that's okay too! Sub in the orange zest for a nice brandied cherry like KVAS, or use both.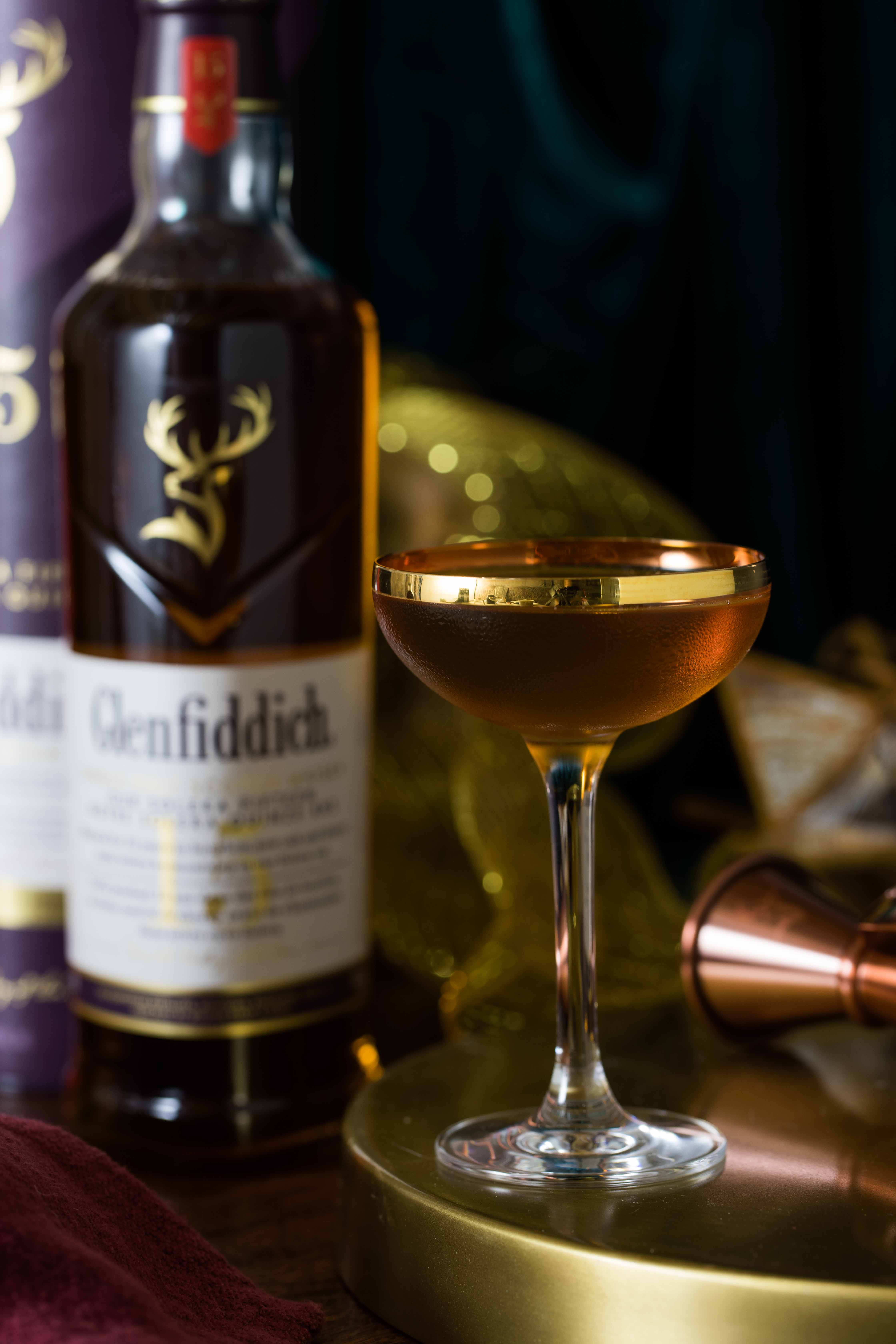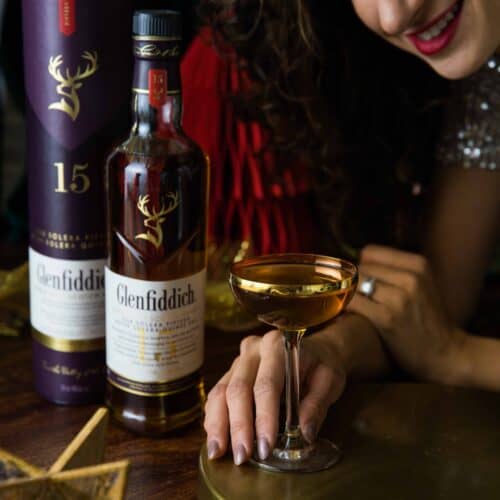 Silent Night
A Spirit Forward Cocktail that honours the fantastic dram that is Glenfiddich's 15 yr old. Combining this Scotch Whisky, Jamaican Rum, Sherry with Honey!
– Difficulty: Intermediate
Ingredients
2

oz

Glenfiddich 15 Year Old

0.5

oz

Amontillado Sherry

0.25

oz

Aged Jamaican Rum

0.25

oz

Honey Syrup

2:1

Orange Peel for Zest
Instructions
In a Mixing Glass, add in all your ingredients except Orange Peel.

Fill with ice and stir.

Strain into coupe glass and express Orange Peel over top. Discard peel.
Want to find more Glenfiddich Cocktail Creations? Head over to this link here for all the inspo!