I'm going to be real with you right now, my mouth started salivating when I was typing up the title for this weeks feature! I've had a love for Gin most of my adult life, and I decided to spread that love into my growing passion for boozy desserts. With that said, I've been wanting to adapt a cheesecake recipe for Liquid Culture and the combination of Strawberry, Lavender and Gin just made complete sense. I'm so excited to share this recipe with my people today!
Most find this hard to believe, but I've never been a fan of cheesecake (#GOTShameWalk). I just didn't get it, or the lineups at cheesecake factory, so I kept it out of my repertoire for a while. But with this new chapter in my life, I've been finding that I'm more accepting to change, and to question my preconceived views. So as you can imagine, I was on the hunt to find a cheesecake that I can fall in love with, and what better way then with booze!
As always, I look to the Fairy Godmothers of Baking, and that is the team at Bobbette and Belle. I'm constantly referring back to their cookbook for inspiration and ideas, and it's truly one of my favourite books on my shelf! So I used their Vanilla Cheesecake as a base, and created my own unique topping of Strawberry, Lavender and Gin!
In essence, this could be a very easy dessert to throw together. You can buy a plain frozen cheesecake that you love and simply make the topping from the recipe below! Or, if you're like me and don't get bothered by mountains of dishes, than create your own with your favourite recipe! It's completely up to you and your preferences. Now let's get to the reason we're all here, and that's for the recipe!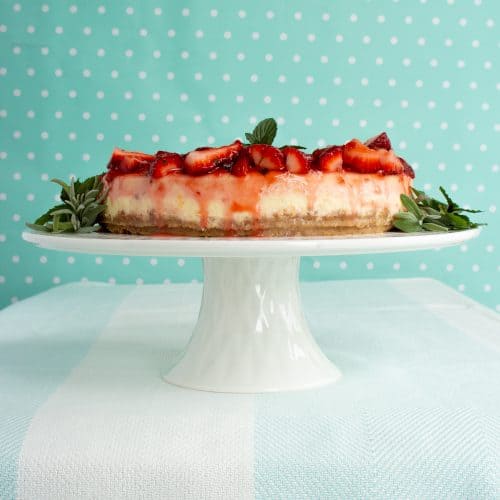 Strawberry & Lavender Gin Cheesecake
A delicious boozy cheesecake that combines the flavours of strawberry, lavender and gin! Dessert Responsibly XO
Difficulty: Easy
Servings
2
x 8 inch Cheesecakes
Ingredients
3½

cups

Fresh Strawberry

leaves cut

¾

cup

Granulated Sugar

3

tbsp

Corn Starch

3

tbsp

Tonic Water

1

pinch

of Salt

1/3

cup

plus 1 tbsp London Dry Gin

8

Mint Leaves

6

Lavender Sprigs

½

zest of lemon
Instructions
In a medium saucepan over med-high heat, whisk sugar, cornstarch, and salt, followed by tonic water.

Add 1.5 cups of Strawberries and mash with whisk (if soft enough) or use a potato masher to break down the strawberry until almost a liquid (lumps are fine here as well).

Once broken down, bring the mixture to boiling point while constantly whisking. Do this for 1 full minute while at boiling point

Take the saucepan from the oven and transfer to a bowl. While whisking, add the gin, lavender, mint and lemon. Slowly add in the gin, make sure not to throw in everything at once.

Once the mixture is well combined, gently stir in the rest of the strawberries and let it rest until it reaches room temperature

Place on top of the cheesecake in the fridge for a minimum of 2 hours prior to consumption.

Garnish with extra Mint and Lavender is optional
Recipe Notes
I'll warn you, the mixture is going to seem very boozy, but I promise you that once combined with the cheesecake, it completely balances out and you get a slight hint of the gin.