It's another #DrinkYourGram creation and with International Rum Day slowly approaching, I wanted to highlight this spirit I've been really learning to love and appreciate. With that said, I asked you to vote on what you would like to see for a summer Rum cocktail to honour this day, and believe me, this Coconut Swizzle DOES NOT DISAPPOINT. See the results below, plus how you can whip this up at home!
If you're new to the concept of #DrinkYourGram, I started it as a way to give you cocktail recipes YOU WANT. By voting on my IG stories every Tuesday, you get a chance to shape the cocktail you'd like to create at home. For this week, since International Rum Day is coming up, I had to come up with something special that highlights this VERY diverse spirit. So I asked you to vote on the following:
I want a Rum cocktail that is
Long and Refreshing (73%) vs Spirit Forward
Create me
Something New (66%) vs A Classic
I want you to use a R(h)um from ________
Barbados (42%)
Jamaica (38%%)
Martinique (12%)
Brazil (8%)
What flavour would you like to see most?
Coconut (37%)
Coffee (13%)
Sorrel (15%)
Cherry (35%)
The trickiest part is always creating something new, because most cocktails are based off of some form of classic. But a key word stuck out to me to structure this cocktail and that was for the drink to be long and refreshing. It can be a little hard to create a refreshing cocktail when coconut is involved because you think coconut creams in a Pina Colada. My train of thought went elsewhere, thinking what if I created a bright cocktail that's fairly light in flavour, while still highlighting that brilliant coconut flavour.
Now there's a few things I want to outline when it comes to the spirits I chose and what I was trying to create here.
Choosing Rum
I didn't realize the importance of what rum is used until much later in my bartending career, but substituting rums is one of the biggest crimes to commit. LOL, I'm kidding, but I wanted to be dramatic about the fact that swapping between what you have at home, DRASTICALLY changes a cocktail recipe, more so than I think any other spirit. Vodka you can get away with, even similar styles of Gin, but Rum is so diverse. With so many countries having their own unique characteristics, it's HARD to create the same experience if you're not sticking to the recipe.
Barbados produces some of my favourite rums period, and exploring this countries diversity is a must. Now, because I'm all about trying to give you recipes that's accessible (especially for my Ontario folks), Mount Gay is always a winner for me. I used the standard Eclipse for this blend.
Cocchi Americano
In an effort to create a bright, clean and lengthy cocktail, I decided to add in some Cocchi Americano. If you know me well, you know I live for this brand, and my bar is never empty of this bottle. It's a great spirit to split the base of a cocktail to help lengthen the drink without it being very boozy. I didn't go completely half/half as I typically do with the ratio because I wanted the Rum to shine, but it still plays an important role in this cocktail by adding a bit of spices and herbs to the mix. Don't have Cocchi Americano at home? I would then go for a Lillet Blanc or a Dry Spanish Vermouth that has a bit of weight to it. As I mentioned though, you won't regret that Cocchi Americano purchase.
Coconut Syrup
THIS was something I played around with for some time, but the truth is, I just didn't want to open up another can of Coconut Cream and let it sit in the fridge. Am I the only one that feels this way? I really try not to be wasteful with my cocktails, so this time around I picked up a bottle of Blue Monkey's Coconut Water and created a simple syrup with it. Basically all I did was grab a small saucer, add 1 cup of the coconut water with 2 cups of granulated sugar. I don't typically do a 2:1 ratio with my sugar to water component, BUT this was a must to really concentrate the coconut flavour in a small amount of volume. The result was the perfect compliment to this cocktail and I'll definitely be making this more often!
OKAY, I've done enough talking. Let's get to the recipe!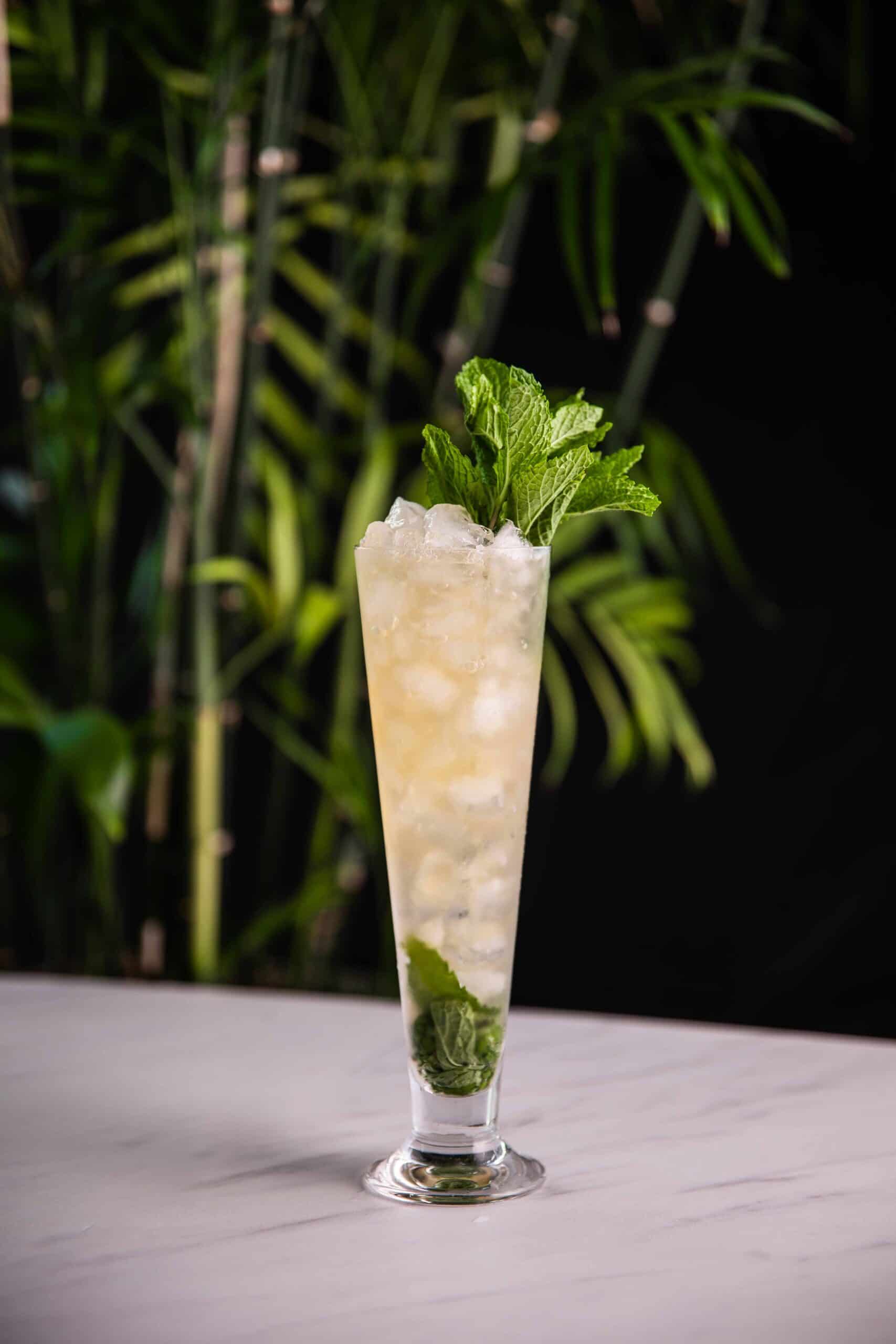 That Coco Swizzle
We're serving up a refreshing and long swizzle cocktail that uses Mount Gay Rum, a homemade Coconut Syrup and Cocchi Americano!
– Difficulty: Intermediate
Ingredients
1.25

oz

Mount Gay Rum

Eclipse used here

3/4

oz

Cocchi Americano

3/4

oz

Coconut Syrup

*See notes in the write up for instructions

1/2

oz

Freshly Squeezed Lime Juice

3

Sprigs

Mint

2

dashes

Angostura Bitters
Instructions
In a Pilsner Glass, add 2 sprigs of mint and gently muddle.

Add the rest of the ingredients and fill your glass 3/4 of the way with crushed ice. Swizzle and once that's done, top off your glass with a dome of crushed ice. Garnish with coconut chips, mint, or whatever your heart desires!

Garnish with coconut chips, mint leaves or whatever your heart desires!