If this isn't the cocktail of Summer, I don't know what is! This libation was inspired by this week's #DrinkYourGram when I asked you some of your favourite Summer flavours and what you sip on a boat. Your results created some real magic with fresh watermelon, a lavender mint syrup, mixed with Empress Gin and of course some citrus and bubbly. See below for recipe details!
If you're new to the concept of #DrinkYourGram, I started it as a way to give you cocktail recipes YOU WANT. By voting on my IG stories every Tuesday, you get a chance to shape the cocktail you'd like to create at home. For this week, I wanted to create a summer boat themed cocktail. So I asked you to vote on the following:
On a boat, what are you most likely sipping?
Bubbles (84%) vs Beer
Your spirit of choice for summer between the two is:
57% Gin vs Tequila
When it comes to Summer, my fruit is ______
Watermelon (43%)
Strawberry (17%)
Peaches (29%)
Cherries (11%)
Again, #DrinkYourGram makes me ask myself why I didn't start this earlier, because the cocktails created are always some of my FAVOURITES! Thank you everyone for voting and your feedback, believe me, I'm sure you will love this mix. This cocktail is so bright and refreshing, PLUS easy to make.
Now wanting to make things easy for you, I'm going to guide you through my thought process and how you can substitute certain ingredients.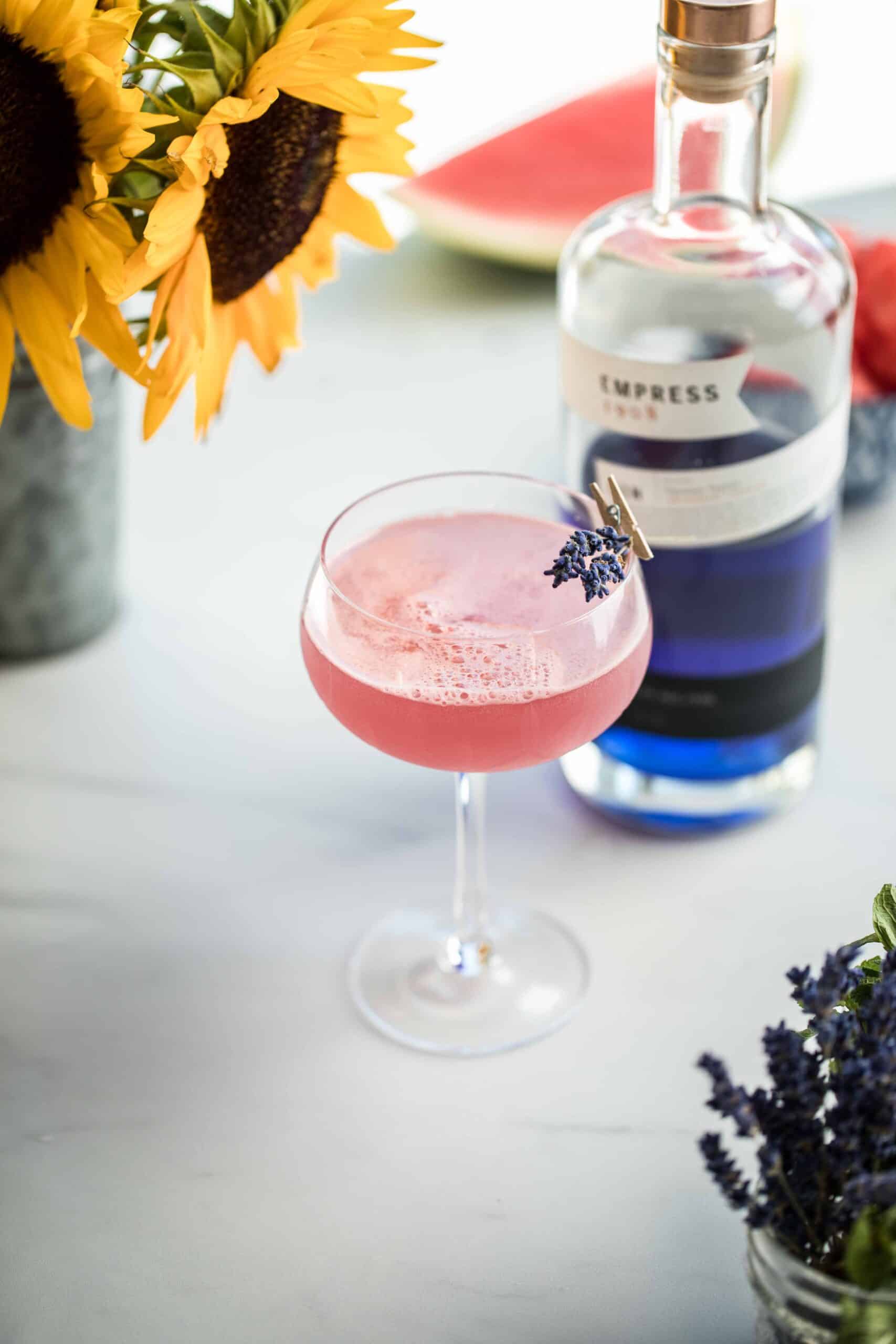 Gin
This was an easy choice once I knew the flavours I was going for. With Watermelon and Lavender leading the way, something floral and delicate would be an obvious choice. So this time around, I brought out my Canadian pals from Empress Gin! With the infusion of tea flavours naturally showcased in this gin, I knew it would compliment the lavender. If you don't have Empress at home, that's okay! Try to use something on the more subtle, delicate side that isn't overly aggressive with the juniper. Hendricks would be a good example. Just avoid an Genever or Old Tom style Gins.
Lavender Mint Syrup
I'm REALLY trying to steer away from cocktails with complicated syrups. Because this is the thing, I know you're not making them. You want to spend more time out on the patio than being stuck in the kitchen (exception to those who love the kitchen as much as I do). With that said, I PROMISE YOU THIS IS EASY TO MAKE. I'm even writing it out here: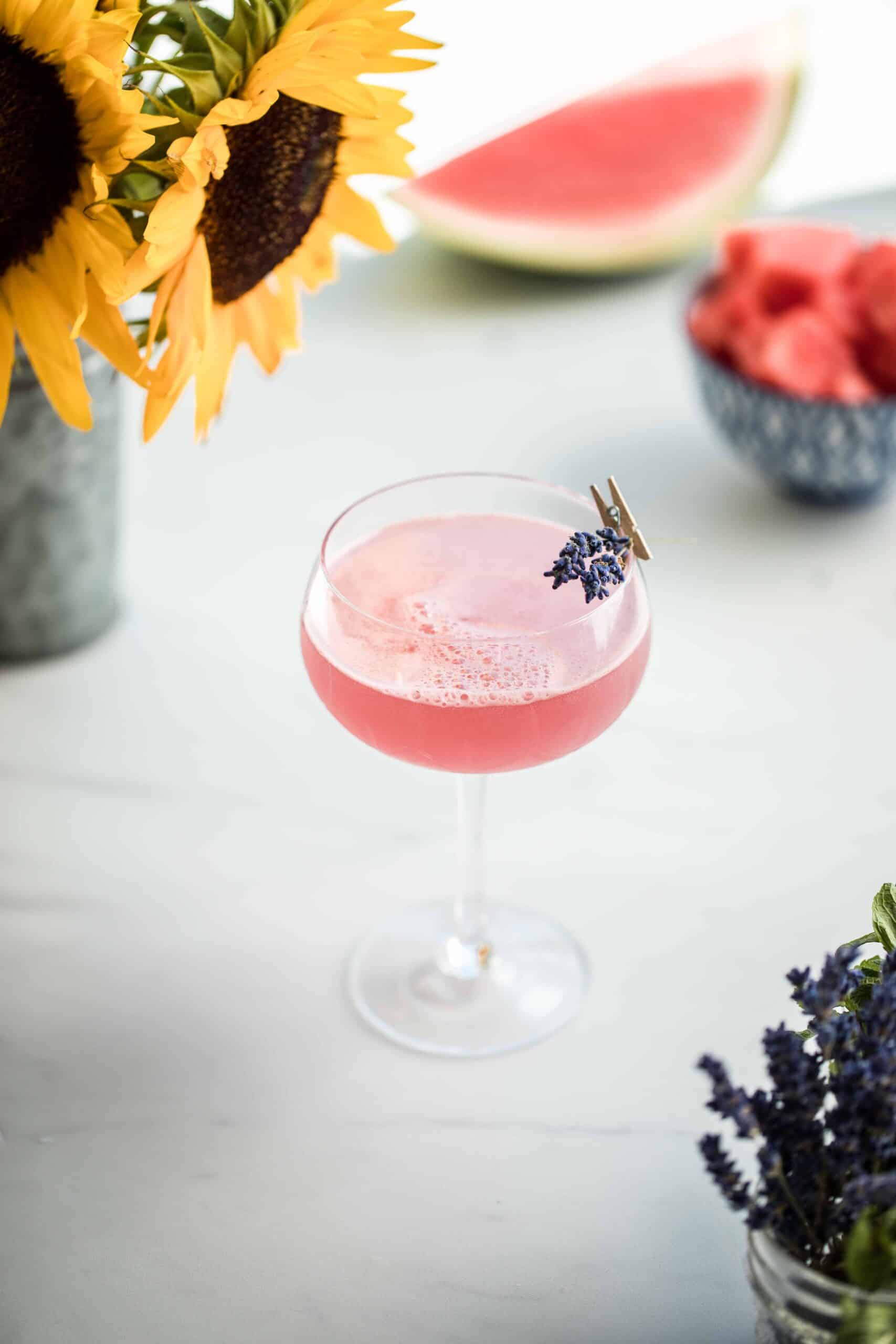 Lavender Mint Syrup
Easy syrup to infuse in your lemonades and/or cocktails!
– Difficulty: Easy
Ingredients
1

cup

Boiled Water

1

cup

Granulated Sugar

1/2

cup

Mint

Approximately 1/2 a handful or pack

7

Lavender Sprigs
Instructions
Combine all ingredients into a mason jar or sterile container and stir until sugar dissolves. Note: Leave the mint on the stems as the stems have a ton of flavour as well!

Let this sit for a 1 hour before use. Strain into new container. Can hold in the fridge up to 1 week.
Don't have fresh Lavender? I know that one can be hard to find. If that's the case, simply omit the lavender and add 3 dashes of Lavender Bitters instead!
Sparkling Wine
I'm really not fussy when it comes to choosing a sparkling wine. I just avoid anything moscato or too sweet, so I can control the cocktail better. Plus I like to be mindful of peoples budget, so go with what you know and preferably DRY!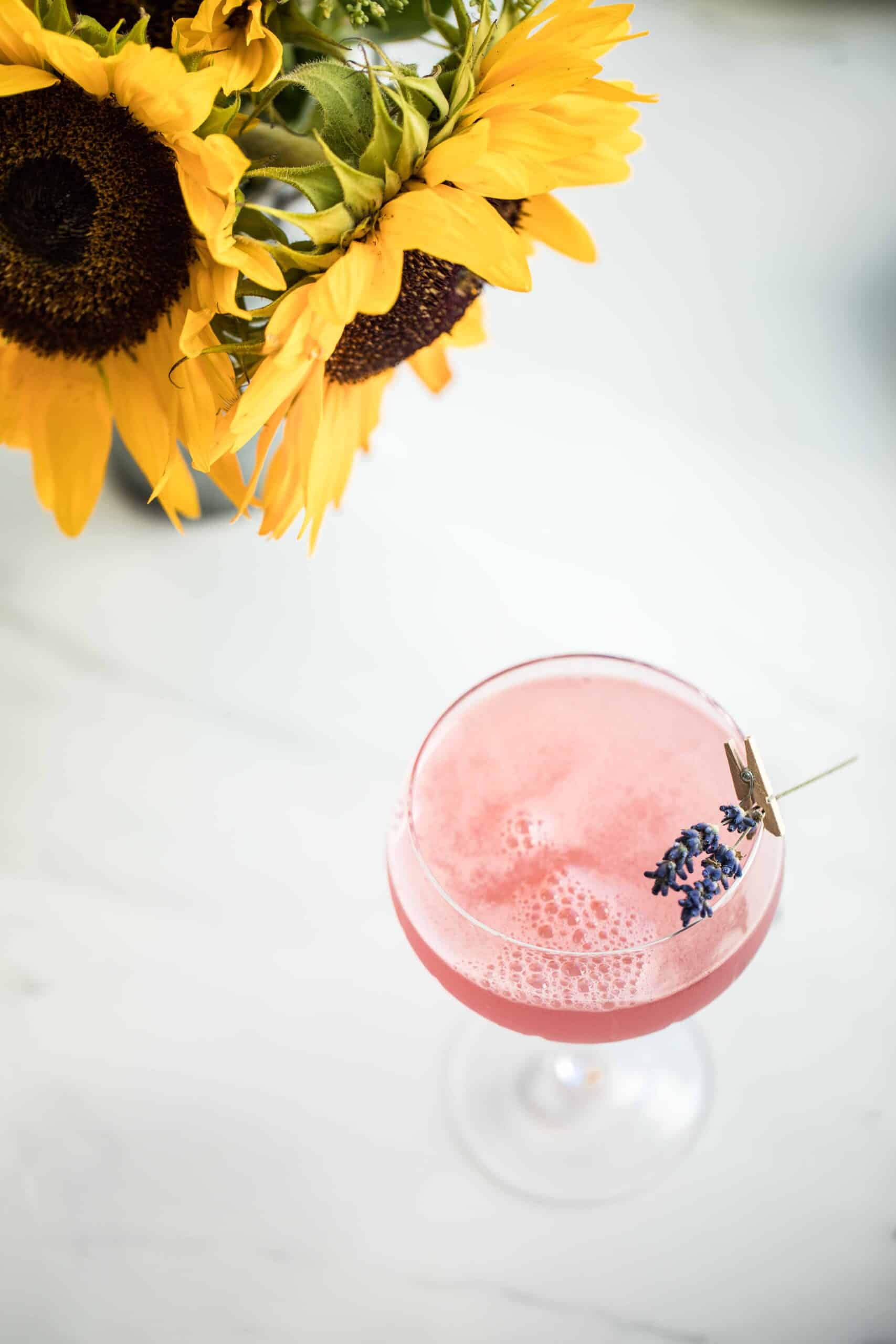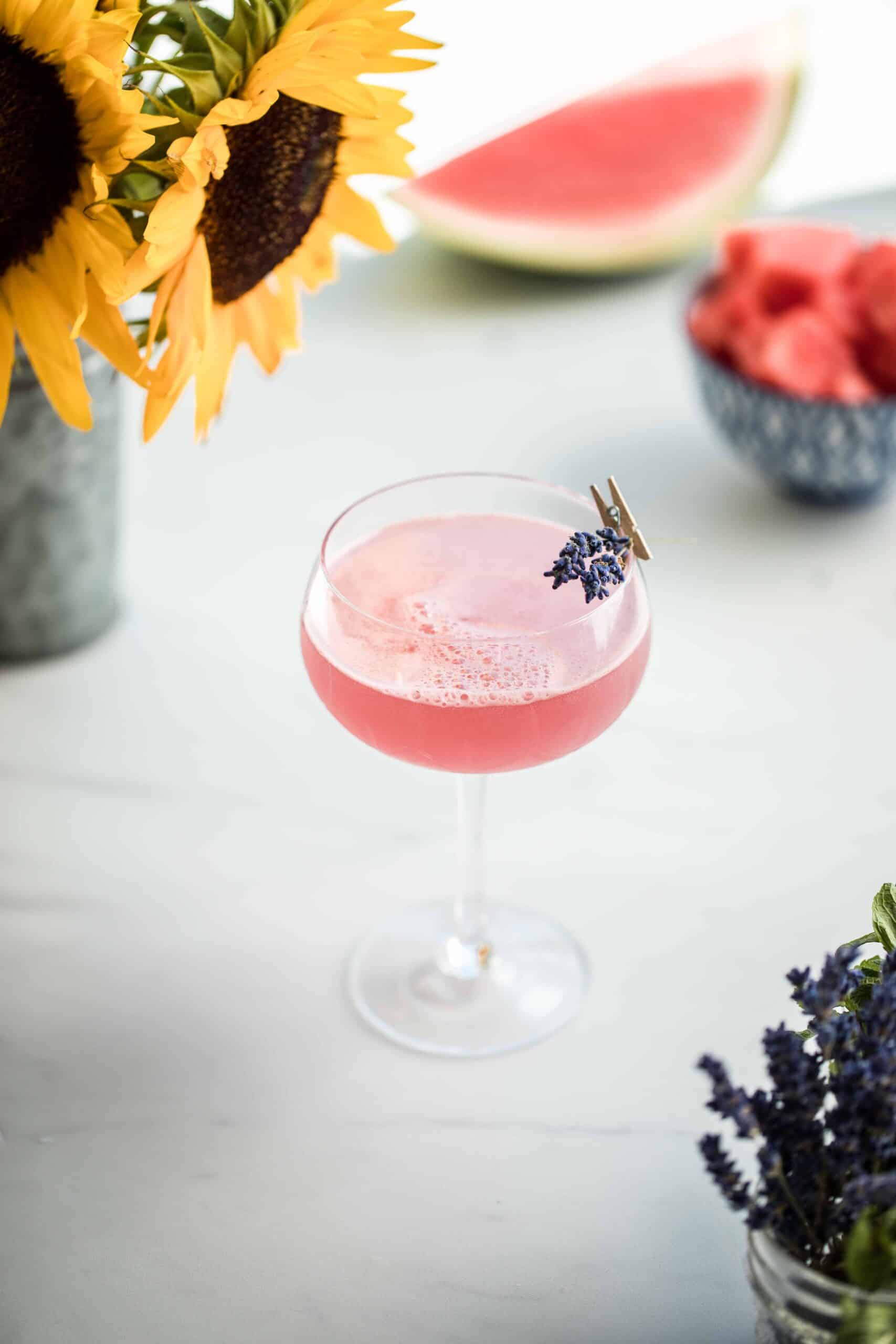 Watermelon Lavender Gin Bubbly Cocktail
The ultimate summer cocktail is here, and perfect to sip on the yacht (or dreamed about yourself on a boat while sipping this cocktail)
– Difficulty: Easy
Ingredients
3/4

oz

Empress Gin

1/2

oz

Freshly Squeezed Lemon Juice

3/4

oz

Mint Lavender Syrup

4

cubes

Watermelon

Approximately 1/4 cup

3

oz

Sparkling Wine
Instructions
In a shaker, muddle watermelon. Add ice and your gin, syrup and lemon. Shake well.

Strain into flute or coupe glass and top with sparkling wine.
Want to make this in a batch ahead of time? You definitely can! I would recommend muddling the watermelon and stir it with the Gin, lemon juice and syrup. Let that sit in the fridge with 2 ice cubes for a few hours before serving, and using a pitcher pour 1/3 of your glass with this mix and top up with sparkling wine.