If this doesn't inspire me to create more video content, I don't know WHAT will! I had so much fun creating this boozy Freezie recipe for the Hennessy team, that I knew I had to share it with my community. With my obsession with frozen treats this summer, I decided to blend and freeze this incredible Pineapple and Ginger Hennessy VS cocktail. Curious how it's made? Well you'll want to head down below for recipe details!
---
In collaboration for the #HennessyMyWay campaign, I decided to step out of my cocktail box and see how I can create a delicious, easy treat for my familia to make at home. I wanted to stand out in the competition, but I can't tell you how much fun I've had creating these treats! I knew I could do it too, having done a special boozy popsicle for a Drake Party a while back (no, unfortunately Drake didn't show up). The popsicles were a massive hit when I mixed it up with Strawberry and Mint, so I went back to the drawing board to come up with something special for this video.
Now this video doesn't show you everything, nor does it give the exact measurements, so if you want the details, you've come to the right place! Head down below and see how I put this amazing Hennessy VS freezie together!
Check out some of the amazing #HennessyMyWay Videos on socials now!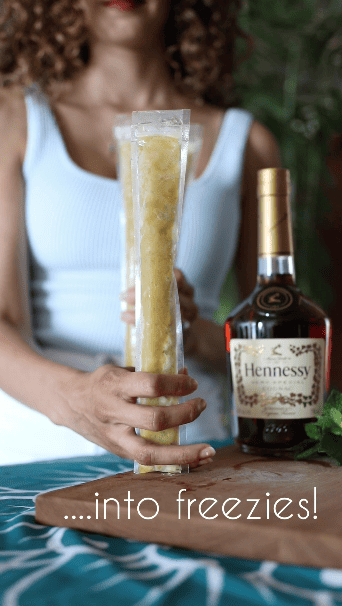 Henny Pina Frio
Learn how to make a boozy freezie with Hennessy VS Cognac, Pineapple and Ginger!
– Difficulty: Easy
Ingredients
1/3

cup

Hennessy V.S.

2

cups

Fresh Pineapple

cut into chunks

1/4

cup

Brown Sugar

10

Mint Leaves

approximately 2 sprigs

1/4

cup

Lime Juice

approximately 1 – 2 limes

1/3

cup

Water

1/2

inch

Ginger

skin removed
Instructions
Add to your blender your ginger, brown sugar, lime juice and mint leaves. Pulse until mint is finely chopped.

Add the rest of the ingredients and blend for at least 1 minute.

Strain into freezie molds (I like to use a tall collins to hold it up during the process, just in case of spills).

Place into freezer for at least 6 hrs or best overnight.