Inspired by a recent trip to Toronto's Byblos Restaurant, we are bringing the Mediterranean vibes into your home this holiday with this delicately spiced beverage! Featured as one of the four holiday punches on CTV's The Social, I know you will love this delicious Mediterranean Christmas punch as much as the ladies did!
For all 'The Office' nerds out there (I love you), you may remember a very special episode when Phyllis gets complete control of the Party Committee and plans a Moroccan-themed Christmas Party. I would like to think that if they had to make a cocktail for that episode, IT WOULD BE THIS ONE. As mentioned above, I was recently inspired by Byblos restaurant with their punch program and how beautiful the kettles in which they served the punches in. From that second forward, I knew I wanted to add this concept to my segment with The Social. Immediately Gin Mare came to mind, being as it's a mediterranean-flavoured Gin, and all the other inspired flavours followed.
---
---
Instead of a Dry Vermouth for this cocktail, I opted for the Cocchi Americano due to its weight and body, and the fact that it can hold its own in a cocktail. That with some cardamom bitters, David's Tea Sleigh Tea which has a ton of almonds and nutty notes, and ginger beer, we have a true winner! Now remember, when it comes to ginger beer, always pick up the Grace brand. It's the only one I use when I don't have my own ginger syrup in the house! I'm sure you're getting as thirsty as I am right now, so here's the recipe.
To see this cocktail live and in action, make sure to follow the link here to watch me create this simple punch!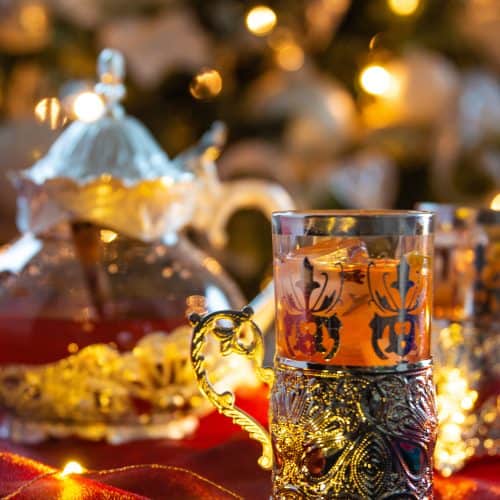 A Mediterranean Christmas Punch
A Mediterranean-inspired Christmas punch with all the wonderful spices of this region. Combined with Gin, Almond Tea, Cinnamon and Ginger, you will love this easy to make, group cocktail!
Difficulty: Easy
Ingredients
1

tbsp

Honey

6

oz

David's Tea Sleigh Tea

5

oz

Gin Mare

3

oz

Cocchi Americano

2

oz

Ginger Beer

6

dashes

Cardamom Bitters

2

Clementine

Sliced

6

Cloves

1

Cinnamon

4

Rosemary Sprigs
Instructions
In pitcher, combine honey and tea (tea can be slightly warm so it mixes with the honey better)

Add the Gin, Cocchi, Ginger Beer and Cardamom and fill the pitcher with ¾ of ice and stir.

Strain into desired punch bowl with 1 large ice cube and add cinnamon stick

For individuals pours, pour over 1 large ice cube and garnish with 2 clementine slices, 2 cloves and rosemary sprig