I get it. Sometimes you just don't want to wait for that infusion to marinate. Sometimes you want a quick, easy cocktail that will use whatever you have in your fridge. Sometimes you look at the Dry Vermouth on your bar cart and wonder if you're ever going to get rid of that bottle. Well, Liquid Culture is here to help with just that!
Now I'm not going to lie, it feels as if I made this recipe years ago. It's simple enough, just a very dressed up Gin and Tonic with the peach vibes. But for the longest time, I didn't think it was "cool" enough to have on the site. It seemed too simple, it didn't seem exciting enough, and clearly I forgot the vision of what I want Liquid Culture to be.
This is a place where ANY level of cocktail is welcomed. It may seem basic to me, but this Basic B cocktail is still SUPER refreshing, easy to make, and a great start for anyone that is new to bartending at home. I know this industry likes to judge the amateur guests, but we all have to start somewhere, and I'm here to welcome all of you to be a better, knowledgeable drinker!
Now this recipe works well with my Peach Puree that I've made in the past, but if you don't have the time for that, then you're more than welcome to use any peach jam that's already in your fridge. Be mindful of the consistency and sugar levels of the jam used. Anything that isn't runny will probably need a good shake with the Gin and Vermouth before topping with tonic (Never, EVER shake with a carbonated product inside your shaker…even I've made that dumb mistake before). And in regards to the sugar, if this jam is fairly sweet, make sure to lower the simple syrup that's listed in the recipe. Think of it the same way you do with Salt, it's easy to add more salt, but it's much harder to omit.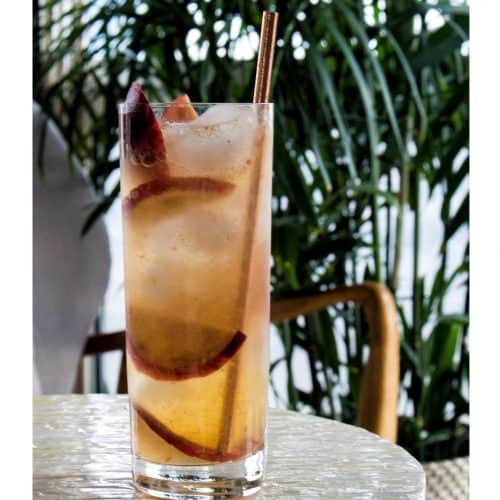 Simple Peach and Vermouth Cocktail
An easy recipe to throw together for a quick, refreshing beverage!
Difficulty: Easy
Ingredients
1

oz

Gin

Beefeater Recommended

1

oz

Dry Vermouth

1

Spoonful of Peach Puree/Jam

½

oz

Simple Syrup

1

Small Squeeze of Fresh Lemon

3

oz

Tonic Water
Instructions
For the Lazy way, add everything to a Tom Collins Glass with a ton of ice and give it a quick stir

If your Jam isn't as fluid, make sure to shake the gin, vermouth, jam, lemon and simple syrup prior to pouring it into the glass. Strain this over fresh ice and top with tonic.
Recipe Notes
A reminder that all simple syrups used is a 1:1 ratio. 1 part granulated sugar and 1 part water. It's as simple as that!