I always like to step out of my comfort zone when it comes to my Friday recipes, and this is definitely the case with this cocktail feature today. I'm using ingredients that I typically NEVER use. Sorry to say, but I'm not the biggest fan of Anise (Shame on me…I know), and apart from the fact that I throw Aloe on my face, I never thought to throw it in a cocktail before.
This inspiration came from Moody Mixology, because I'm pretty much always having eye-gasms (ya I just made that up) with her cocktails. Her style is like no one else on Instagram, her attention to detail is insane and she's always stepping out of the box when it comes flavour combinations and usage. So if I had to dedicate this cocktail to anyone, this is for Amy.
So in an effort to step out of my comfort zone, I created an Aloe and Melon Syrup. Truth be told, I made a number of variations with Aloe, but the Melon proved to be the most successful, and MAN did I learn a lot through trial and error. First I wanted to make sure that our bodies can even DIGEST Aloe. Luckily, it can, and they even have Aloe Juices out there! Just make sure it's in small, modified amounts, but I have found no real dangers when it came to consuming, and I use a small amount for this creation here.
With Aloe being the central feature here, I decided to keep this cocktail cool and refreshing. Cucumber seemed to be an natural pairing, and then it hit me…Absinthe. Just a slight rinse in the glass, and it made a drastic difference to the overall cocktail. Gin is still the predominant liquor used, but I loved how the accent of Absinthe pulled everything together. With that said, I hope you love this cocktail as much as I do! Cheers!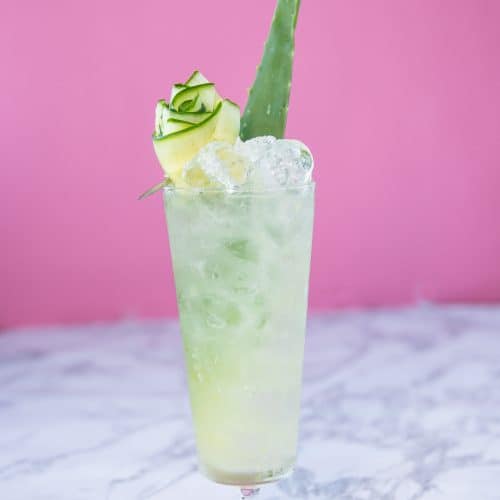 Aloe, Cucumber and Melon Cooler
A refreshing cocktail that combines a number of unusual flavours such as Absinthe, Aloe and Melon.
Difficulty: Intermediate
Ingredients
1.25

oz

London Dry Gin

¾

oz

Aloe Melon Syrup

recipe below

½

oz

Lemon Juice

freshly squeezed

5

Cucumber Wheels

3

Cubes Honeydew Melon

1

dash

Absinthe

Rinsed in glass

2

oz

Soda Water
Instructions
In a pilsner glass, add a dash of absinthe to the inside of the glass before topping with crushed ice.

In a shaker, muddle cucumber and melon to a pulp and fill with ice

Fill the shaker with gin, syrup, lemon and shake vigorously

Strain over crushed ice in pilsner glass

Top with Soda
Recipe Notes
For access to the Aloe Melon Syrup, make sure to follow here.