You'd probably be shocked to hear this, but alcohol was never a thing for my parents. It was rare that it was ever in the house, except for the odd beer, or wine brought from visiting guests. So where did I get my love and appreciation for booze? Well that's a story for another day. But what I do remember, and what I typically find, is that my dad enjoyed a refreshing beer on the odd occasions. So I decided to make a refreshing and delicious beertail that I'm sure he'd be proud of.
Our industry does not utilize beer enough. It adds such a unique texture and frame to a cocktail, that even I'm wondering why I don't use it more often! Even while doing some research on some pairings with beer, very few things come up. I definitely want to change that and highlight some more beer inspired cocktails in the next few months. In the meantime, I'm going to showcase what I've created for you here today!
This beertail combines some of my favourite flavour combinations and that's utilizing ginger and pineapple! The effervescence from the pilsner really brightens up and highlights the ginger and pineapple notes in perfect harmony. Don't believe me? Why don't you whip this up for your dad this Father's Day?!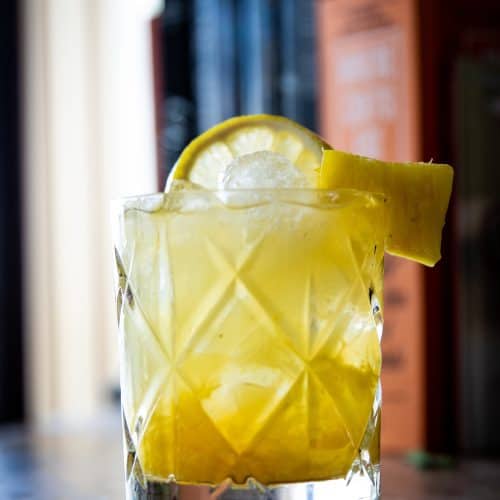 Pineapple Ginger Beertail
A beer cocktail that combines bourbon, pineapple, ginger and pilsner!
Difficulty: Easy
Ingredients
1.25

oz

Bourbon

2/3

oz

Simple Syrup

2

Small pieces of Pineapple

½

tsp

Ginger

grated (preferably Peruvian or Jamaican Ginger)

1

oz

Pilsner Beer
Instructions
In a shaker, muddle pineapple to a pulp and place ice, ginger, syrup and bourbon and shake.

Pour all contents in double rocks glass and top with beer
Recipe Notes
As a reminder, all simple syrup recipes are a 1:1 ratio of hot water and granulated sugar.