My anxiety is very real when it comes to making homemade Caramel Sauce. I got burned once, and I had a bubble on my finger for weeks! Working behind a bar with a disabled hand is an unreal annoyance, and so I pushed this concept on the side for a long time, and folks, I finally got the courage to try again.
The typical thing you'll find with most boozy caramel sauce is the addition of Bourbon. Not that I am against Bourbon, but one of my favourite whisky's is a Canadian Spiced variation called 'Spicebox'. This Canadian Rye has hints of vanilla, dried spices and fruits, pretty much the perfect compliment to the flavour profile of caramel.
So with that combination, I threw in some vanilla to merry the flavours together. I used it for the first time over my Peach, Apple and Pecan Galette which as you can imagine, came together very well! I'm sure you'll find this recipe on a few desserts featured on Liquid Culture, that I guarantee!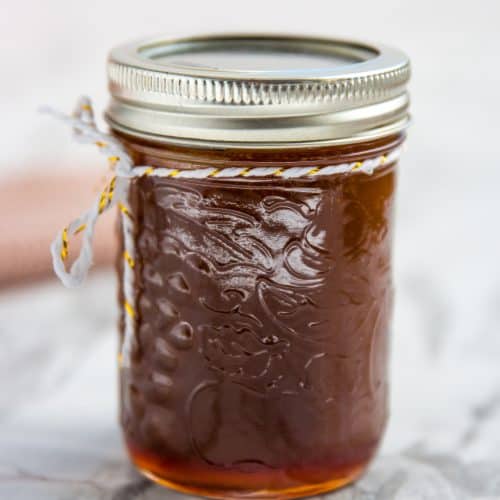 Spiced Whisky Salted Caramel Sauce
A delicious caramel sauce that is slightly salted with Spicebox Canadian Rye Whisky and vanilla!
Difficulty: Intermediate
Ingredients
2

cups

Granulated Sugar

1

cup

Heavy Cream

1/4

cup

Spicebox Whisky

1

tsp

Pure Vanilla Extract

1/4

tsp

Maldon Salt

or any coarse salt
Instructions
In a medium saucepan over med high heat, place 1/2 cup of sugar and stir continuously until it melts and becomes a slight gold colour. Constantly stir so that it keeps it from burning at the base. Once it is gold, keep adding sugar, 1/2 cup at a time, until it is well combined.

Once the sugar is all done and it reaches a gentle boil, reduce the temperature to med low. While still stirring, slowly add in the vanilla extract and cream. Be careful because it can splatter around this time.

Once combined, remove from heat and slowly pour in the Spicebox Whisky and salt while still stirring.

Pour into a sterile container and let this sit until it reaches room temperature. This sauce can keep in a fridge for up to 2 weeks.