Ya I know, my mouth is watering too! I have been wanting to create a simple peach dessert for some time now, and this came together so well and I'm very excited to share with you today. This recipe includes sliced peaches, apples, pecans, vanilla and a touch of Spicebox Canadian Rye Whisky. Oh and did I mention it's dressed with the Salted Whisky Caramel Sauce? Double mouth water!
Whisk(e)y-infused desserts are quickly becoming a favourite of mine. The natural caramel components in most Bourbons bring together the flavours so well, and it's the reason why I'm always heading towards my bar for different bourbons and whisk(e)y's to experiment with. Spicebox Rye Whisky is one of my favourite spirits to use. I know it is very common to use bourbons, but this unique product from Canada is one of my favourite bottles to have in my kitchen. It's a delicious blend of spices, vanilla and caramel which is predominantly highlighted like no other spirit I've tasted. So make sure to pick this up, especially if you like the sweeter variations of whisk(e)y's.
I will admit, I wasn't a big fan of the crust recipe I used, so I will not be putting it up on the site. But I will be giving you the instructions of the filling, so it can be easily adapted and thrown into any preferred pastry crust recipe! That's what makes it so easy. You can easily pick up your favourite pie crust roll and have it thinned out to about 1/4 of an inch. Layer and fill to your liking and voila you have the quickest and easiest pie. I can promise you that this won't be the last Whisky Dessert you throw together!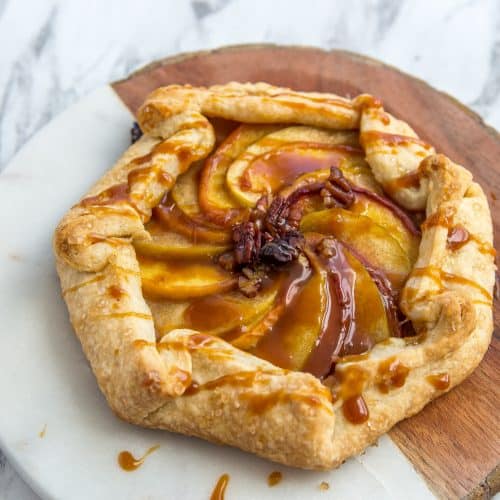 Peach Apple and Whisky Pecan Galette
A delicious and simple whisky dessert that incorporates our love of peaches and a Salted Whisky Caramel Sauce!
Difficulty: Easy
Servings
2
x 8 inch rounds
Ingredients
2

Pastry Sheet

typically one frozen package or your favourite dough recipes

2

Peaches

thinly sliced

1

Granny Smith Apple

Or Tart Honeycrisp - thinly sliced

1/2

Juice of Lemon

1

oz

Spicebox Rye Whisky

1/2

oz

Peach Syrup

1/4

cup

Pecans

Chopped

1

Brown Sugar Cube

1/2

tsp

Cinnamon

1/4

tsp

Salt

2

tbsp

Salted Whisky Caramel Sauce

1

tsp

Coarse Brown Sugar
Instructions
Peach and Apple Filling
Slice 2 peaches and 1 Granny Smith Apple (or Tart Honeycrisp Apple will work) into thin slivers

In a bowl, combine Lemon Juice, half of the chopped pecans, Spicebox Whisky, sugar cube, peach syrup, cinnamon and salt.

Toss in the peach and apple slices until well combined, and let this absorb for 10 minutes. Leave this in the fridge while you roll out your dough.
Galette
Grease or line a baking sheet with parchment paper. Preheat oven to 350 degrees F (or whatever instructed for pastry dough)

Using your favourite pie crust/pastry dough, over a slightly floured surface, roll the dough out to 1/4 inch thickness

Fill the Dough with cooled filling, leaving 2 inches on the outside of the dough to allow proper folding

Fold the dough over without completely covering the centre, pinching the corners to make sure it doesn't unfold. Sprinkle coarse brown sugar over top with remaining pecans.

Place galettes onto the lined baking sheet and bake for 25-30 minutes until edges lightly brown (or follow package instructions for pastry)

Remove from oven and place onto a cooling rack for 15 minutes

Pour Caramel Sauce over top (optional) and enjoy!
Recipe Notes
I threw in some of the peach syrup I had lying in the fridge, but this is not necessary, just increase the sugar content then if you want to save time. For recipes for the Peach Syrup or Salted Whisky Caramel Sauce, follow the links attached!