I'm going to go out on a whim here and assume that for most Canadians, we get VERY EXCITED for summer. Since our window is so small for hot days and sunshine, we utilize every second that we can to enjoy the sites, the warmth and the cottage life. With that said, is their any other way to enjoy Summer than with a boozy refreshing popsicle?! I don't think so! Let this Watermelon Mojito get you all sorts of excited for the first day of season and what Summer 2018 has to offer!
The markets seem flooded with Melons lately, so I knew I wanted to put something together that takes you back to those nostalgic moments of summer with some bright, refreshing flavours. Then it hit me…a Mojito! What is more classic than this iconic recipe? This also keeps the concept of the popsicle simple, tasty and extremely easy to execute. It's not difficult to throw this all together, but just be mindful of the ratios and measure your popsicle molds, as I find most have very different volumes. Leave these puppies overnight in your freezer, and you can start getting excited for Summer!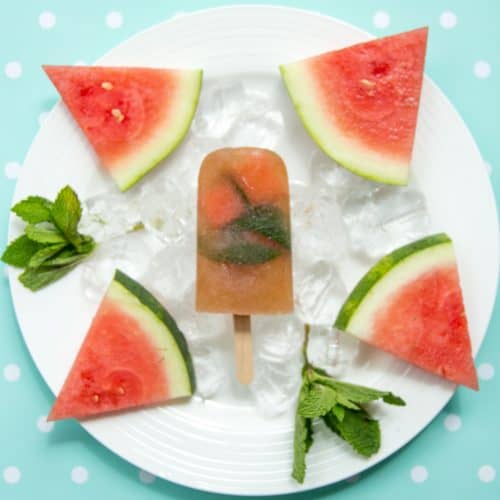 Watermelon Mojito Popsicles
In honour of the first day of summer, Liquid Culture brings you a Boozy Watermelon Mojito Popsicle recipe that you can enjoy all summer long!

Difficulty: Easy
Ingredients
2.5

oz

White Rum

Havana Club 3 Yr Used Here

1/2

cup

Watermelon

Cubed (skins removed)

1.5

oz

Simple Syrup

1.5

oz

Fresh Lime Juice

20

Mint Leaves

1

oz

Water
Instructions
In a blender, combine rum, 1/3 cup Watermelon, simple syrup, lime, 15 mint leaves and water

Once blended, strain through a fine mesh strainer into a pour container

Place the rest of the cubed watermelon into the molds with mint before pouring in the cocktail

Place in the fridge overnight

When removing the molds, make sure to run the outside of the mold with warm water for approximately 5 seconds to easily remove the popsicle.
Recipe Notes
As a reminder, all Simple Syrup recipes use a 1:1 ratio of water and granulated sugar.
The popsicle molds that were used here had a volume of 3 oz, that can comfortably fit fruit inside.