Why on earth would I want to play around with Aloe? The better question is why not? I knew that Aloe Juice was a very real thing and good for you in moderation, so why not make a syrup from the real thing and create a delicious cocktail?!
My biggest concern was that I wanted to make sure that Aloe was a safe item to drink. From everything I've read, Aloe Vera is an amazing product that can be consumed once broken down and taken in moderation. To be safe, I wouldn't go more than 8 oz of Aloe Juice, but I am using the real leaf, so I had to adjust that slightly.
There were a few things I discovered on my path to making this syrup, one of them being that it is really difficult to break down. I thought I could easily break down this product with the introduction to heat, but it slightly dehydrated itself and kept its form. I still recommend applying some sort of heat, but blending proved to be the most effective method in breaking down the Aloe. It also turns into a slight pink hue when heat is applied, which I would have never have guessed looking at this clear gooey texture at first glance.
With that said, I'm sure you're very curious as to how I put this syrup together, so without further delay, here is the recipe! And if you want the recipe for the cocktail I make with this, you have to check out this refreshing Aloe, Cucumber and Melon Cocktail!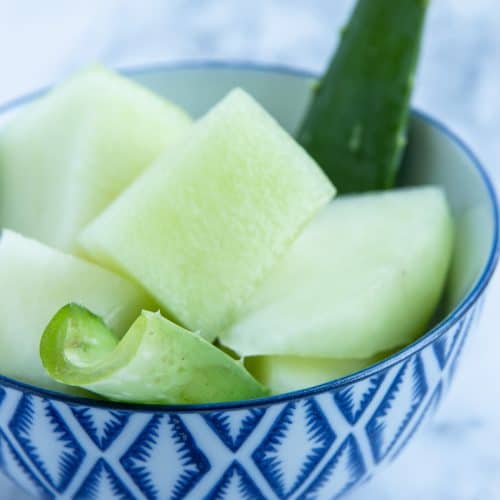 Aloe and Melon syrup
An Aloe leaf is broken down and combined with melon, to create a refreshing and delightful syrup!
Difficulty: Intermediate
Ingredients
2

inch

Piece of Aloe Leaf

Skins removed and cut into cubes

1.5

cups

Melon

Brazilian Santa Clause Melon Used Here

1 plus 1 tbsp

cup

Boiling Water

1

cup

Granulated Sugar
Instructions
In a medium-sized sauce pan over med-high heat, place one tbsp of water with aloe vera chunks and melon (cubed). Let this come to a bit of a simmer and break down slightly for 2 minutes

While aloe and melon simmer, have a pot of water reach near boiling. Once it does, throw the water, sugar and simmered aloe and melon into a blender and blend

Strain through a fine mesh strainer, and let this sit til it reaches room temperature before storing in the fridge. Can be refrigerated for up to 1 week.