We're bringing out the Porthole Infuser for this one, because when your community actively knows the difference between the varieties of Apples, you want that Honey Crisp Apple to shine! Today's #DrinkYourGram creation should give you all the Fall feels you love, especially if you can't live without Apple Pie like me. Don't have a porthole infuser at home? That's okay. I'll be sharing a few substitutions I've made in the past. But if Rhubarb Gin, Apple and Amontillado Sherry sound right up your alley, you'll definitely want this cocktail.
If you're new to the #DrinkYourGram concept, it was a way for me to connect with my audience on Instagram and have you vote for what YOU'D like to create at home. Since I started #DrinkYourGram in 2020, I've created some of my favourite cocktails PERIOD and I have all of you to thank. For this week, with Fall finally here, I asked you for the ultimate imbibe to start off the season! Curious about the results? Well, here were your votes:
Out of all the Apple flavours offered, you all love Honey Crisp the best!
57% voted for a cocktail made with Cinnamon vs Ginger
65% of the votes wanted it mixed with Sherry vs Verjus (mind you I don't think people knew what Verjus was lol)
63% of the votes wanted something made with Gin vs Cachaca
I also just want to give a thank you for everyone who voted this week. This time around, it was my largest voting turnout and I only hope it continues to grow! I'm going to explain a bit of my thought process for this cocktail, and outline any substitutions you may want to think about.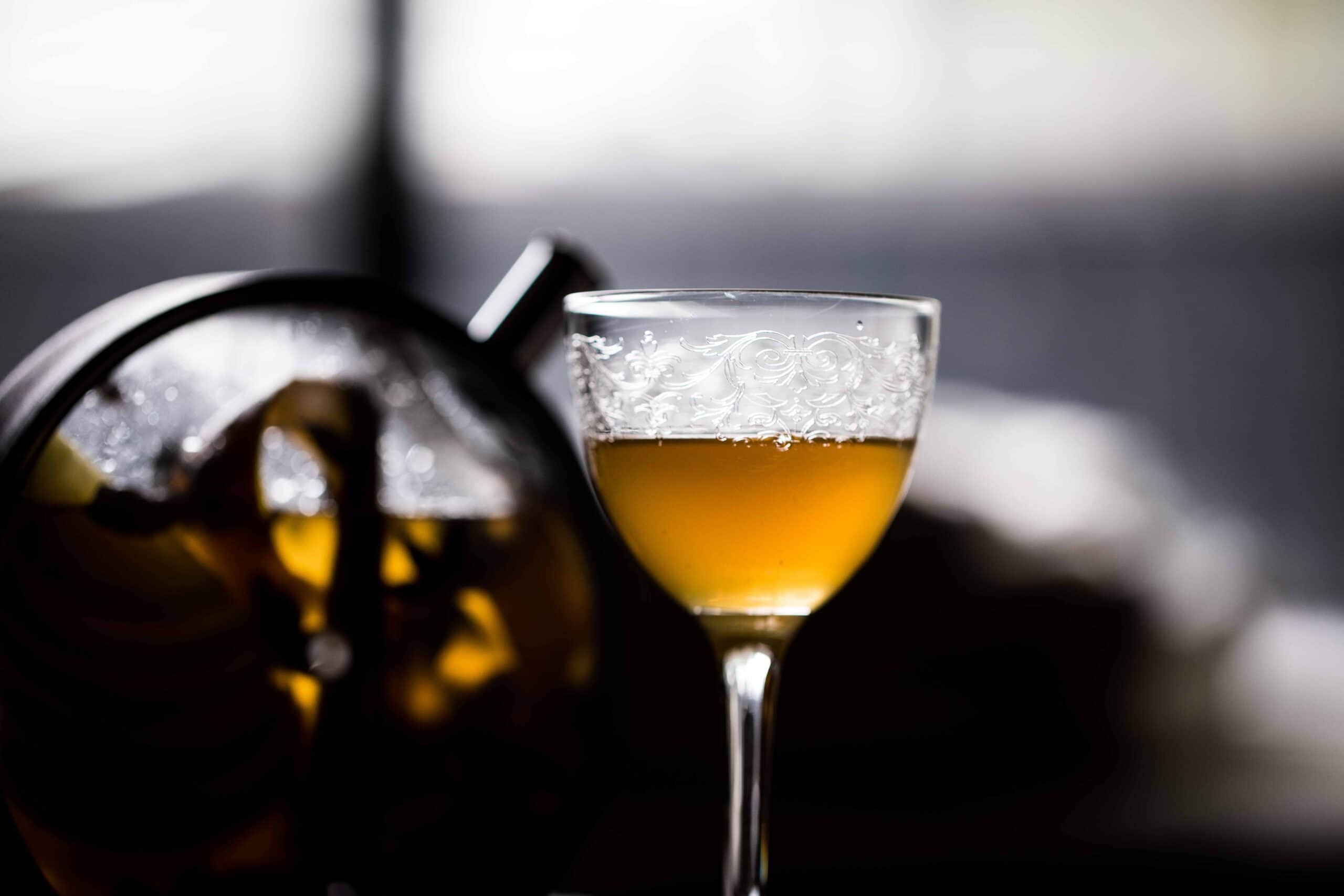 Going with Gin
Funny enough, I did secretly hope Cachaca would make it through with the votes, but it goes to show, Gin still has a powerful hold on the masses. There's so many expressions of gin and ways it can be manipulated, that it's easy to create something special here. I could have gone the route of a barrel aged Gin or Old Tom style, but I remembered I had a delicious Rhubarb Gin on hand that would work so well with Apples! I know Rhubarb and Strawberries is the star combination, but Apples and Rhubarb together really speak to me. I probably would have added rhubarb peels into the infuser to really bring out the flavour, but with it no where to be found in the market, this gin infusion is good enough for me.
The Gin I'm talking about is the Steinhart Rhubarb Gin, which for those looking for an award winning and OUTSTANDING gin from Canada, you have to give these guys a try!
Honey Crisp Apples
When it comes to Apples, Honey Crisp is king for me. Mutsu and Pink Lady are definitely close contenders, but it's definitely the one I gravitate too and tends to be readily available at the markets. It's the reason why I wanted to make this cocktail in the porthole infuser. I didn't want to manipulate it in anyway. I thought, lets just have it as clean in flavour, no syrups, no juicing, and I know it may not seem like it, but this is the easiest option requiring little time or equipment.
If you don't want to wait the 30 minutes to let it infuse completely, add a touch of apple cider to the mix. It will really brighten up the flavours and give you what you're looking for.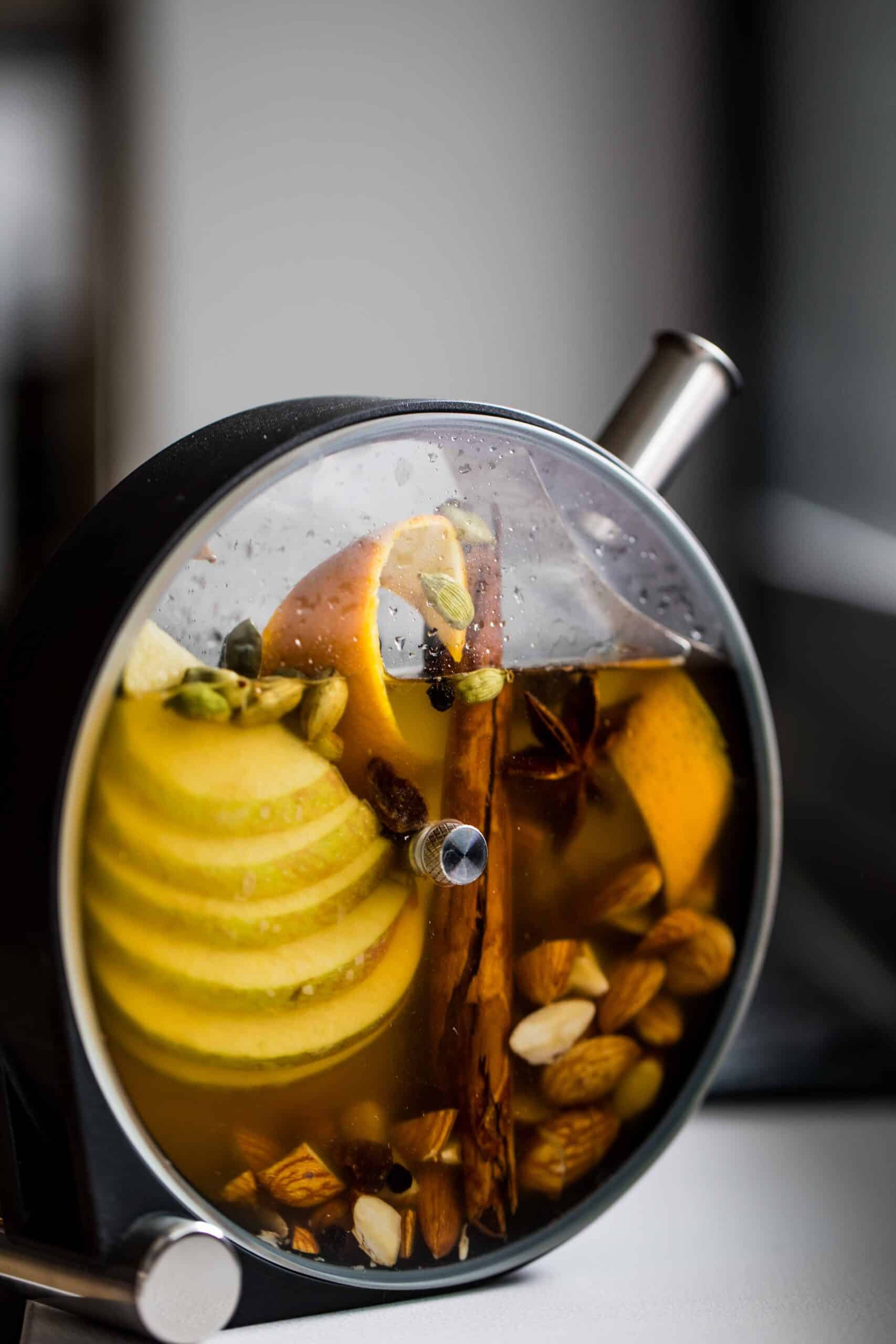 What If I Don't Have a Porthole Infuser?
I know this is the majority for a lot of you on here. You probably clicked this recipe via Pinterest thinking ohhhh this is fancy and pretty, but I can't make it. Well, I promise you, you can if you have a French Press around! Before my husband gifted me the Porthole Infuser, I was using a French Press for any of these specialty creations, which you can easily find at a Home Sense (I guess for my American's that's Marshalls? Don't quote me on that one.) BUT, if you don't want to even do that, let the cocktail hang out in your mixing glass. It's gorgeous anyways, just simply have your strainer near by when pouring. Or pour it into a mason jar! It won't look AS pretty, but it will get the job done!
Really? All that Water?
Sometimes I get people surprised at how much water gets added to a Porthole Infused cocktail, but the thing is, you don't use ice at all for this drink. You're not stirring, I'm not even asking you to have it over ice. But what you have to know is that it plays A MAJOR ROLE in all of your cocktails. Any drink stirred, shaken, built over crushed ice, the dilution is CRUCIAL to the balance of the cocktail. So don't be scared to add that filtered water, it's only going to lead to a more enjoyable sip.
Amontillado Sherry
This is the one thing I'm going to be a stickler on, do NOT use an oloroso or dry fino sherry for this cocktail. Amontillado reigns supreme here and that's because it's the best of both worlds. Okay, maybe I would get away with you using BOTH Oloroso and Fino sherries together, but don't use either/or.
Now on the chance you don't have it at all, if this is a last resort, this combo won't fail you. Combine Fino Sherry with a dash of a red vermouth. I'd go with something on the more complex, spiced side of things. Cinzano Rosso Vermouth is good for this.
Calvados
Okay, this is the last bit before diving into the cocktail. Why Calvados? Well, it strengthens the presences of the Apple. Calvados can be an Apple or Pear Brandy, but in this case, I tend to only carry the Calvados made from Apple. I added it only to lengthen the cocktail and to add a bit more weight and character to the mix. It's definitely not added as a "sweetener" component to the cocktail, instead think of it when you add brandy to baking. It adds this beautiful mouthfeel and complexity that slightly comes through. Plus, I think it marries the Gin and Sherry quite well together.
Substitute for Calvados? Ugh that's a tricky one. If you have some Apple liqueur, mix it with cognac to get something slightly relative…but I'd just pick up some Calvados, because it definitely comes in handy when poured into an Apple Cider during this Fall Season.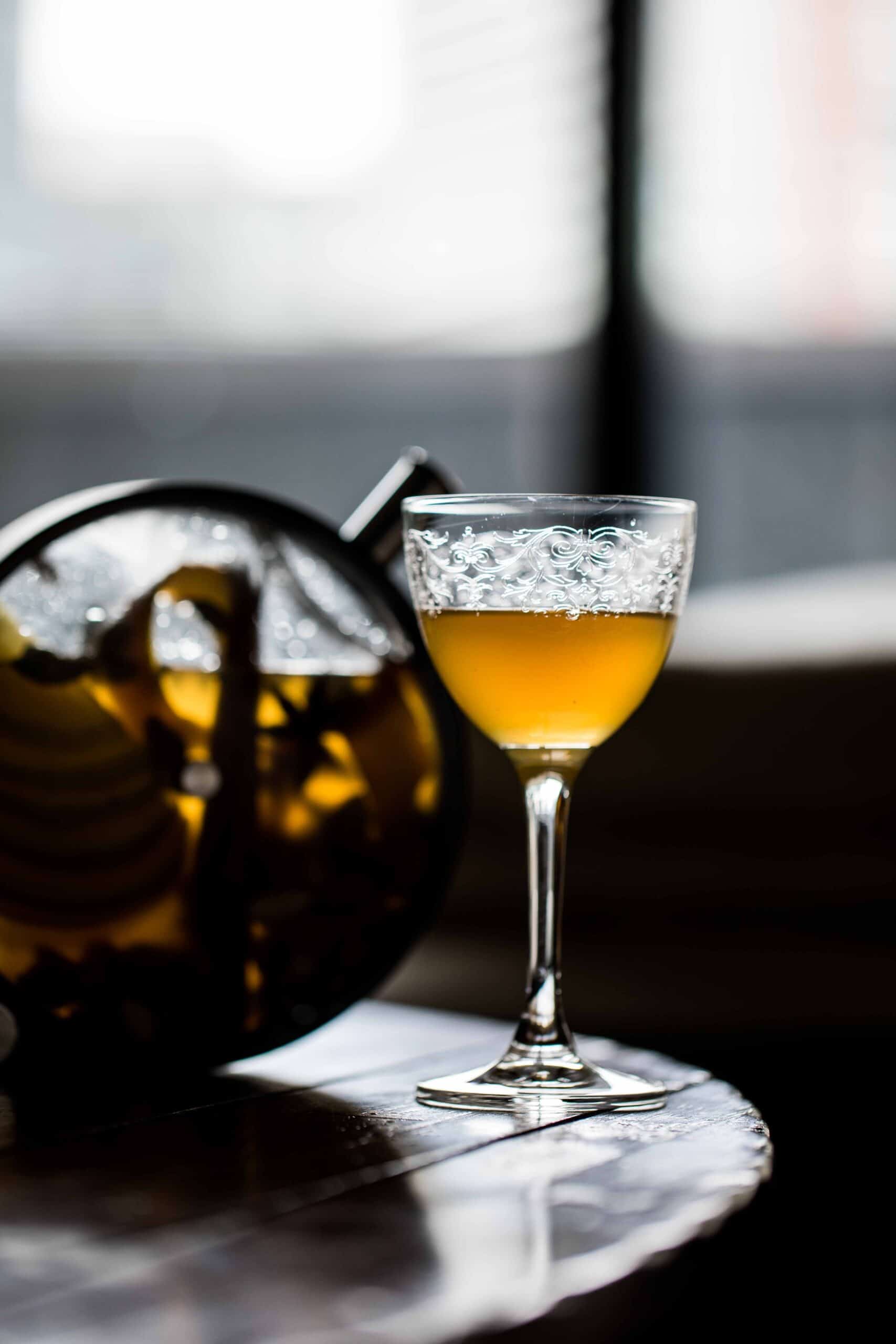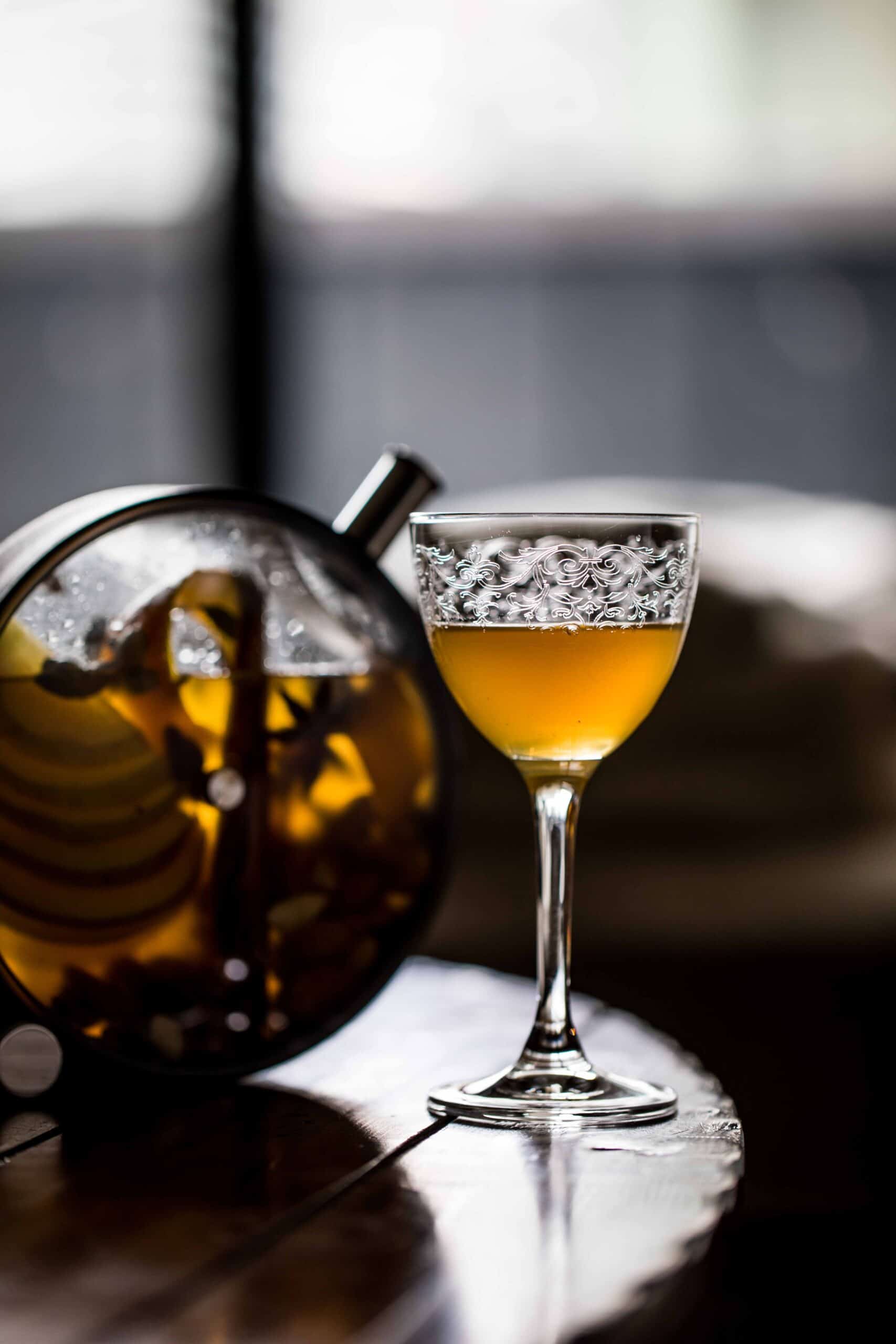 Apple Pie Sip
A special Gin cocktail that will taste like a Rhubarb Apple Pie using the Porthole Infuser
– Difficulty: Intermediate
Ingredients
Dry Ingredients
1/4

Honey Crisp Apple

Thinly Sliced and fanned

1/4

cup

Dry Almonds

Roughly quartered

1/4

cup

Raisin

Roughly chopped

1

Cinnamon Stick

preferably small

2

Orange Peels

1

tsp

Black Pepper

1/2

tbsp

Green Cardamom
Cocktail Base
3

oz

Steinhart's Rhubarb Gin

1.5

oz

Amontillado Sherry

Lustau used here

1

oz

Calvados

4.5

oz

Filtered Water

1

oz

Honey Syrup
Instructions
Fill your porthole infuser with all the Dry Ingredients. Ensure you lock it up tight.

In a mixing glass or measuring cup, add all the cocktail base.

Pour cocktail base through the porthole infuser spout.

Place into fridge for 30 minutes before serving. While serving, only pour a few ounces each time. The longer you leave it in, the more it will infuse with the flavours!
Recipe Notes
Don't have a porthole infuser? I dive into multiple options for you in the write up above!
To create the Honey Syrup, simply combine 1 part honey with 1 part boiled water. Stir until combined.