In honour of the newest addition to the LCBO, I've partnered up with Rum Royale and Hart & Son Blackpool Spiced Rum to create a riff on one of their classic cocktails. It's called the Black Bird, that combines Blackpool Spiced Rum, Campari, pineapple and more. To make their classic have a bit more of a fall feel, I've introduced some new flavours. Instead of Campari, Amaro Montenegro is the star with all its warming bitter spiced notes. Plus we add some Chai Bitters and Pomegranate to the mix. It's incredibly simple to make at home, plus you can even catch a video of me whipping it up for my visual learners out there. Curious how to mix up this Fall tropical storm? You'll want to keep reading!
I've mentioned Rum Royale before, and I'll continue to spread their message, because when it comes to the world of Rum, I trust them whole heartedly. So when they wanted to partner up with a SPICED RUM, I knew I had some good stuff in hand. Most spiced rums in our market come heavily laced with sugar and artificial flavourings, and can sometimes give a bad rep to the rum category. So I've learned to just completely avoid them, but having that Rum Royale approval, meant that I could confidently mix with this at home, knowing I'm supporting a worthy brand.
Now there's a couple notes I want to mention before we dive into this cocktail:
Pineapple Juice – AVOID pineapple juice made from concentrate. I'm serious. Pineapple juice, even from that Dole's can really makes a big difference in a cocktail for me, so be mindful of this.
Chai Bitters – I used Chai Bitters to easily incorporate this flavour. BUT if you can't seem to find them in your specialty store, try and make a chai tea simple syrup instead. For that I would just combine 1 cup of granulated sugar, with 1 cup boiled water, with 2 chai tea bags. Put it in a small saucer and let it simmer for 5 minutes before straining.
Amaro Montenegro – I'm just starting to experiment more with Amaro's and unless you're a big fan, you may not have this at home. It's a hard flavour to replace, but if you need a substitute, I would combine some sort of bitter with sweet vermouth. The vermouth should preferably come from Spain (avoid France), and maybe mix it with Fernet Branca or whatever spiced, bitter liqueur you have at home.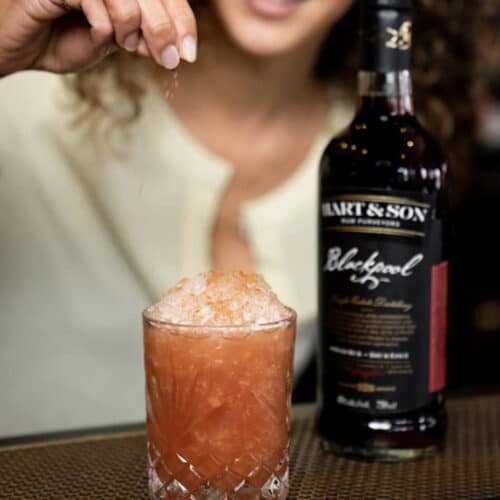 Hart & Chai
Shaking up Hart & Son's classic Black Bird cocktail for Fall using Amaro Montenegro, Pomegranate and Chai Bitters
Ingredients
1.5

oz

Blackpool Spiced Rum

1/2

oz

Amaro Montenegro

1

oz

Pineapple Juice

1/2

oz

Pomegranate Juice

1/3

oz

Lemon Juice

1/3

oz

Simple Syrup

2

dashes Chai Bitters *you can source these @cocktailemporium

1

pinch

of Cinnamon Powder
Instructions
Fill your double rocks glass with crushed ice.

In a shaker add all of your ingredients except the cinnamon.

Give a vigorous shake and strain over the crushed ice.

Top with a pinch of cinnamon.
Recipe Notes
The simple syrup ratio here is a simple 1:1 ratio. To make at home, combine 1 part granulated sugar with 1 part boiled water. Give this a stir and let it sit at room temperature before use. Can last in the fridge for up to 2 weeks.