Having completely missed a month of #IceCreamSundazeee, I decided to whip up one more that's definitely Fall inspired, DELICIOUS, and easy to make at home! This is combined with my love of Argentinian wines, using Graffigna's Malbec for the ultimate imbibe. Ready to start freezing??
More so than pumpkin, I'm always craving Plums during the Fall. And funny enough, with the opportunity to work with Graffigna, I started to notice those same Stone fruit notes in its Malbec that I knew would lend perfectly for this creation. I say this every time, but I guess it's because I'm always learning and getting better, BUT THIS SORBETTO. WOW. I have No words! It's my favourite Sorbet I've made TO DATE. Made with Plumcot (yes there is a difference, keep an eye out), fresh sage and this terrific Malbec. Note that this wine is outstanding on its own, I even recommend having a few sips while you're waiting for the Sorbetto to freeze. But first, lets digest what's happening with this recipe before getting to the details.
Choosing the Wine
There's a few reasons I decided to go with the Graffigna's Malbec for this creation. First and foremost, I always try and pick up a drier styled red when creating recipes, baking and in this case, creating a delicious Sorbet! Malbec definitely do that for me, and if there's one place you grab a Malbec from, it's Argentina and I love what Graffigna's doing. First and foremost, they are iconic in its region, being one of the most historical and important wineries in Argentina. Not only that, it's AFFORDABLE! The value you're going to get with Argentina is really second to none, and Graffigna is definitely bringing out some of the best the terroir has to offer. Right now it's currently on promotion at the LCBO, so I would definitely check it out here!
In addition, check out this article from View the Vibe that talks about the easy steps to hosting an Argentine Asado BBQ at home!
Plumcot
Yes, there is a differences when it comes to this specialty plum. They come around every so often at my grocery store and I'm always excited for them. They're quite tart at first, but finishes off with a touch of cinnamon and sweetness I love. I would definitely say, it's the 'Honey Crisp' of apples.
If you can't seem to find that particular "varietal" of plum or they are out of season, go for a mix of red and black plums. And this recipe is forgiving if your fruit is starting to get ripe, because we need to let it break down and simmer before freezing!
Sage
Sage can EASILY overwhelm the balance of this sorbet, so be very careful. Less is definitely more, and just a few leaves will go a long way. I went with sage for a few reasons. It's not something I typically mix with, but I knew it would pair beautifully with pair. It's also a herb that I always associate with Fall hence why I had to use it here.
I understand if maybe Sage is not for you, and you're looking to replace it with something else. Well I would recommend switching it out for basil or mint. I wouldn't go with thyme as it's a bit too savoury for this palate.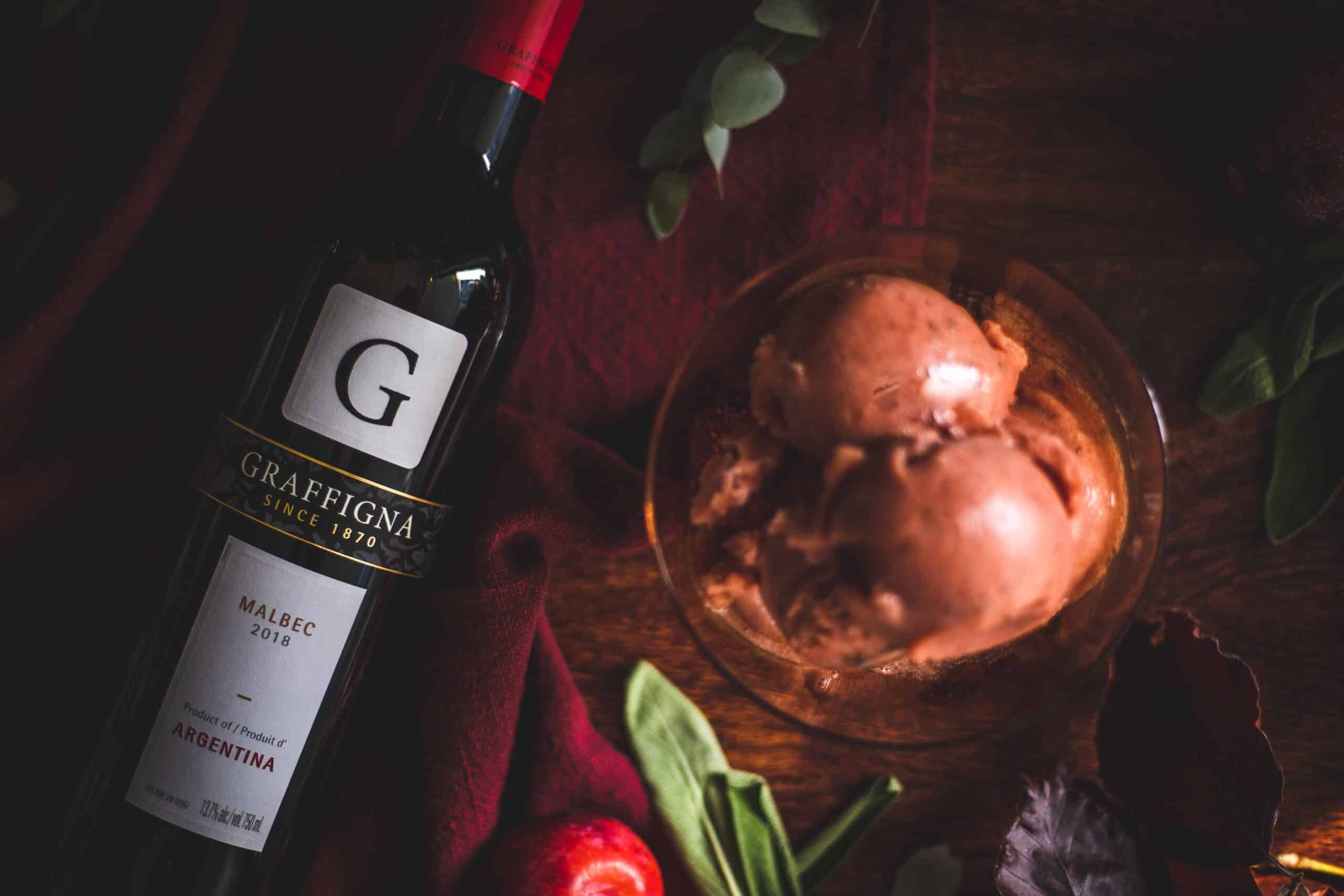 Simmer
Make sure you give this a simmer over the stove. Don't miss this step, because I actually think it brought out more of the Malbec and concentrated the wine that much more. I'd let it cool off for a few minutes before tossing in the blender.
Ice Cream Maker
I'm not an expert when it comes to making sorbets, gelatos or ice cream without an ice cream maker. But I know this could work without it, it would just take longer and try to lay it out on a flat, wider surface for even freezing. Don't quote me, but I know the experts in NY mention it all the time and I trust them.
Now with the strangely warm weather this weekend, I'll definitely be turning on the BBQ and sipping this wine, and finish off with this Sorbet. It's the perfect end to a great weekend. Cheers to more of them!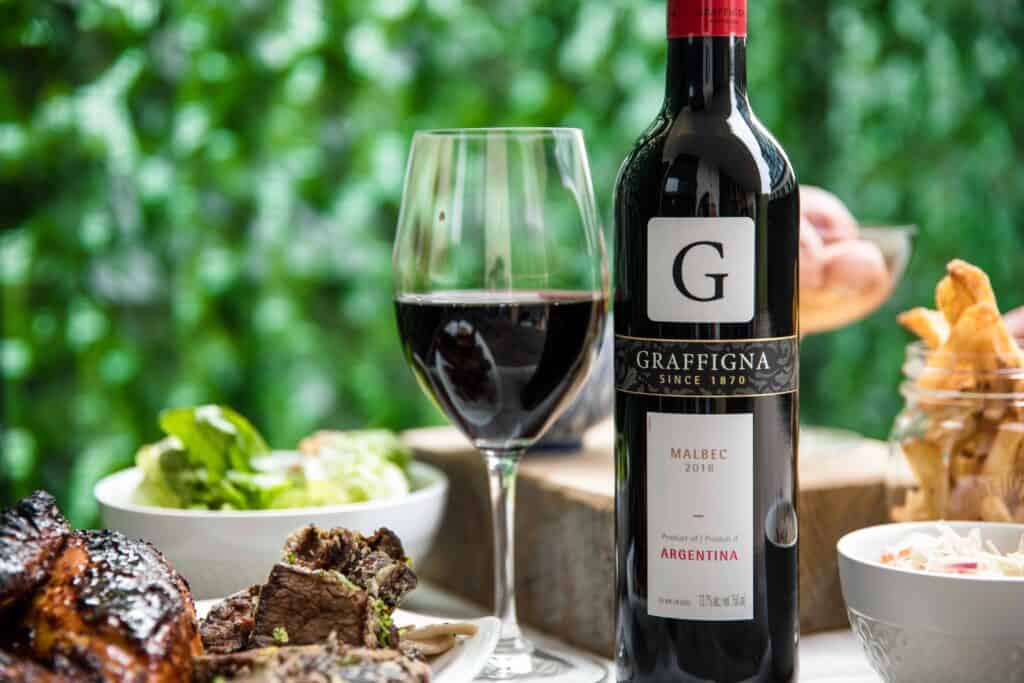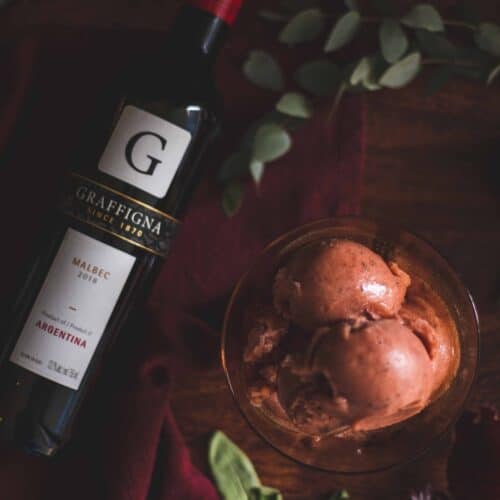 Plum, Sage and Malbec Wine Sorbetto
An outstanding Fall Sorbetto that you can make at home, using Plum, Sage and one of my favourite Malbec's from Argentina; Graffigna!
– Difficulty: Intermediate
Ingredients
3.5

cups

Plumcots

Skin and core removed and quartered (approximately 1 pound)

1/2

cup

Granulated Sugar

1/2

cup

Graffigna's Malbec Wine

+ 1 tbsp of Wine

1/3

cup

Water

1/2

tsp

Licor 43

or 1/4 tsp Vanilla Extract

1/2

Cinnamon Stick

3

large

Sage Leaves

1/4

cup

Brandy

Hennessy VSOP
Instructions
Grab a Medium sized sauce pan and over med-high heat combine Plumcots, sugar, wine (1/2 cup), water, vanilla and cinnamon stick.

Let this come to a boil and simmer for 15 minutes.

Take the pan off the stove and get your blender ready.

Add the sage, brandy and a spoonful of the plumcot mixed. Pulse until the sage is broken down into small pieces.

Add the rest of the plumcot/wine mixture and 1 tbsp of Graffigna's Malbec. Blend for 1 minute.

Let it cool off in the fridge for a minimum 4 hours.

Follow your Ice Cream Maker instructions. For me, having the kitchen aid attachment, I let it stir for 30 minutes.

Toss back into the freezer in an appropriate container for 2 hours. Before serving, let it sit in the fridge for 20 minutes.