Help me come up with a name for this cocktail, because it's a wonderful warm beverage to welcome the Fall season and the latest creation to #DrinkYourGram! Combining Teeling Irish Whiskey, 10 yr old Port, Apple Cider, Ginger Beer and boiled water, this will soon become your upgraded Whiskey Toddy recipe at home!
If you're new to the #DrinkYourGram concept, it was a way for me to connect with my audience on Instagram and have you vote for what YOU'D like to create at home. Since I started #DrinkYourGram in 2020, I've created some of my favourite cocktails PERIOD and I have all of you to thank. For this week, with Fall finally here, I asked you for the ultimate imbibe to start off the season! Curious about the results? Well, here were your votes:
64% voted for a warm cocktail vs cold
42% of the votes wanted a whisk(e)y based beverage (out of 4)
39% of the votes wanted something made with Apples (out of 4)
Immediately I assumed you all wanted a Hot Toddy flavoured with apples, but I've already done it before so I wanted to create something a bit more unique, yet simple. So I went back to the drawing board, and port came into my head! The rest was history, and I'm going to break down why I use certain ingredients, and how you can substitute!
Choosing a Whisk(e)y
I'll be honest, I could have been very flexible with this. Bourbons, 100% Straight Rye's, even single malt scotches could have worked here. I liked the bite and complexity an Irish Whiskey could bring, PLUS I don't mix with it often so I thought it was a good opportunity to. In this case, I used Teeling Whiskey which is a great brand and typically available in Ontario. Another winner for me is definitely Tullamore Dew, Writer's Tears and AnCnoc has some incredible Whiskey in their portfolio as well!
You can even go as far as a Cognac, Armagnac or Brandy for this cocktail! Let me know some of your favourite combinations.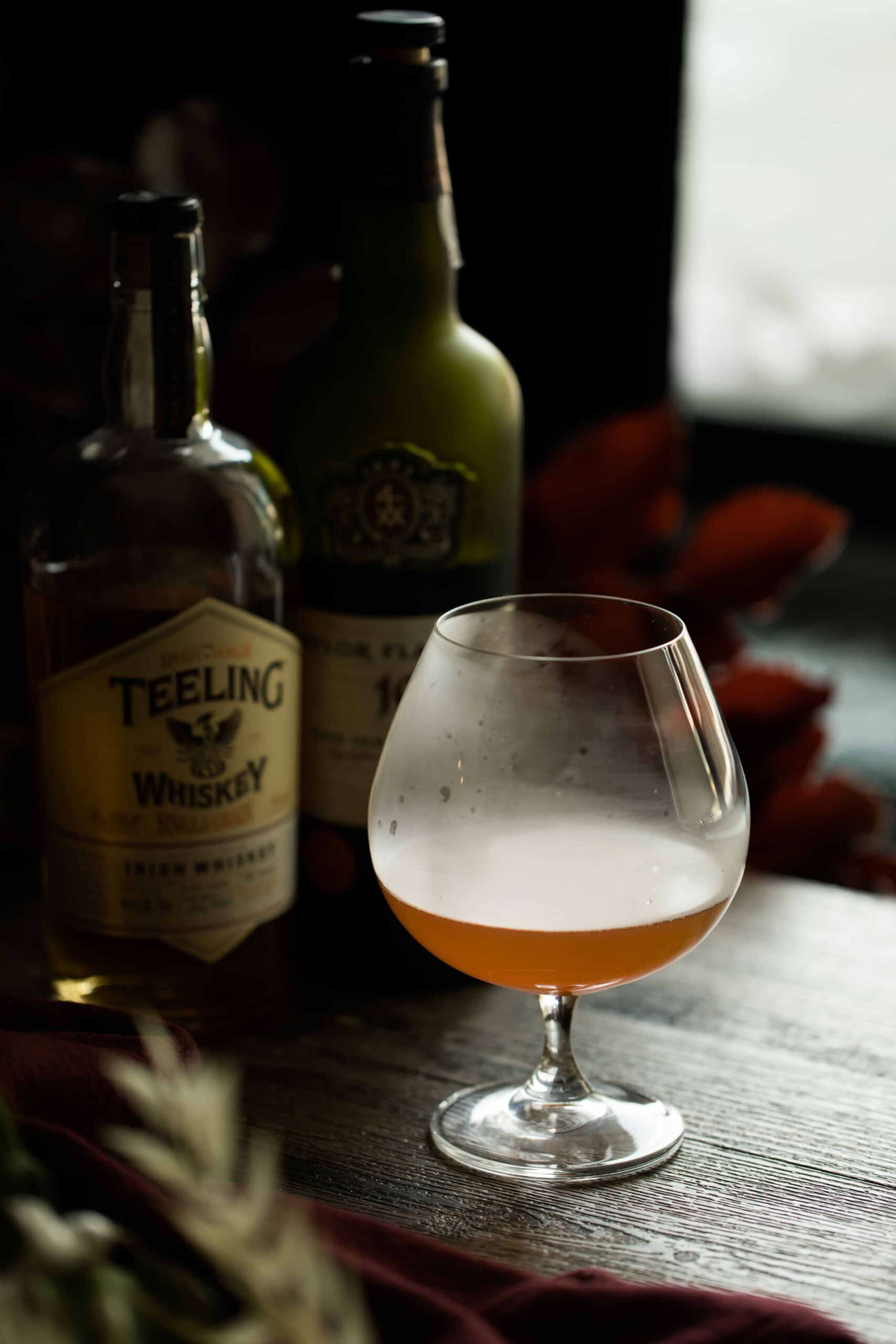 Why Port?
I already associate Port as an after dinner sip, and it does a FEW things for this cocktail.
Adds Sweetness to the cocktail – I didn't need to add additional honey, or liqueur for this cocktail because it added it for me naturally
Add Spices and Complexity – Port to me has all the spices I love and use for Fall, so instead of making a syrup, it's already done here.
It made this cocktail unique – I knew warmed up port would work well, we've seen wine poached with pears, and it adds another layer to the cocktail that makes the other ingredients sing.
Port tends to be something that sits in most people's bars, this is a good opportunity to get through the bottle with no regrets!
Don't have Port at home? You could add a Malbec to the mix, but than you'll have to add some sugar and spices to the cocktail. Only add a splash of wine. A little goes a long way, and I would warm up the Malbec with the Apple Cider as well. I would do a 4 part ratio of apple cider to 1 part Malbec when heating this up.
Apple Cider
I love Apple Cider, and so I won't dive into this too much. The one thing I did want to note is the fact that you need to be mindful of the sugar levels in apple cider. I picked this up at my market and I know this farmer doesn't add any sugar to it. If the one you've picked up DOES has sugar added, be careful with how much port you add to your cocktail.
Ginger Beer
I love a good ginger beer. I love ginger in general and expect to see this flavour come through a lot this season. I thought this was a great opportunity to add another flavour to this drink, and help lengthen the cocktail to balance against the spirits used. Instead of just adding more boiled water, the ginger beer gives the cocktail a bit more bite!
You know my love for Grace's Ginger Beer, and it's easily accessible in most grocery stores. If you have the patience though, make a ginger syrup, using Jamaican or Peruvian Ginger. The punch you'll get is UNREAL!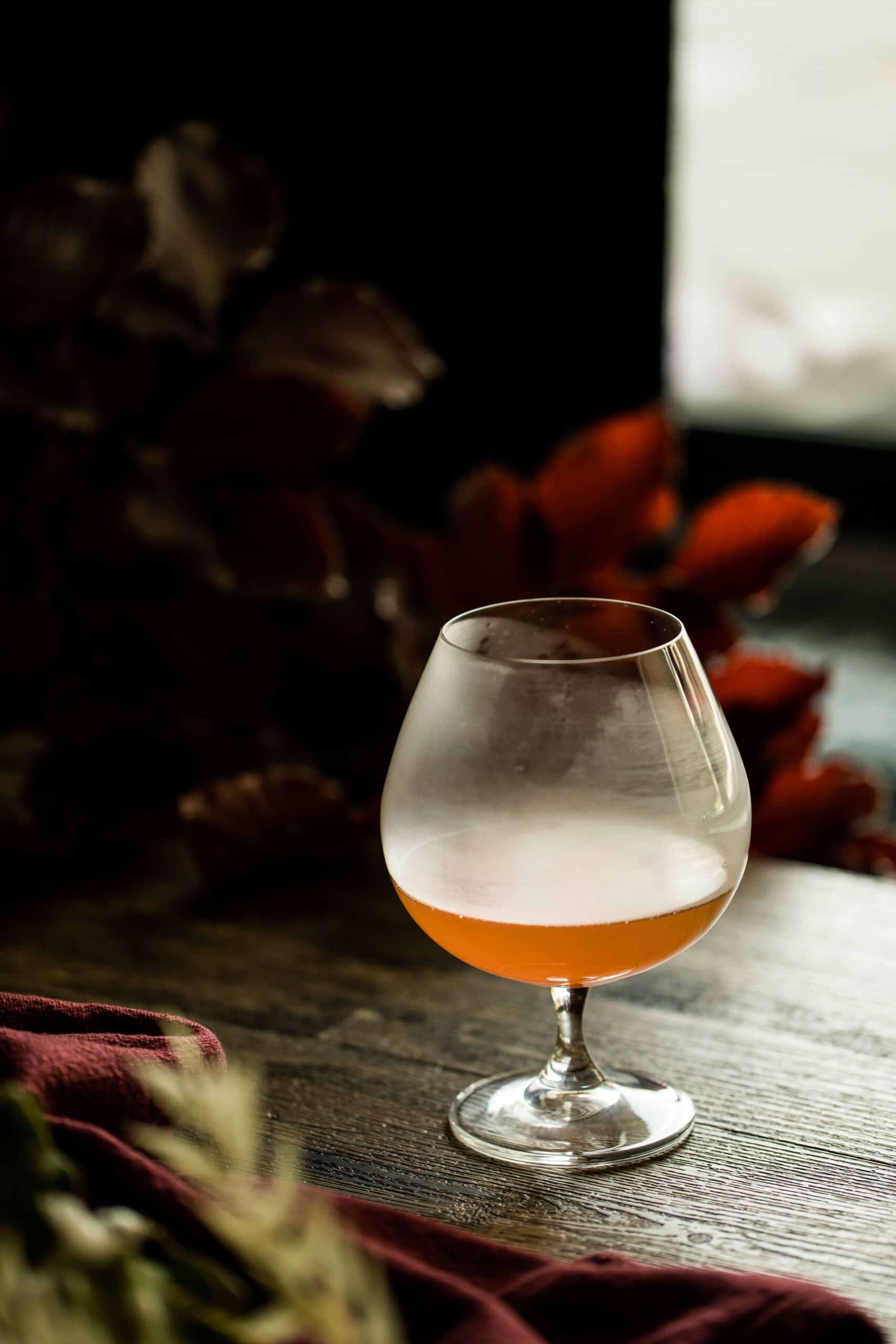 Warmed Irish Port Apple Toddy
A delicious warmed cocktail to celebrate the Fall season.
– Difficulty: Easy
Ingredients
1.5

oz

Teeling Irish Whiskey (Single Grain)

1/2

oz

Taylor 10 yr old Port

1.5

oz

Apple Cider

1

oz

Ginger Beer

Grace Ginger Beer used here

1

oz

Boiled Water

1

slice

Orange Peel
Instructions
Warm up Apple Cider in a small saucepan. Once it starts to boil, add your whiskey, port, orange peel and stir. Turn off heat.

Add in boiled water, ginger beer and pour into your snifter or favourite mug.