This may seem like the most confusing title you've ever read, but it will all become crystal clear once I explain the magic of this clarified milk cocktail. As part of the Apple Series, everyday I'm introducing some of the different varietals out there when it comes to Apples. Since I always drop a peach recipe on wednesdays, I collaborated the two flavours into this ultimate cocktail. It's rye based, with Kinsip's Whiskey Barrel Maple Syrup, Dillon's Peach Schnapps with some fresh Honeycrisp Apple. Where does the milk come in? Well let me explain.
You may remember that a month ago I was testing out Clarified Milk Recipes. It was something completely new to me, and I made my first attempt with this technique by creating a Clarified New York Milk Sour. I loved it, but I knew I could definitely improve, and folks, I did just that. I nailed it on my first try, and that's what you see in the picture right here. It may LOOK a little more cloudy than my predecessor, but my laziness to filter again clouded my judgment and I was so happy how it turned out that I didn't want to fiddle with it again.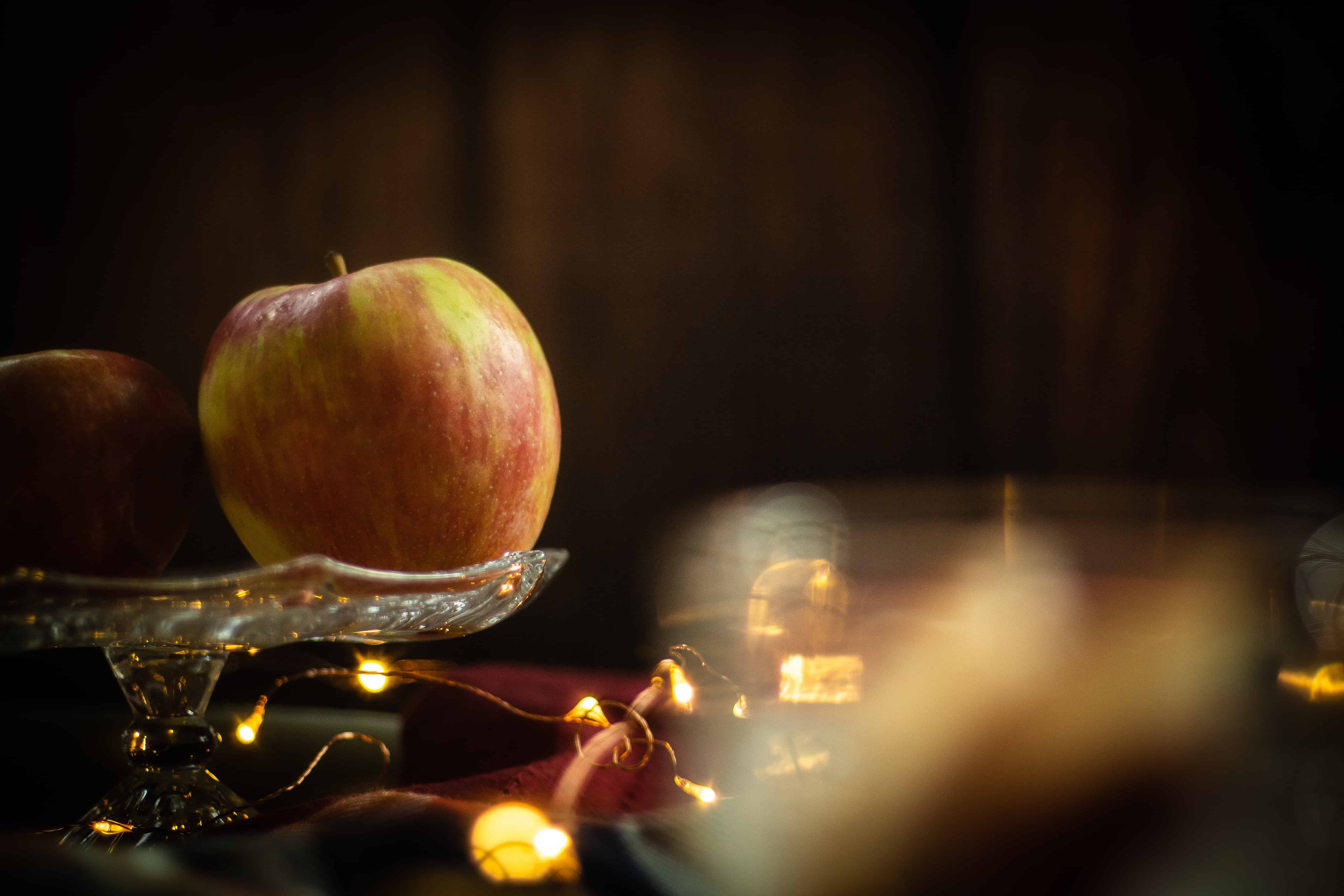 So with the Apple Series, I highlight a particular style of Apple and explain its characteristics and WHY it works with the cocktail at hand. Today we will be analyzing the Honeycrisp Apple. If there was an apple that completely changed my perspective and APPRECIATION for apples, it's the Honeycrisp. It's the first apple I truly fell in love with and realized that there was a whole world to explore. I have to thank Pine Farms for that fateful bite a few years ago, because since then, I've been religious to this style. Why do I love it so much? It's extremely crisp, has just the right amount of acids and sweetness to balance, it's perfect. See how it compares in the chart!

Because of my OG love for Honeycrisp, it only made sense that I would pair it with my favourite stone fruit! Honeycrisp has a ton of acid, so I wanted a peach on the sweeter end to compliment. That's where the White Flesh Peach variety comes in. I made a simple juice out of these two fruits. Obviously if you have a juicer, that would be the ideal method, but blending it with a touch of water will work wonders as well.
Now why did I make this cocktail into a clarified milk sour? I knew how well dairy and white flesh peaches combine, and I thought this would be the perfect chance to give a clarified cocktail another try. Believe me, you will see me create a lot of milk cocktails, because it's SOOOO delicious. When I tasted this cocktail, I had a moment where I tasted every single component individually. At first the maple syrup didn't come through, but as soon as you let it sit in your mouth, the smoke from the barrel started to settle, and that velvety texture from the maple just SHINED with this technique.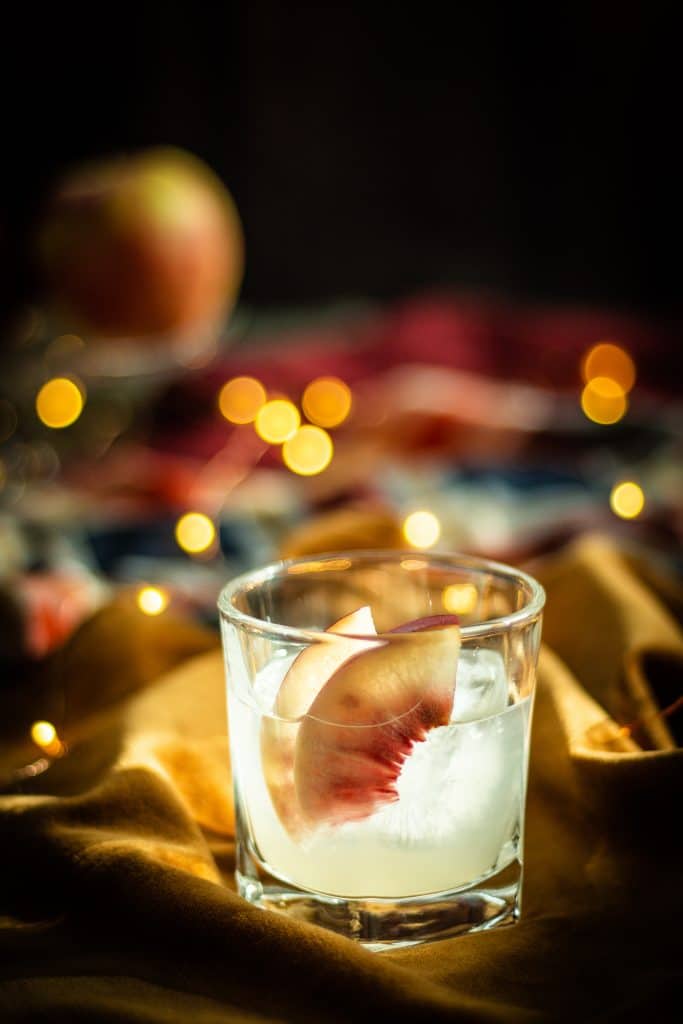 The rest of the cocktail fell into place, I knew a Rye would pair well, and here's a secret….you don't need a fancy bottle. Canadian Club's 100% Rye is still one of my favourite Ryes to use when it comes to creating cocktails and it's an amazing price! That or Lot 40 is a great Canadian option. If ever I'm feeling fancy with Rye, that's when I bust out the Angel's Envy Rye. Nothing like it, period. But also very difficult for me to get, so I'm sparing when it comes to mixing with that bottle.
You'll also notice that I dropped some Dillon's Peach Schnapps. It's so bright and fresh, and I needed an additional sweet component to balance out the cocktail. So instead of making you guys create a peach syrup, I used this instead and it worked wonders! That's it folks. The method to my madness. Now lets get to the recipe!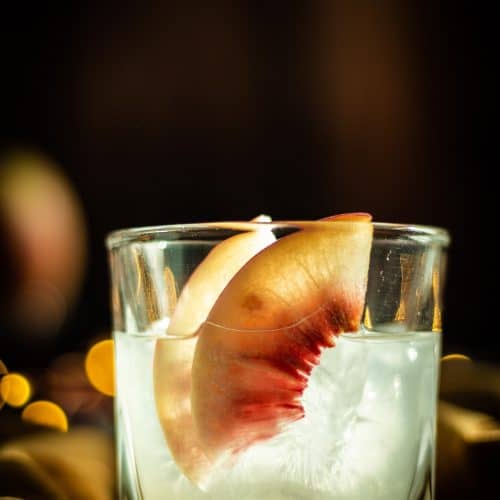 Clarified Honeycrisp, Maple and Peach Sour
Continuing the Apple Series with a Honeycrisp Apple and Maple Sour that is clarified with milk!
Difficulty: Expert
Ingredients
1.5

oz

Rye

Canadian Club 100% Rye used here

1/2

oz

Dillon's Peach Schnapps

1/2

oz

Kinsip's Whiskey Barrel Maple Syrup

2

oz

Honeycrisp and White Flesh Peach Juice

**

1/2

oz

Freshly Squeezed Lemon Juice

3

dashes

Angostura Bitters

40

mL

Whole Milk (min 3%)
Instructions
Stir all ingredients (except milk) with a couple ice cubes and pour into container with milk

Wrap container and leave it in the fridge for approximately 1 hour before straining through a coffee filter

Garnish with white flesh peach slice in a single rocks glass with a large ice cube
Recipe Notes
**To make the Honeycrisp Apple and Peach juice, use a juicer and combine 2 honey crisp apples and 1 White Flesh Peach. If you don't have a juicer, combine the apples and peach in a blender with 1/3 cup water and blend and strain!