I know what this looks like. This could be a delicious Wine Spritzer or even an Aperol Spritz (minus the colour), but I've deceived your eyes and instead created a non-alcoholic spritzer with Verjus! It's okay if you don't know what Verjus is because I'll be explaining that later. Just know that this is one insanely delicious non-alcoholic beverage that I'd like to call the Apple Verjus Spritz.
Lets first tackle the very obvious question of 'What is Verjus'. Simply put, it's unfermented grape juice. Think of this as grape juice BEFORE wine (aka before alcohol comes into play). You'll see a lot of Verjus vinaigrette, but when it comes to the actual juice, it's not particularly easy to find, at least here in Ontario. Luckily, I was able to pick some up from a local market, which avoided a whole trip to Niagara.
If you're in Ontario and passing by the Niagara county, you must make a pitstop at Featherstone Estate Winery. They are one of the few wineries that sell Verjus, and I can't tell you enough how much I LOVE this product. This particular blend is made from Pinot Noir grapes, which is grown, produced and bottled in the estate. It's great for adding acidity to your food, or in this case, in a delicious Non Alcoholic Beverage! Since I loved this juice on its own, I decided not to get overly complicated with today's recipe. Instead, I wanted to highlight it's true nature and form in a simple sparkling beverage.
---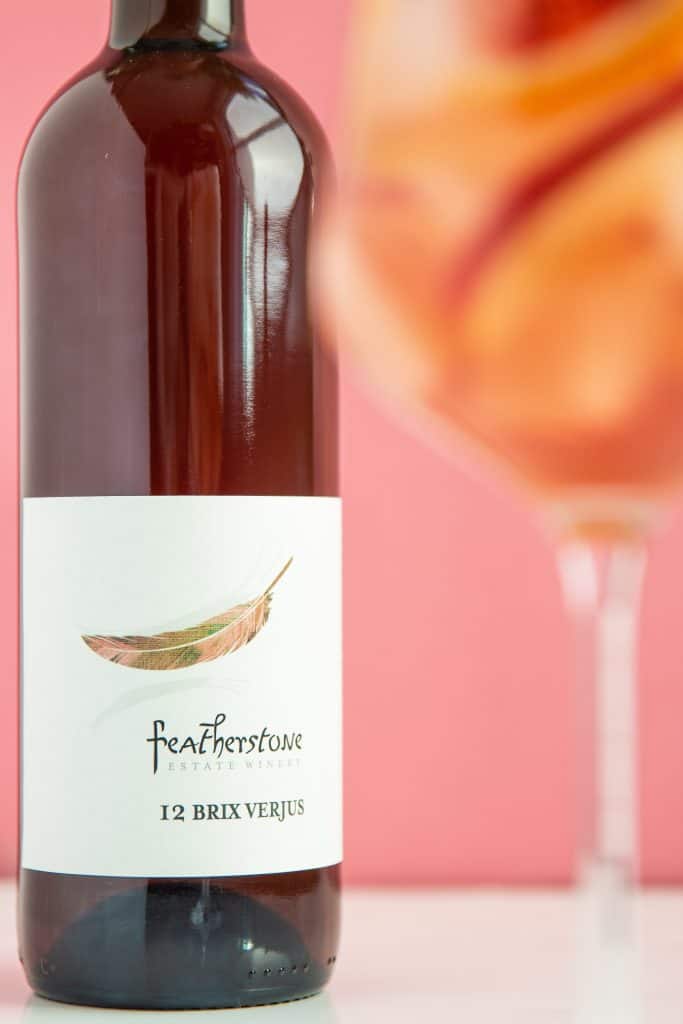 ---
Since most Verjus have a ton of acid, I threw in a dash of simple syrup, with fresh slices of apples, blood oranges and topped with Soda. That's it! When you have great product, it's sometimes best to keep things simple and let that quality shine through. Before we dive into the recipe, I did want to mention that you can always play around with different fruits, herbs and citrus. Blood Orange is in season, hence why I've used it for today, but you can easily supplement orange or grapefruit with this beverage. If you'd like to see me whip this drink live, catch me build this beverage on CTV's The Social here!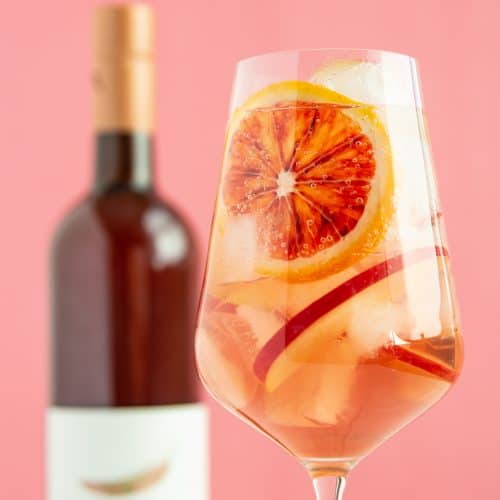 Apple Verjus Spritz
A non-alcoholic sparkling beverage that uses Verjus (unfermented grape juice) with fresh honey crisp apples, blood orange, dash of sugar and soda!
- Difficulty: Easy
Ingredients
3

oz

Verjus

2

oz

Soda

1/2

oz

Simple Syrup

1

handful

Apple and Blood Orange Slices
Instructions
In a wine glass, fill it completely with fruits and ice

Pour the rest of the ingredients, topped with soda and stir before enjoying
Recipe Notes
Almost all Simple Syrup recipes on Liquid Culture use a 1:1 ratio of water and granulated sugar.