If there's a cocktail that encompasses how 2020 has felt for most of us, it's probably in this cocktail. This is definitely one holiday cocktail with lots of layers and complexity (like this year), with a bit of funk (like this year) from Sherry, but in the end, it's pretty tasty (and hopefully the outlook you're having over this entire year). If you love a good Fino Sherry cocktail, Coconut and Blood Orange, you'll love this festive mix to the holiday collection here on Liquid Culture!
Funny enough, I was inspired by an image to create a more moody feel for the holidays. It's been clear, 2020 has been the strangest year of our lives, but it came with its bitter sweet moments. I decided to encompass this thought into a cocktail. With Cranberries being such a staple for this season, I brought out the Cranberry juice and quite a few different pieces.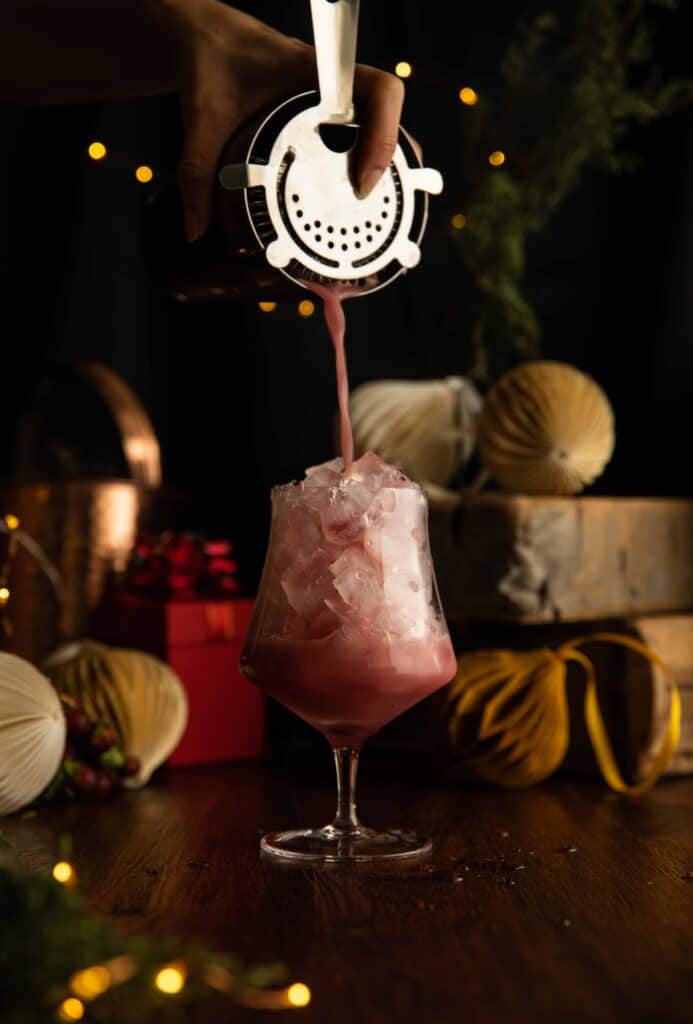 Choosing your Gin
I went classic with this recipe, and by Classic, we're talking about a London Dry Gin. I'm happy with the ever cheerful Beefeater Gin, but use what you love on your bar. Avoid anything too aromatic and weighted, as there's enough going on in this cocktail, that you won't need it and it might just get too crowded.
Why a Sherry Holiday Cocktail?
I'll be honest, I get bored of mixing with just one spirit. I like to experiment with different lengtheners and how they compliment with the base spirit. Since this cocktail is fairly bright, I wanted to go with a Fino Sherry. It's bright, dry, vegetal and has that funky characteristic that pops through nicely when balanced.
But here's the thing, if you HATE sherry, or just don't want to open up a bottle for one cocktail, don't stress. You can leave it out of the cocktail. I added it for that extra layer of complexity, but it will still be tasty without. If anything, add a dash of whiskey or Drambuie and it will go a long way!
Coconut, Cranberry and Blood Orange. For Real?
Don't ask me where the coconut idea came into play. I think I actually wanted it more for the colour at first, but coconut and citrus work so well together, that I decided to experiment a bit with Winter Citruses.
The thing is, you need a good Cream of Coconut to make this cocktail happen. Having discovered recently that I'm not exactly fond of Coco Lopez anymore, I relied on the "Coco Real" Cream of Coconut here and it was the perfect compliment. In addition, for my first go at this cocktail, I had a lot less Blood Orange than what I recommend in the recipe below. You need the Blood Orange though. This winter citrus helps bring in a touch of bitters and body that doesn't come with the cranberry. There's almost a mouthfeel that's missing but the Blood Orange helps supplement it!
And that's it folks! My oxymoron cocktail to the weirdest holiday we'll all probably share, but you'll want all of it….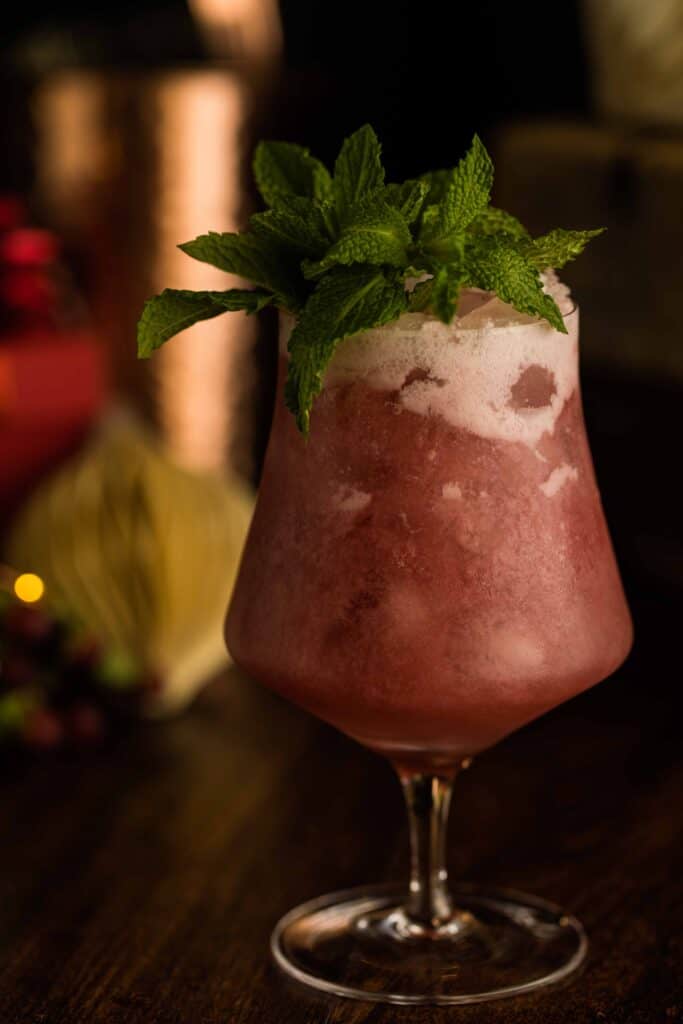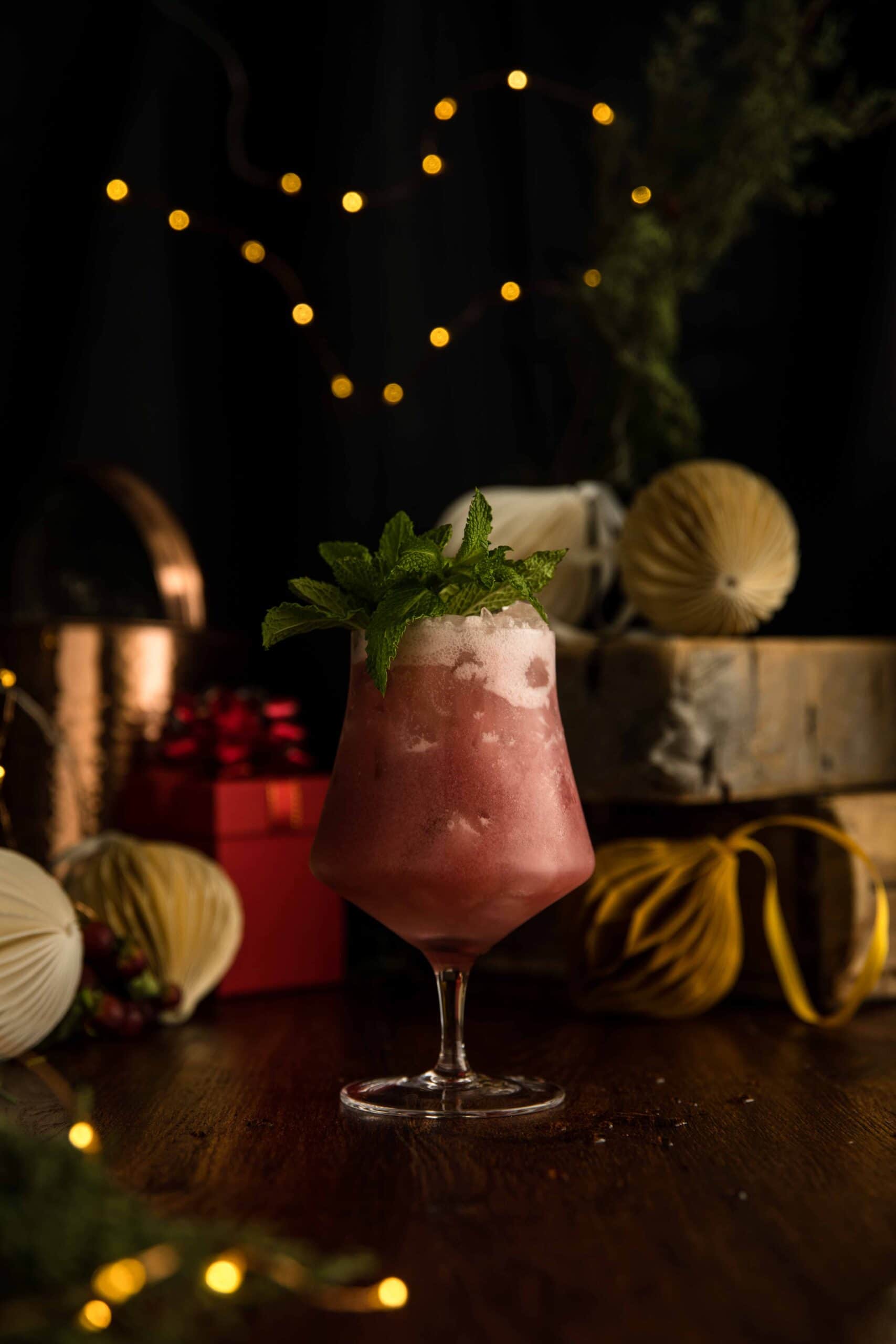 Bad Fino Coconut Santa
This strange combination of flavours has made this one of my favourite cocktails of the season. Combining Gin, Fino Sherry, Coconut Cream, Blood Orange and Cranberry.
– Difficulty: Intermediate
Ingredients
2

oz

Gin

London Dry featured here

1

oz

Sherry Fino

3/4

oz

Cream of Coconut

Real brand used here

1/2

oz

Cranberry Juice

1/2

oz

Blood Orange Juice

1/2

oz

Soda
Instructions
Fill your glassware with crushed ice.

In a shaker, add all your ingredients (except Soda). Add a handful of ice and give this a short shake.

Strain over crushed ice and top with soda
Recipe Notes
I initially created this with Ginger Beer, but I found it to be too many layers in this already flooded cocktail. So I decided to sub in a soda instead. You can omit definitely omit it if you'd like to keep this cocktail short, or add some vibrancy with the soda or any citrus soda.
Want to find more holiday cocktails for the season? Make sure to check out our Holiday Cocktail List here!