Today, I'm bringing together an iconic Holiday Liqueur (Advocaat) with one of my favourite whisky's coming out of Canada. See how this cheeky peated cocktail comes together in this Elf on the Peated shelf imbibe!
Why do I reference this cocktail as cheeky? Well maybe because you wouldn't tell that there's a peated element at first glance. It looks innocent enough, with a tropical tiki disguise, but it's packed with a punch thanks to the whisky. I love when a cocktail can deceive the eyes, because it makes the experience that much more memorable.
With this cocktail, I had Two Brewer's Peated Single Malt whisky from Yukon, Canada be the star of the show. That's why there's a heavy pour of it. Not only that, when the drink is heavier in spirit in this instance, crushed ice comes in handy to help balance out the cocktail. So let's dive into the different components.
The Holiday Classic – Advocaat Cocktail
I first experimented with Advocaat last year when I was challenged to mix with this spirit for the holidays. It can have a bit of a bad rep. Maybe the colour just seems off putting or people read the word egg and immediately get put off. But when it comes to holiday flavour, it's the egg nog of the season. I have to admit, it's also DELICIOUS. Think of a spiced cream liqueur that you would sip on the rocks. That's traditionally not my cocktail style, BUT for those who love baileys on the rocks, or Disaronno's new Velvet Liqueur, you'll want in on this advocaat cocktail.
Plus it doesn't have to be sipped on its own. It can go a long way in a cocktail, which is exactly what I did here.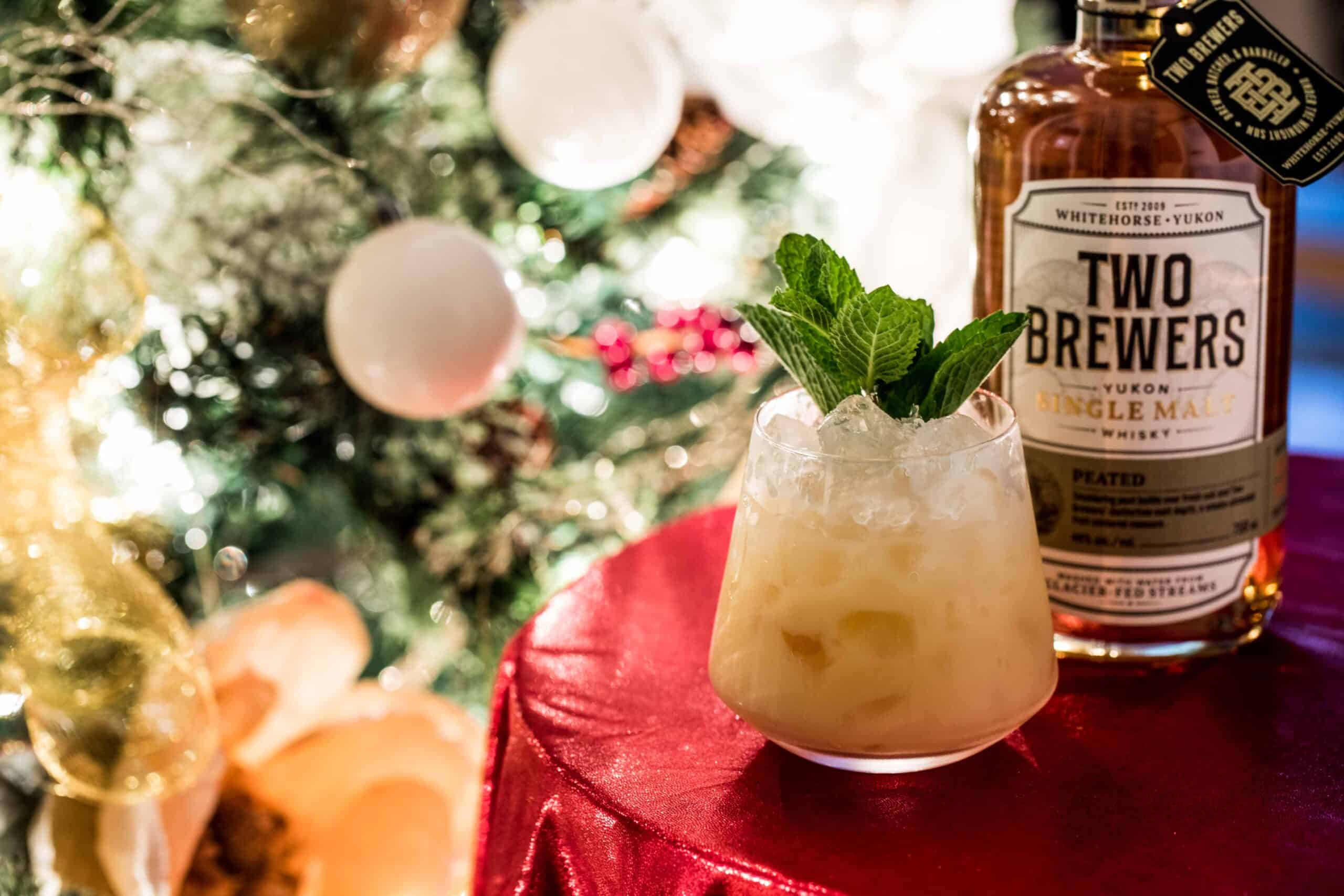 Choosing your Peat-Forward Whisky Masterpiece
Now I structured this cocktail with this whisky in mind. I LOVE that it's a Canadian Single Malt which is extremely rare to find here, plus it's delicious. I'm not saying that because it's local. I genuinely think the distillers have done an incredible job with their portfolio and can't wait to see what they come up with next.
I wouldn't say this is an overly aggressive peated single malt. It's present, but doesn't overshadow some of its other characteristics, such as the Pears, the unique malts used and dried fruit. It lingers SLIGHTLY, but gently warms your palate after that is SO PLEASANT!
If for some reason you don't have access to Two Brewer's Peated Single Malt Whisky (Release 19), I would lean towards some of the finer peated Islay scotches. For example Oban, AnCnoc's Peatheart or even Highlander's 12 yr would go great with this Advocaat cocktail.
The Rest of the Cocktail
Seeing as I wanted to make this an approachable cocktail with bite, I went simple with this execution. I combined a couple dashes of bitters for body, pineapple juice for a citrus and tropical infusion, plus a dash of lemon juice to balance. Pineapple and Advocaat definitely go well together, so don't be surprised if you see this combo come out again!
Curious how it's made? Check out the recipe here!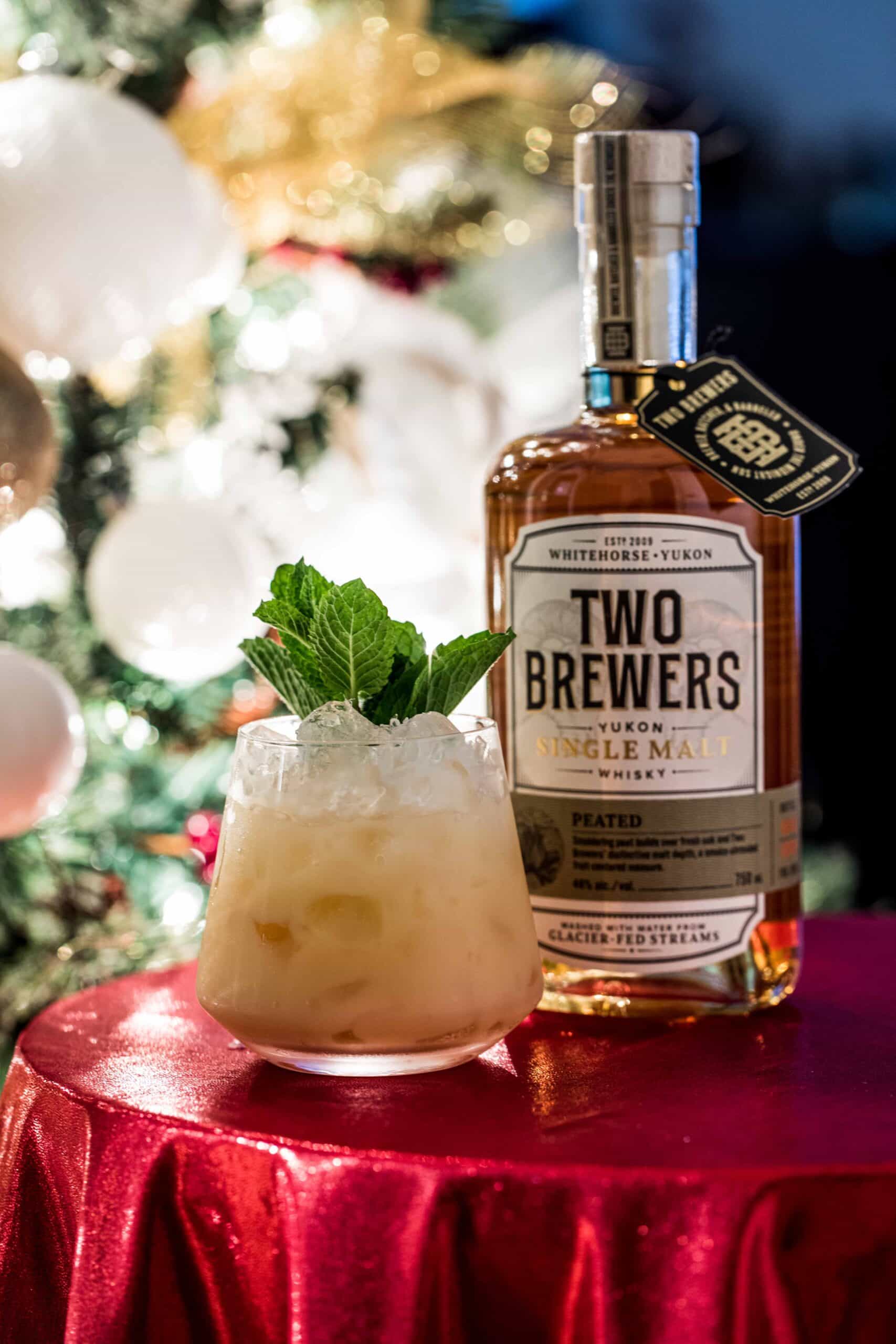 Elf on the Peated Shelf
Today we're mixing with an iconic holiday liqueur with Yukon, Canada's Two Brewers Peated Single Malt Whisky for this deceivingly delicious and zesty serve.
– Difficulty: Intermediate
Ingredients
1.5

oz

Two Brewer's Peated Single Malt Whisky

Release 19

1

oz

Pineapple Juice

1/3

oz

Lemon Juice

2/3

oz

Advocaat

1

dash

Angostura Bitters

1

sprig

Mint

for garnish
Instructions
Fill your glass with crushed ice.

Add all your ingredients into a shaker with a handful of ice. Give this a quick shake.

Strain over crushed ice. Top with mint.
Looking for more Holiday inspired cocktails? Head over to this link for more!