For today's #DrinkYourGram creation, I'm shaking up a Pisco cocktail made with Chai, Cranberry and Port thanks to your votes! Curious how this Festivus cocktail is made? Head down below for details!
Ignore my Festivus comment, I just recently watched the Seinfeld episode and was living for the Costanzas. Having wanted to shake a cocktail for the holidays with a spirit that's not often shown on this platform, I asked my #DrinkYourGram community to vote on the following:
Pisco (57%) vs Cachaca
Spruce Tips vs Chai (56%)
Shaken (64%) vs Stirred
Cranberry (59%) vs Peppermint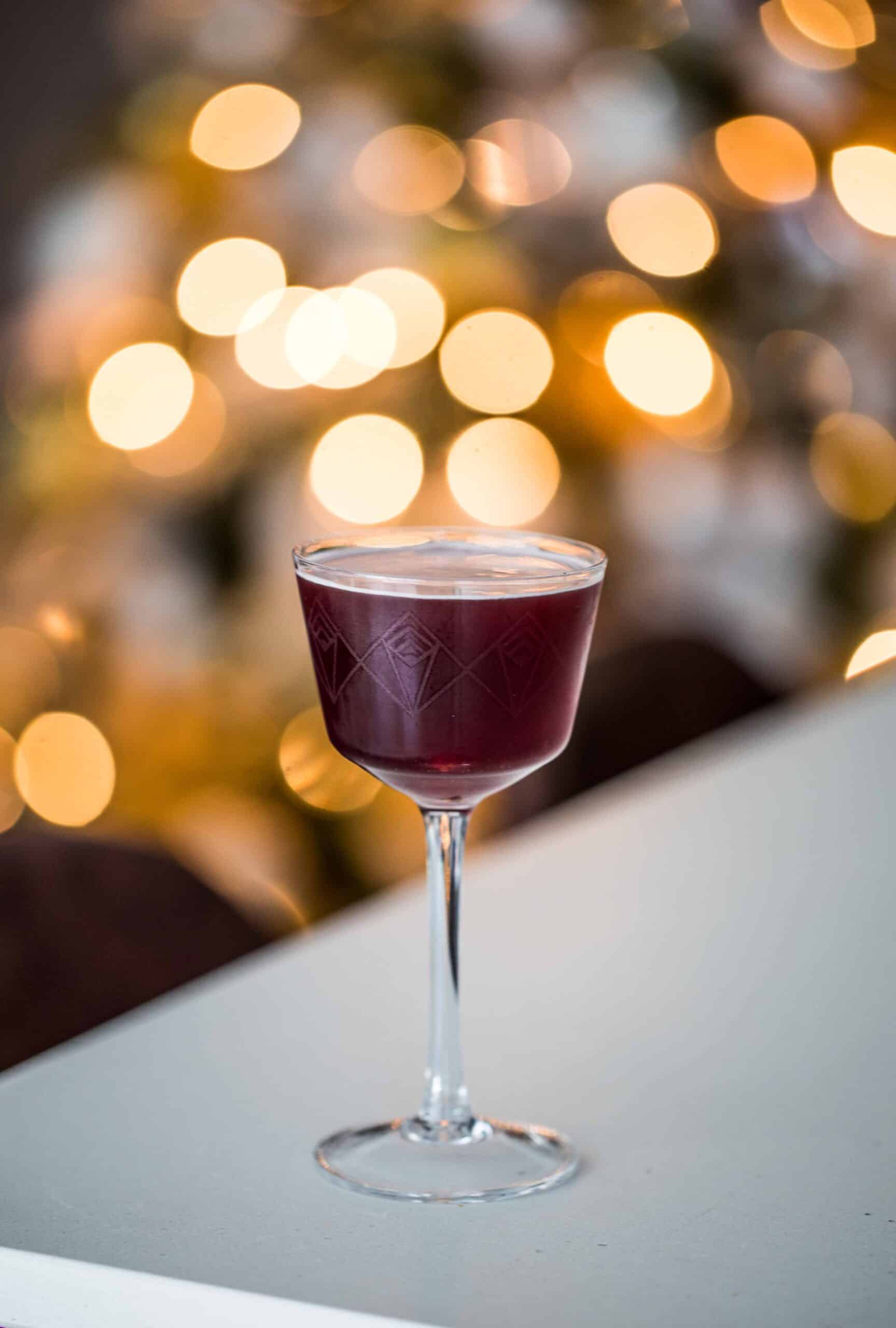 Pisco
It's a given that I'll always work with Pisco from Peru. We don't get a ton of Chilean expressions here, and I am biased to a phenomenal brand in Pisco, Peru. Now I know I could've made this simple and combined Pisco, Chai and Cranberry juice together as is, but I wanted a bit more layers. I wanted that touch of complexity, and that's when the amaro came in.
A dash of Amaro can go a LONG way, and I decided to use the Montenegro for this mix because…well that's all I had. Between that and the Amara, I didn't want to introduce another flavour to get convoluted with what was already happening with the cocktail. Plus with the Amara having Blood Orange and I having used that flavour a lot lately, I decided against it. Now I had thought about using a Dash of Irish Whiskey instead. Since I'm using it elsewhere I decided against it, but if you recreate this and you don't have amaro in the house, give it a swap and let me know your thoughts!
Chai Syrup
Tea Syrups are so easy to create at home! Equal parts sugar and water come together and allow the chai to steep through and you've got yourself a unique syrup to use in so many ways. To create this at home, I simply combined 1 cup granulated sugar with 1 cup boiled water. Give this a stir while it's still pipping hot and add your chai tea bag. Let this sit for 20 minutes until it reaches room temperature and you can use in your cocktail!
Why Port?
The port was the initial pairing I had in mind for the cocktail, but it actually fell flat and needed something else. But what I like that the port does is add a sweetener component, complexity, body (thanks to the wine) and the flavours tend to match perfectly with the holiday season. It's just a simple splash of this, but it goes a long way (think of how vermouth can compliment a cocktail). You could do without if you don't have Port around the house. So with that, I would then recommend adding a splash of red wine. It will have a ton more acid than port, so then I would balance that off by adding a touch more chai syrup than what is said in the recipe card below.
Using 100% Cranberry Juice
This is a MUST! Do not get that Cranberry Splash c**p. It's too sweet and not at all what I was going for this in this cocktail. You NEED the acid and I only get that with the real stuff. If for SOME REASON you can't find the 100% cranberry juice, squeeze in some lemon to help bring that up a bit in the cocktail.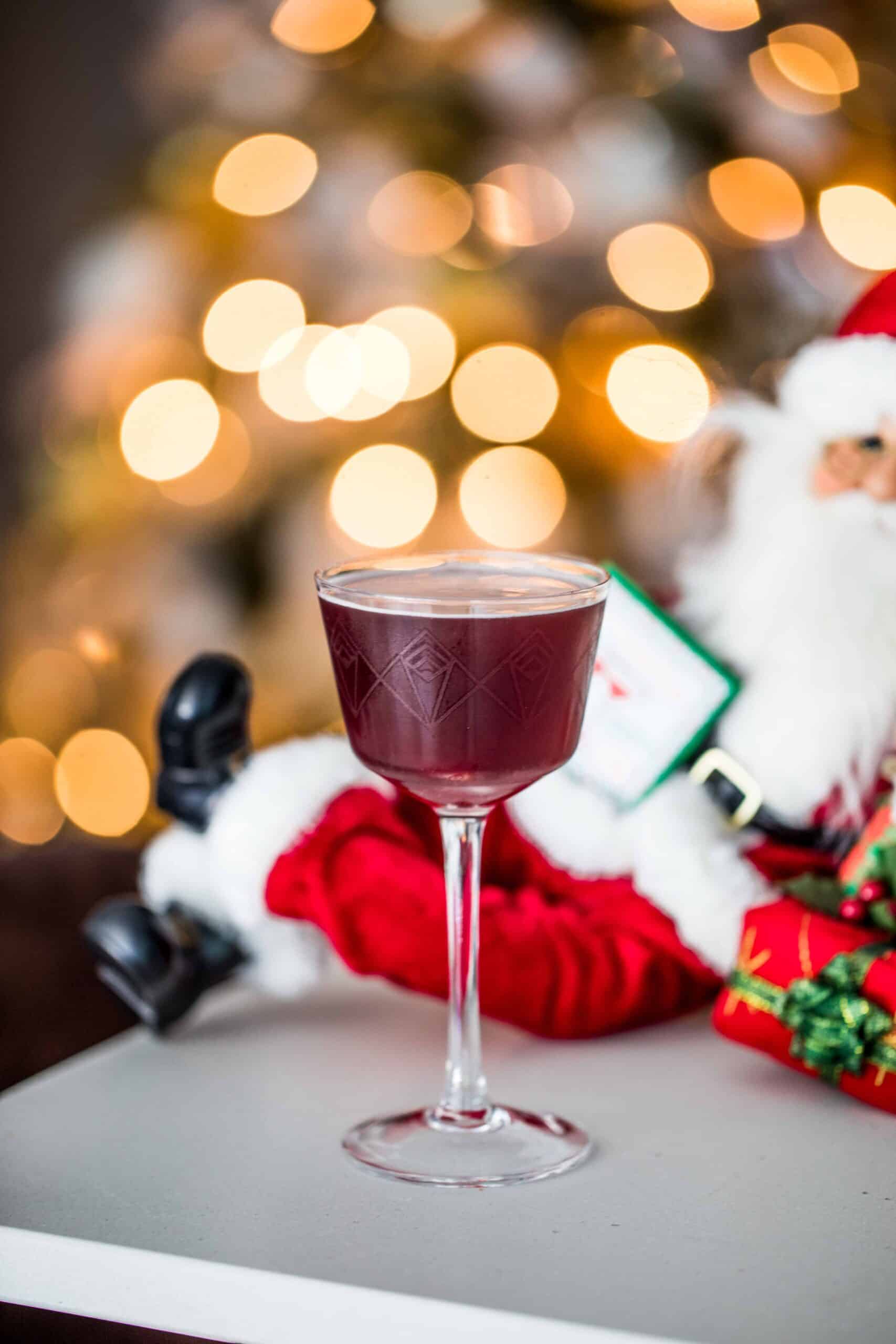 Peruvian Christmas
A pisco driven cocktail that's perfect for the season combining Pisco, Amaro, Port, Chai and Cranberry!
– Difficulty: Intermediate
Ingredients
2

oz

Pisco

1/4

oz

Amaro Montenegro

1/4

oz

Port Wine

1

oz

Cranberry Juice

100% Cranberry (not that fake stuff)

1/2

oz

Chai Tea Syrup
Instructions
Place your coupe in the freezer while you start to build your cocktail.

In a shaker, combine all the ingredients and ice and give this a vigorous shake.

Double Strain into chilled coupe. Optional Lemon Peel Garnish.