I know how this sounds. It sounds outrageous and confusing, but it's probably one of the BEST beer cocktails I've created for Liquid Culture. YUP, I said it. This cocktail is shaken up with some really interesting ingredients, including a Turmeric and Black Pepper Beet Kvass and Big Drops Pale Blanche Beer which is only 0.5%. That's right folks, I've dropped another bomb on you. It's low in Alcohol and it's gluten free. Intrigued? You'll want to continue reading!
So I'm finally back and getting into a routine of things after a wonderful trip to Nashville and Lynchburg with the Jack Daniels family. But I have to say, my body is CRAVING a detox and cleanse, so this cocktail really couldn't have come at a better time. We all know how much I love to experiment with Beer-tails, and this one hits so many marks and it's Low in Alcohol! Let me explain.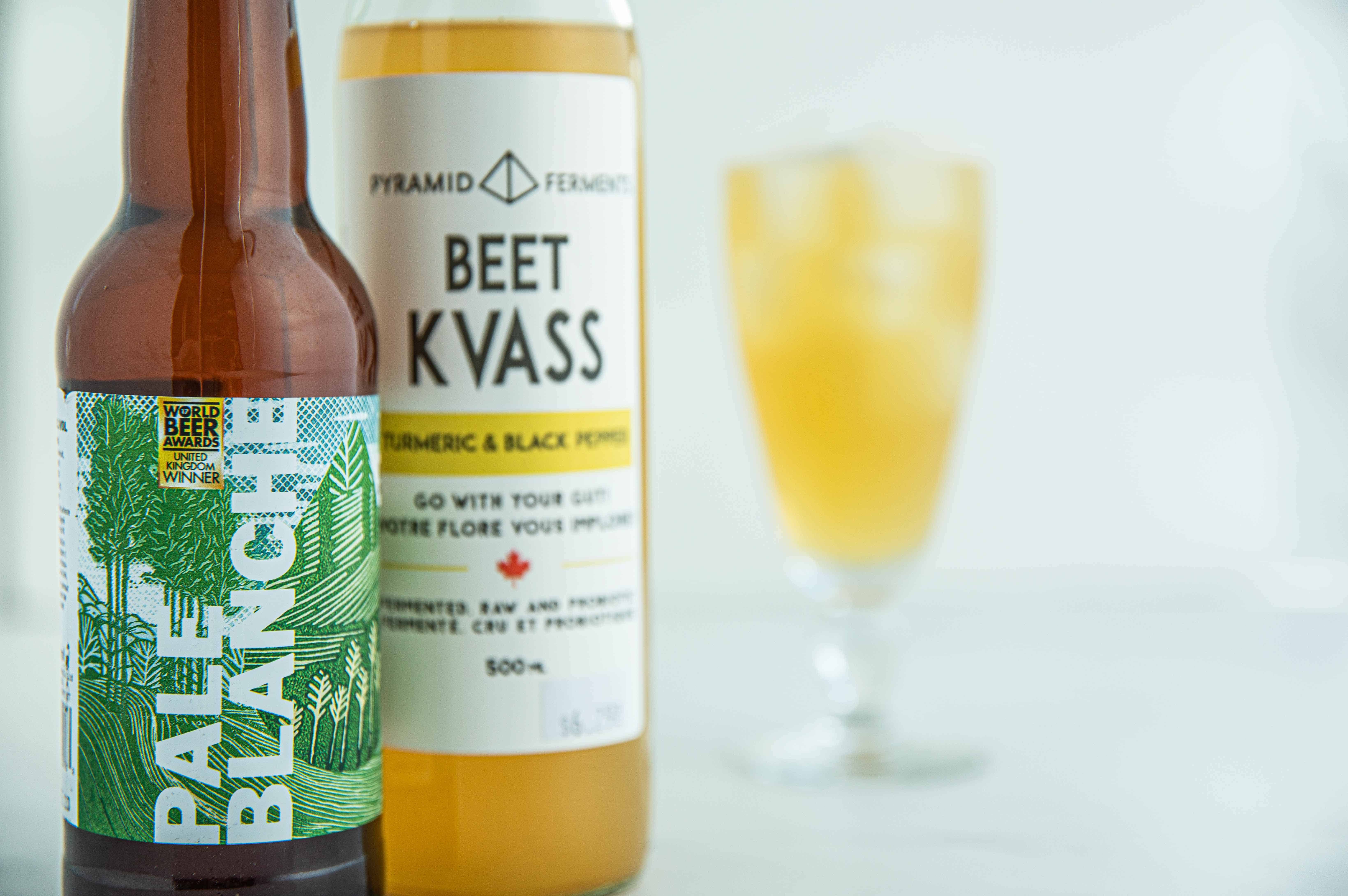 Beet Kvass
On a recent trip to Kensington Market, I was looking for some new products to work with, and I stumbled upon this "Golden Beet Kvass". I have NEVER heard of Kvass before so I was officially intrigued. And this happened to be Turmeric and Black Pepper infused which to me sounded like a winning cleanse combo. Now for those of you (like myself) that have no idea what Kvass is, it's a traditional probiotic beverage typically imbibed in Eastern Europe. It's made with a base of beets, water and sugar, and as you can imagine, it's a great hydrator and liver cleanse. What my friends at Pyramid Ferments like to say, it's the Ukraine's Gatorade.
I love Beets, so this seemed like a win-win situation here, and it tasted fantastic! It also guided me to my next ingredient component.
Big Drop Brewing Pale Blanche
I've worked behind a bar long enough to know that to find a delicious low-alcoholic AND gluten free beer is like trying to catch Santa coming down the chimney. But I've seen the man in red, thanks to the gems at Big Drop Brewing. This Pale Blanche is incredible, and an award winner for GOOD REASON with a tasting profile of citrus, pine and honey. I've had this sitting on my shelf for much longer than I'd like to admit, but I'm glad I finally opened it up to create this outstanding imbibe here.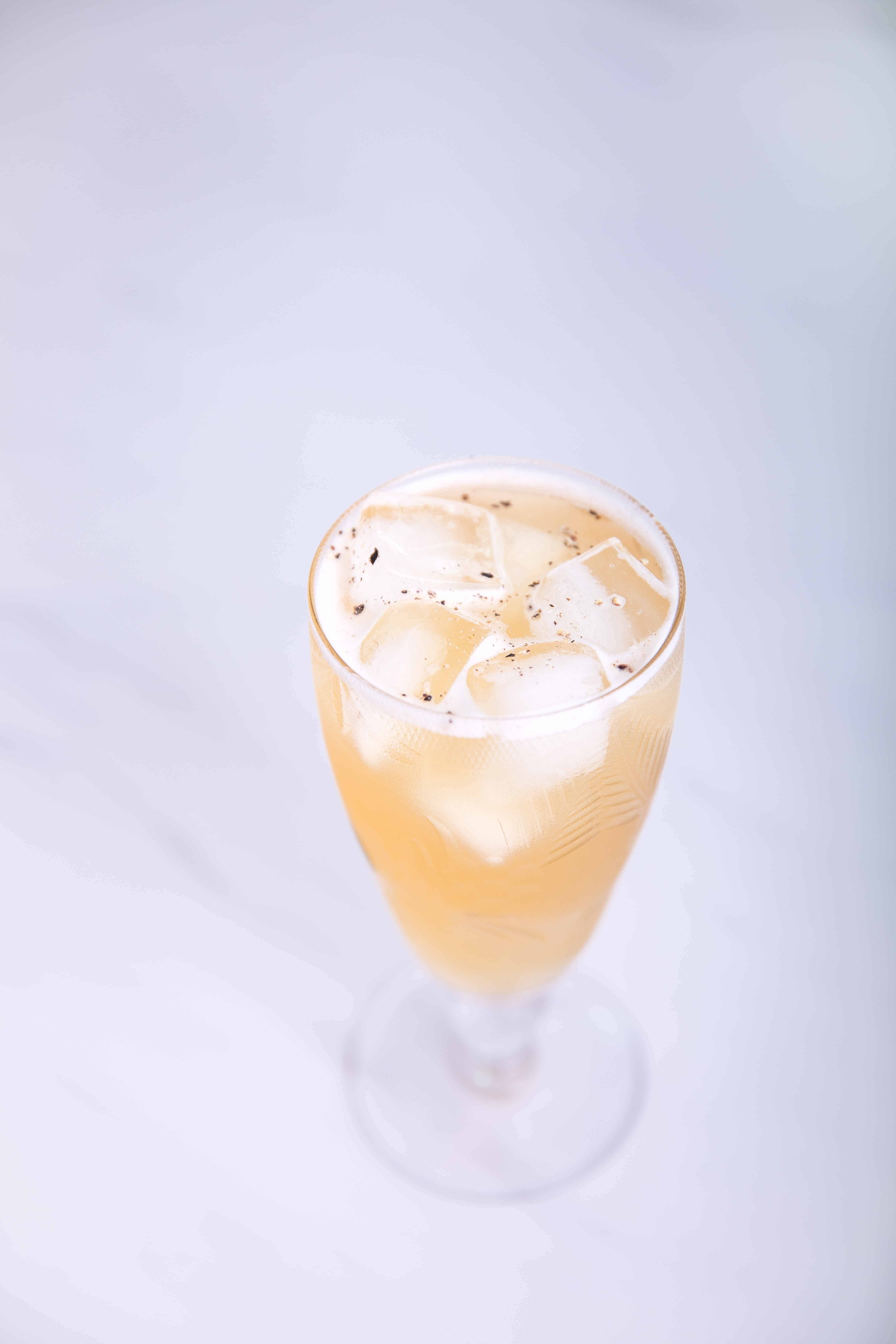 Let's talk Cocktail
Now, I know I mentioned that this would be a cocktail, which I have whipped up in the photo here. It's shaken up with Vodka, fresh Pineapple juice and honey syrup, BUT you can EASILY make this non-alcoholic if you'd like.
Pick up one of your favourite non-alcoholic spirits (yes they exist, and I'll be diving more into that in January), and you can shake this up to create an almost 0% alcoholic beverage. Just substitute the Vodka with the non-alcoholic spirit instead. Or you can try both, because I'd like to say that this cocktail is pretty much good for you (in moderation, ALWAYS).
So without further ado, I give you your Beet Beer Cleanse.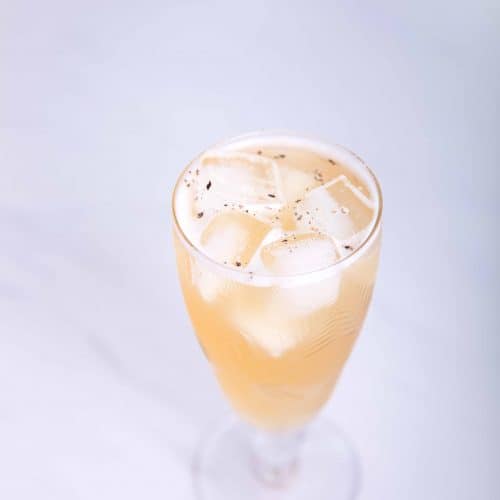 Beer Beet Cleanse
With the option of going completely low in alcohol, we have a delicious beer-tail that mixes Vodka (optional) with a Golden Beet Kvass, Pineapple, Honey and Big Drops Pale Blanche
– Difficulty: Intermediate
Ingredients
1

oz

Vodka

Ocean Vodka used here

1

oz

Fresh Pineapple Juice

1/2

oz

Honey Syrup

1:1 ratio

1

oz

Beet Kvass Turmeric and Black Pepper

Brand: Pyramid Ferments

1

oz

Big Drop Brewing Pale Blanche

Fresh Cracked Black Pepper

For Garnish
Instructions
In a shaker, add your first four ingredients. Give this a quick shake and strain over ice in collins glass.

Top with beer and garnish with black pepper on top!