Today we are getting into the festive spirit and whipping up an EASY cocktail that anyone can throw together. Partnering with Prairie Organic Vodka from Minnesota, I decided to get into a little mischief with this Grinch Inspired Caipiroska. If you've never heard of a Caipiroksa, well this cocktail may turn into your new holiday tradition!
I'm feeling pretty honoured today. Whenever I get a chance to work with a team that's as passionate as Prairie Organic Spirits, it makes this job so much easier. Here's a few fun facts about this Minnesota Distillery:
Everything is crafted with a mission in mind; doing right by the land. They produce, distill and create everything with the planet, farmers and end consumers in mind. That's why they are a member of the Organic Trade Association, and so much more.
Launched in 2019, Prairie Organic Spirits started the Spirit of Change Fund, to help fund the next generation of Canadian Organic Farmers. 1% of sales is donated, with a mission to help make a better future for the land and farmers.
We have a Distillery offering spirits that are Gluten Free, Free of chemicals and GMO's.
Almost every process of the manufacturing is calculated and measured so that little to no waste exists, from reusing leftover grain for animal feed and so much more!
Prairie Organic Spirits also supports the Canadian Organic Growers – offering training and resources to raise awareness of the organic industry and to establish sustainable practices.
For my people of Ontario, you can find Prairie Organic Vodka at select stores in LCBO or shop online!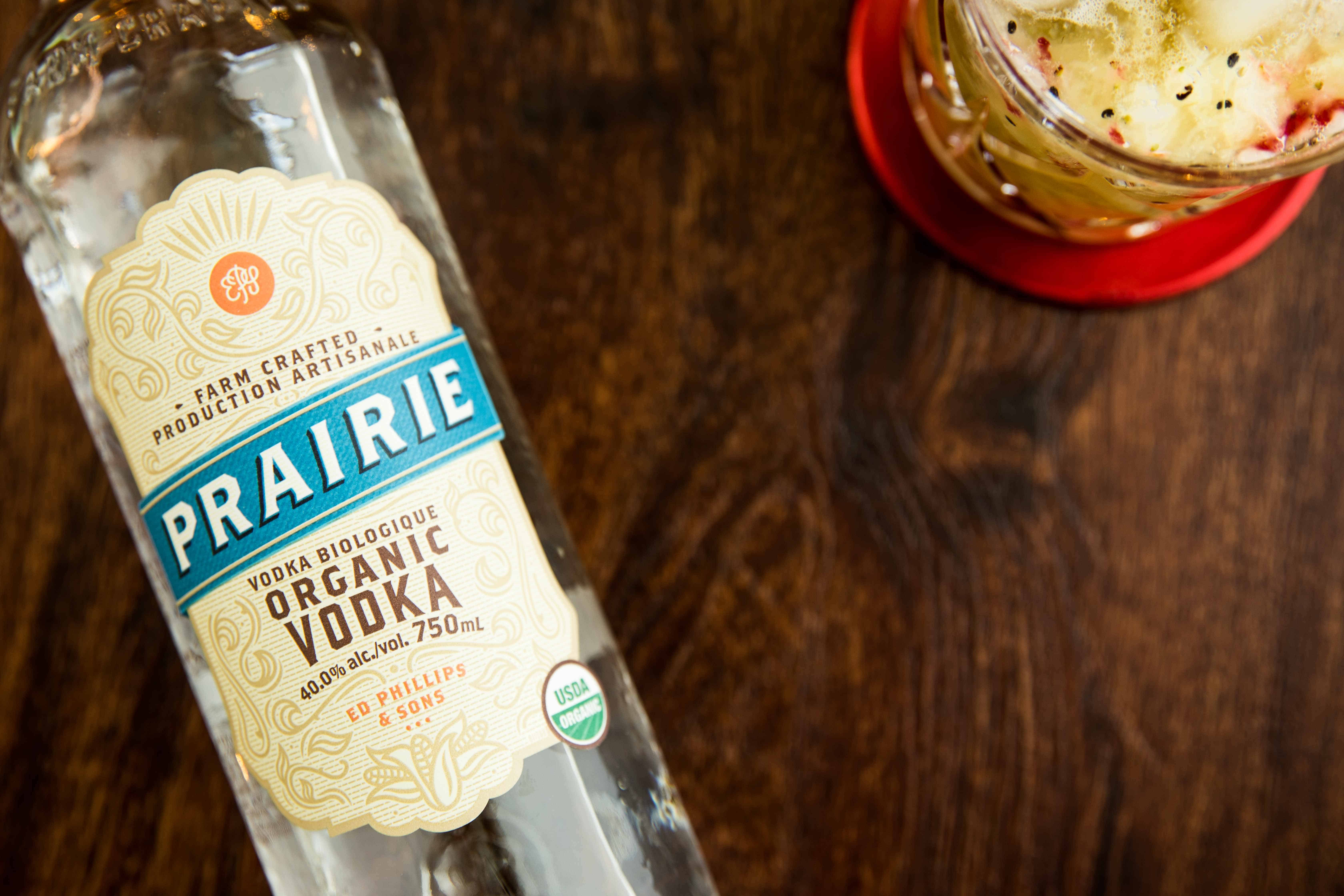 ---
If that doesn't convince you to be more conscious of what we sip, I don't know what will. Now there is so much GOOD going on with this spirit, that I decided to play around with the spirit of Christmas and have it grinch inspired. How do we do that? Well with a bit of fresh greens of course! We're muddling Kiwi in this variation of a Caipiroska.
If you're unfamiliar with a Caipiroska, you may have not heard of the origins of the Caipirinha. The Caipirinha is the classic cocktail of Brazil, combining Brazilian Rum called Cachaca, Citrus and Sugar. It's pretty much a daiquiri, which leads me to the Caipiroska. Caipiroska is just like the Caipirinha but with Vodka as a substitute instead of Cachaca. I find that most people aren't intimidated by this cocktail because of its Vodka base, which makes it the PERFECT holiday beverage that everyone can enjoy. It's simple and incredibly easy to make, plus there isn't a ton of prep involved.
Now you can dress this cocktail up with a holiday sugar based syrup, which I have a ton of recipes in the archives, or you can add a few dashes of holiday bitters. It's easy to get creative and adjust this beverage to your liking and I definitely encourage it! But for a quick and easy holiday cocktail, head below for the recipe.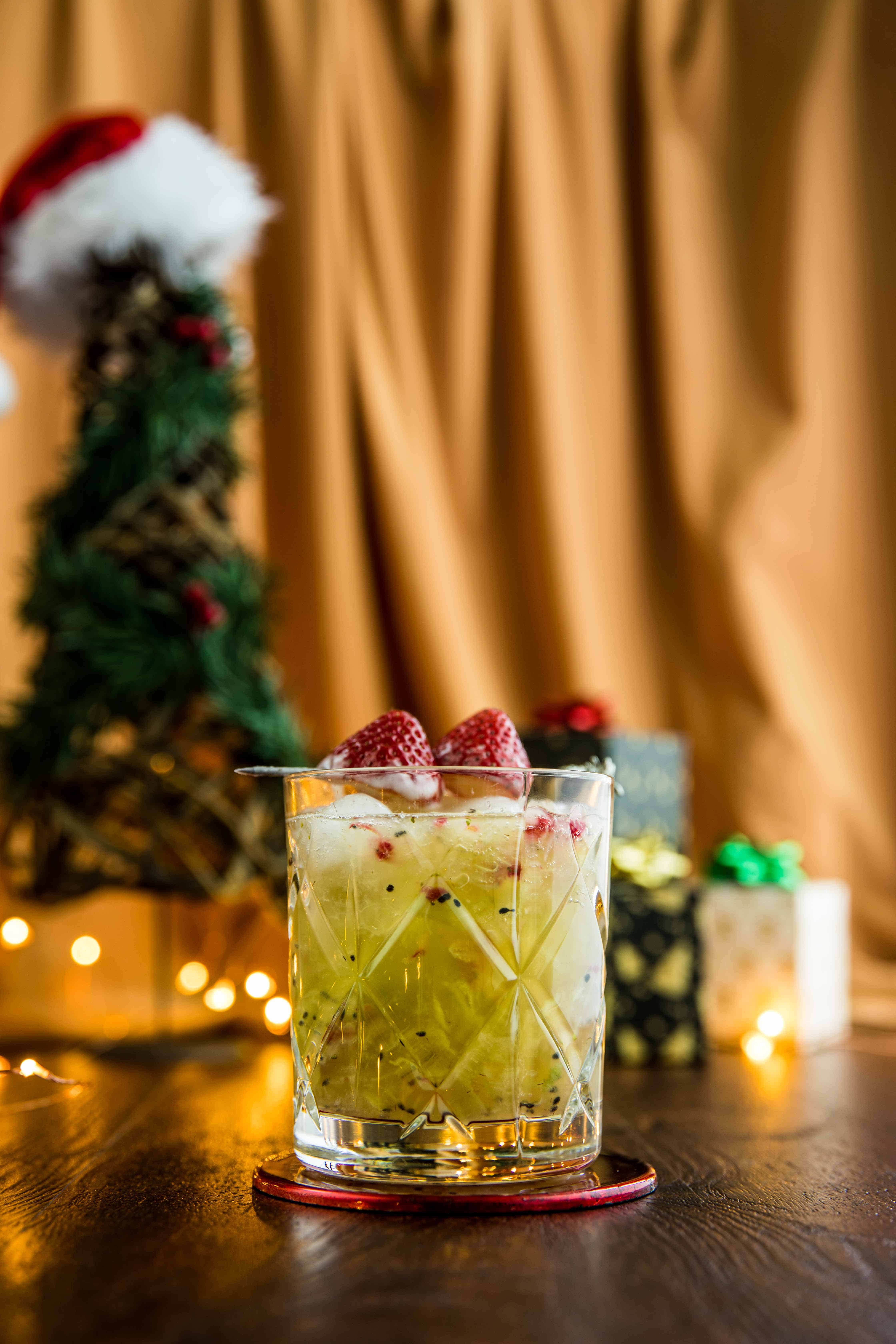 Organic Kiwi and Strawberry Caipiroska
This holiday Grinch inspired cocktail is made with Prairie Organic Vodka, fresh kiwi, strawberry, citrus and sugar for the easiest holiday treat!
– Difficulty: Easy
Ingredients
2

oz

Prairie Organic Vodka

1

Kiwi

Halved and skin removed

2

Strawberries

De-stemmed

1/2

oz

Santa Cruz Lemon Juice

3/4

oz

Simple Syrup

1:1 Ratio
Instructions
Grab your cocktail shaker and fill with kiwi and strawberry. Muddle to a pulp.

Add the rest of the ingredients, fill your shaker 3/4 with ice, and give this a VIGOROUS shake.

Pour all the contents into your glass. Garnish with optional Strawberry Christmas Hat.
Recipe Notes
To make the Santa Hat, simply remove the stem from the strawberry, and dip into a mix of icing sugar and water. You only need a few drops of water to make the white component of the hat. You could also substitute it with white chocolate if you'd like, but for an easy solution, this is a great option!