Hola LC! I know it's been a while since I last wrote on here, but with all the holiday seasonal shooting I've done for clients, and generally adjusting my strategies and efforts on this platform, I've had to make some adjustments. But now, it is my FAVOURITE time of the year and I'll be dropping '12 Days of Cocktails' until Christmas Day. Excited? You should be, because this first one up is collaborating with my friends at Cocktail Emporium!
I can't even begin to explain how much fun I had working with the ladies at Cocktail Emporium. For those of you that don't know, Cocktail Emporium is one of the few cocktail focused shops in the city of Toronto. When it comes to Holiday Gift Guiding for Bartenders or enthusiasts, you can literally spend hours in the stores or on their online shop. They have everything you need, believe me, if it's for a bar, you can find it there! And for my lucky viewers, we're even offering up a special DISCOUNT for their online shop from December 9th to…TBD (I'm going to assume Christmas). Just use the code LiqCulture15 to take advantage of this offer! This coupon is specifically for the items I used for their holiday campaign shoot, which pretty much felt like everything in their store. From picks, bitters, syrups, glassware, mugs, punch bowls, and so much more.
---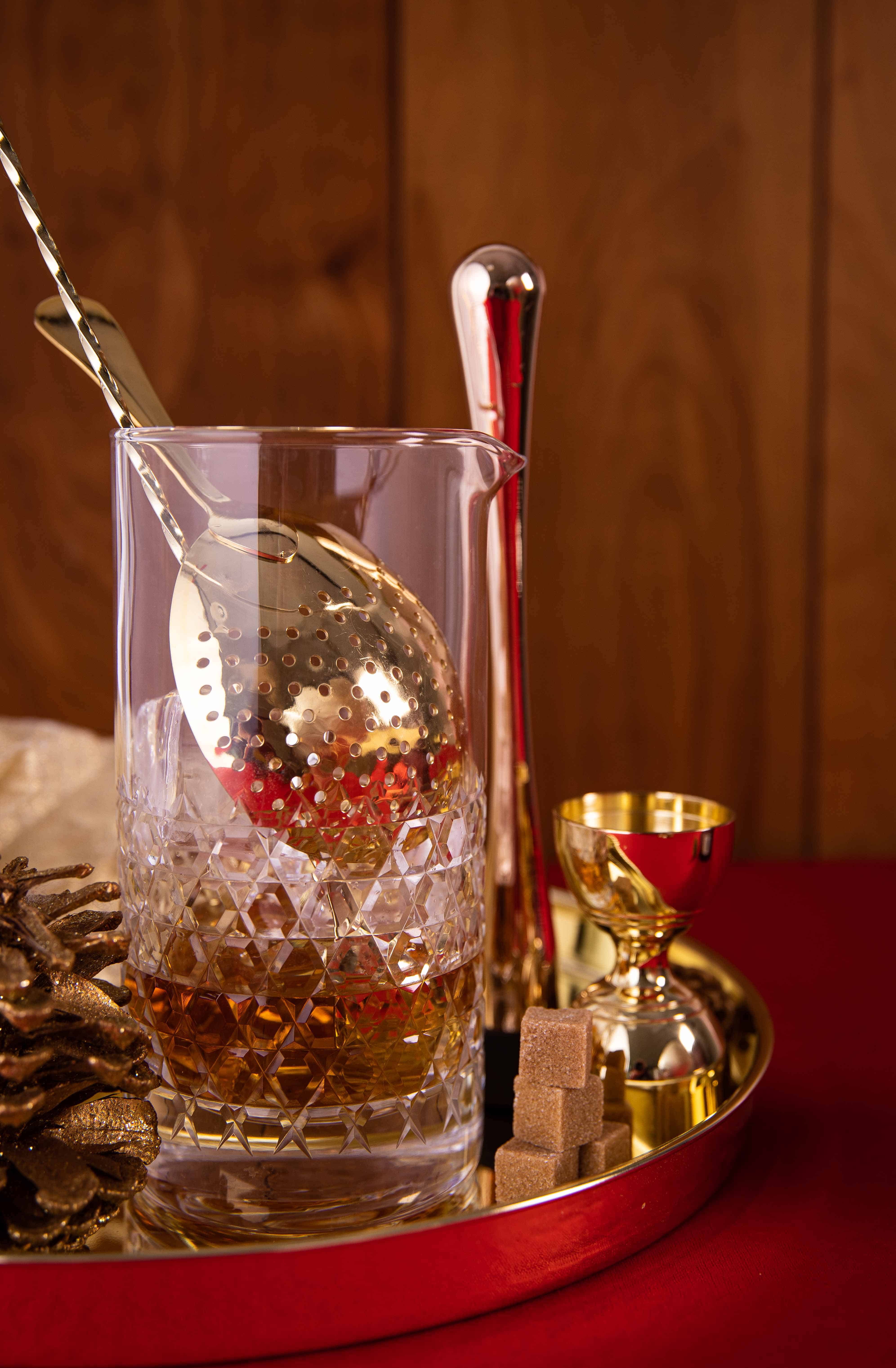 ---
But if you're not here for the discount, I'm going to assume you're eyeing that delicious Old Fashioned recipe. I tried to keep these cocktails as simple as possible, while still providing something unique to the season. Now there's a couple things you can be flexible with when it comes to this cocktail.
Straight Rye Whiskey – I'm a huge Rye fan, and if you have it in your bar, Angel's Envy is one of my premium go-to's, but you can never go wrong with Mitcher's or even Jack Daniels Single Barrel Rye is a win. If you're looking for a value option, there's a ton of Canadian products I recommend from Lot 40, Canadian Club 100% Rye and you can even go the blended route. Now if your heart is stuck on Bourbon, you can do it, but mind the sweetness of the expression by adjusting the Spicebox Whisky and brown sugar.
It doesn't have to be Chai….you can really use a ton of holiday or autumn bitters. Anything spiced, tea based will work, but this stuff is gold, so I wouldn't switch it.
Cherries…there's more on this, below, because I want to say you need these cherries in your life, but I get if you're not in Ontario, I understand if you use other cherries #heartbreak
Now the rest of the cocktail is kind of a non-negotiable. Spicebox Whisky is probably one of my favourite products to bring out during the holidays. It's a Canadian product (#yay), and it's spice note goes a long way in the cocktail. If you've never heard of Spicebox Whisky, head over to the link attached.
---
---
Also, if there's ANYWAY you can grab the KVAS Black Pepper Whisky Cherry, native to Niagara, Ontario, YOU NEED TO PICK IT UP!!! (Have you picked up on the urgency here?)!!! I HATE cherries. Always have. Even the Luxardo cherries Bartenders go gaga for, I have never been about it, it's just way too sweet. BUT THESE are a game changer! I'm always team orange peel on a Manhattan, but if the bar carries this stuff, I'll happily convert to these gems. Probably not the most professional way I've promoted an item, but that's how passionate it made me.
With that said, this cocktail won't disappoint. Even the Token Calder Chai Bitters was an amazing addition to the bar. Plus if you'd like, batch this cocktail up and put it into a small barrel! Do this approximately a week before your Holiday Party, and your guests will probably love seeing their cocktail poured out. You'll be the token Mixologist in the group. GUARANTEED!
---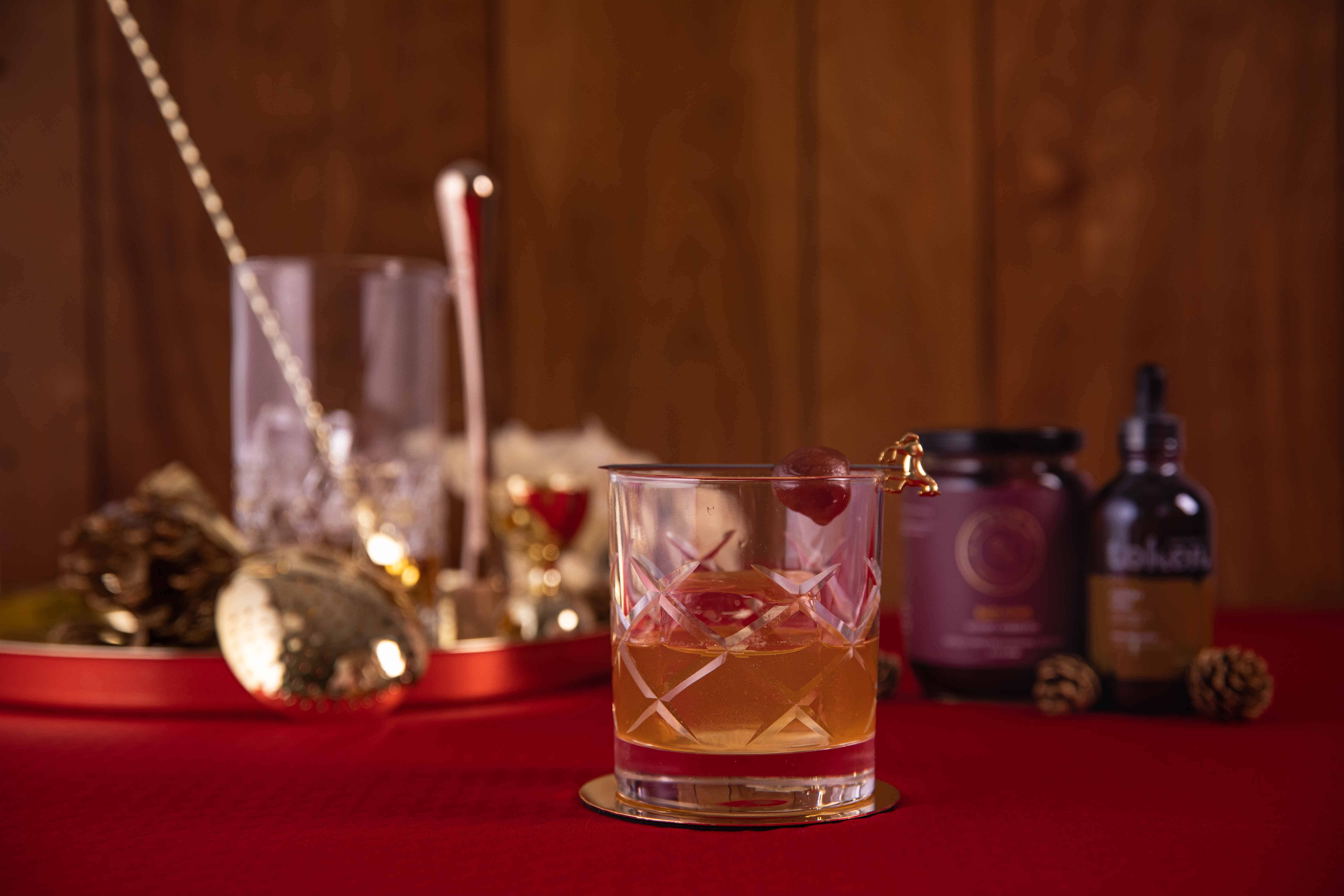 Chai Me To Christmas – Chai Xmas Old Fashioned
A delicious Christmas inspired Old Fashioned, mixing with Straight Rye Whisky, Chai Bitters, Spicebox Whisky and KVAS Black Pepper Cherries.
– Difficulty: Intermediate
Ingredients
1

Brown Sugar Cube

½

oz

Spicebox Whisky

1.5

oz

Straight Rye Whiskey

2

dashes Token Chai Bitters

2

Orange Peels

1

KVAS Black Pepper Whisky Cherry
Instructions
In a mixing jar, add brown sugar cube, chai bitters and orange peel.

Muddle until dissolved.

Add spirits. Add ice and stir well.

Strain over 1 large ice cube