There's nothing like a delicious Gin Sour, and I know it may sound unusual, but beets happen to be one of my favourite ingredients in a cocktail! You'll definitely surprise your guest with this delicious serve, because I'm sure they've either told you that they don't like beets, or have never had it in a cocktail. Well when it comes to the bartending world, anything is possible, including beets.
This cocktail was featured as one of the Garden cocktail recipes on CTV's The Social, and it was definitely one of my favourites. I'll choose a sour any day of the week, especially with warmer weather on the horizon and with a garden ready to sprout. But I have to be honest with you guys about something…I hate preparing beets. The boiling, the stained shirts and counter, and then the peeling, I just have NO patience. So for this recipe, I decided to put my faith and trust in Cedar Juice's Good Roots Cold Press Juice. It has all the flavours I'm looking for in a cold press, and the beets are well pronounced in the juice. This was my 'lazy-get-out-of-trying-to-cook-with-beets' method and I am VERY okay with it. BUT, if you don't have my distain I have for preparing beets, then I definitely recommend making a batch for yourself. My approach with it would be to put it in a bath of water and simmer for close to an hour, or until it can easily breakdown. Blend that up, strain and reheat that liquid and bring it down to a simmer with a touch of honey and lemon. It will be outstanding, but again, I wasn't about that prep time as I'm sure a ton of you don't either.
---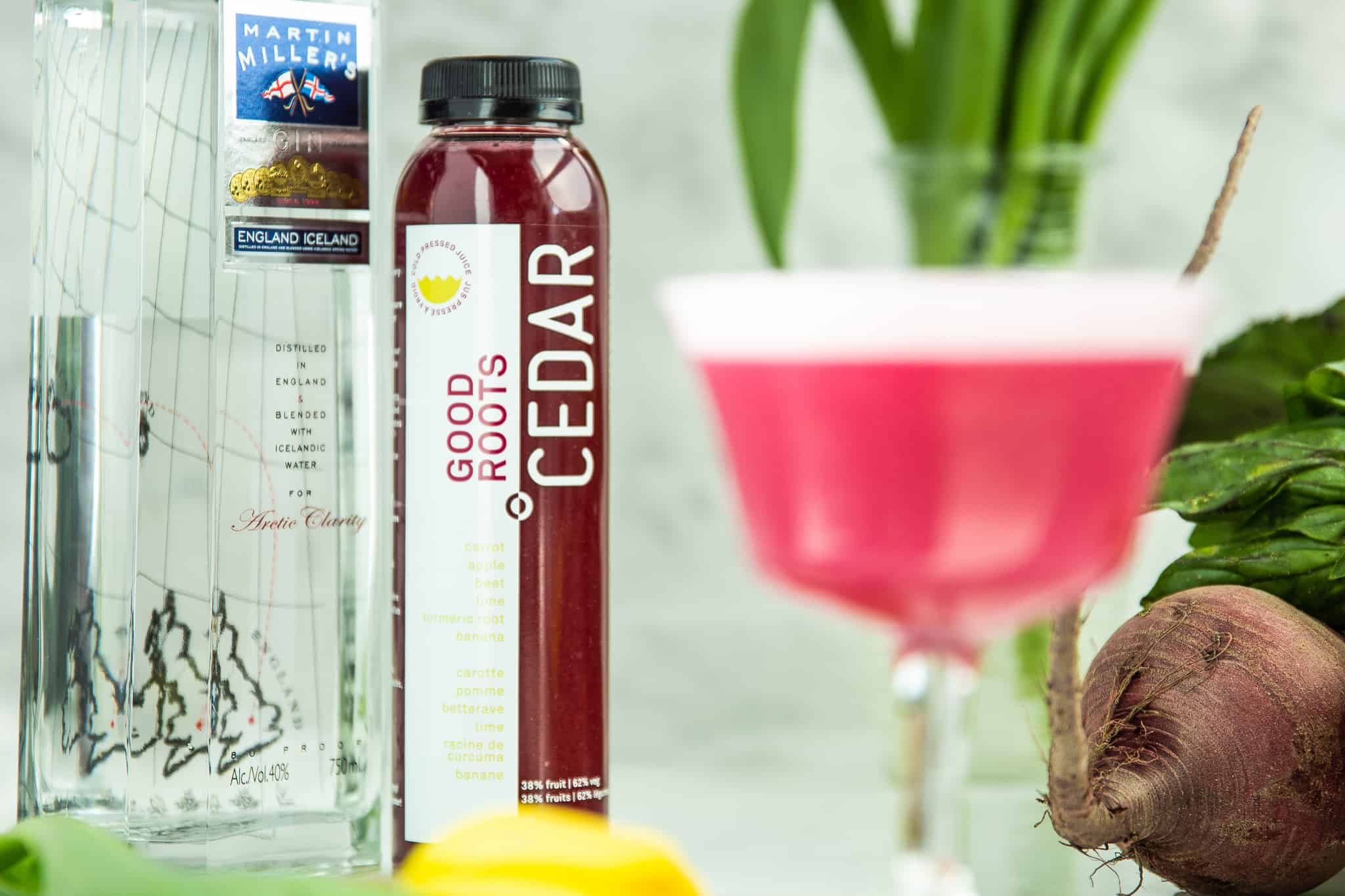 ---
Now I'm always asked the question about egg whites and is it safe. Eggs in general, have been used in cocktails for centuries now. Examples of classic cocktails that use eggs include the Ramos Gin Fizz, a Flip, Pisco Sour, and so much more. Not to mention, with our current safety standards, there is little to worry about when it comes to working with eggs in cocktails. Obviously we want to keep certain hazards in mind, but using a good quality pasteurized egg white is almost a full-proof way to ensure the safety of consuming egg whites in your cocktail. If you want to learn more about the safety of Egg consumption in beverages, check out Difford's Guide here!
Another favourite herb of mine is definitely the mighty Basil. I use Basil in everything, and it's also incredibly easy to grow at home. With a condo that doesn't lend much room for gardening, this is the one herb I tend to always have on hand and doesn't ask for much in return. The thing I love about Basil is that it has a pronounced "loud" flavour, without overwhelming an entire cocktail. It's as forgiving as Mint, where too much won't completely kill the cocktail and become bitter. Combining Beets and Basil seemed like a natural and obvious choice, and I've mixed up enough sours to know that Basil will always play a nice role in this cocktail. Don't limit yourself there though. Switch out the typical lime wedge with Basil in your next Gin and Tonic. I also have a ton of recipes on Liquid Culture that uses Basil in a cocktail, including the Lillet and Basil Spritz, Peach and Basil Rye Smash and the Cornita – a delicious corn, passionfruit and basil cocktail!
Lastly, when it came to deciding on a Gin, I knew the classic London Style would hit the mark. There's so many great brands out there, so I won't bark at you that you need to buy Martin Miller's Gin, but it really is worth having around the house, especially if you love to whip up Gin Martinis or a delicious Vesper. If you don't want the juniper in the forefront, try Caorunn Gin here. It's a Scottish variety that's a bit delicate on the palate with hints of apple that will tie in nicely with the flavours of the beet!
---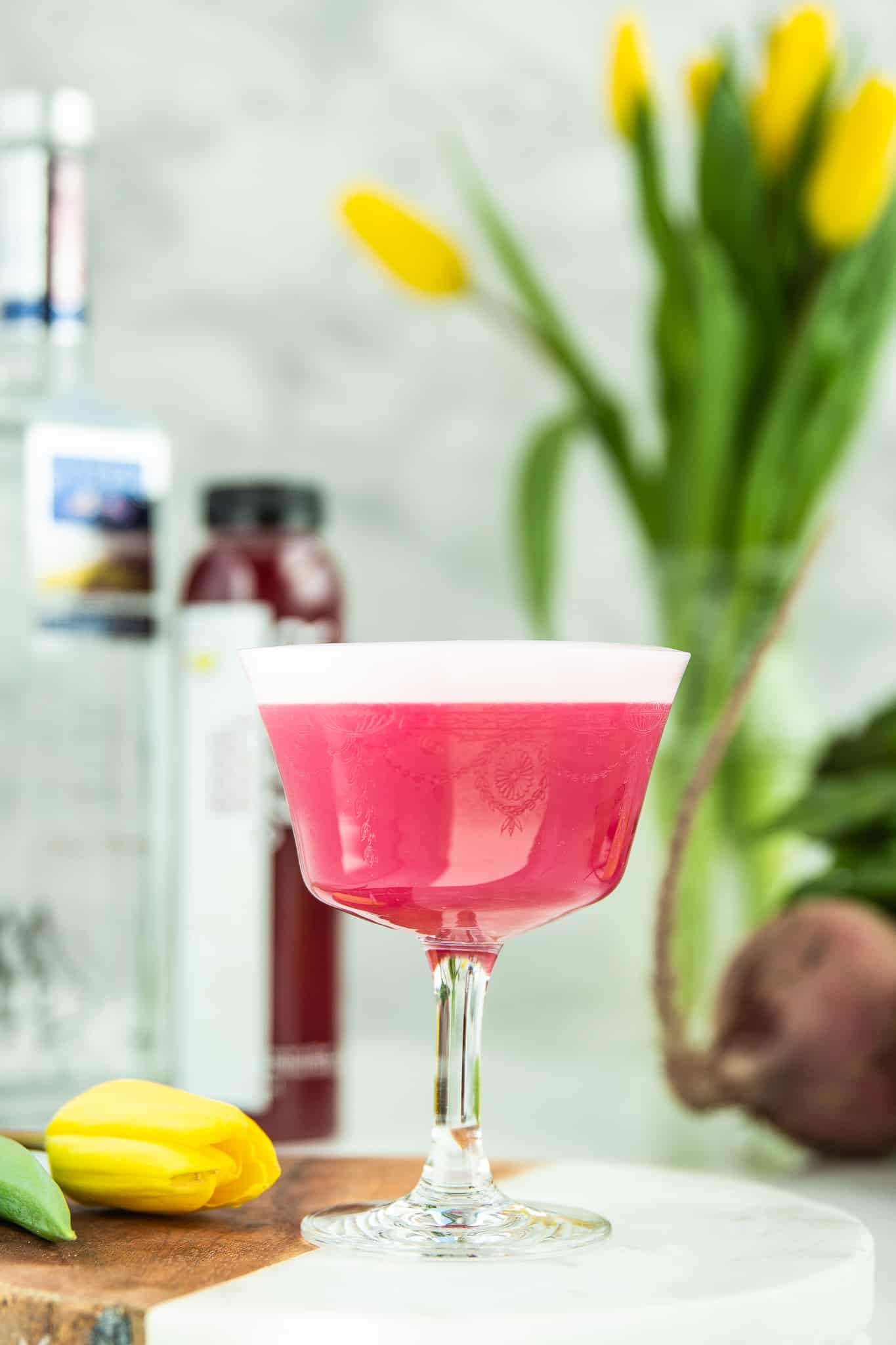 ---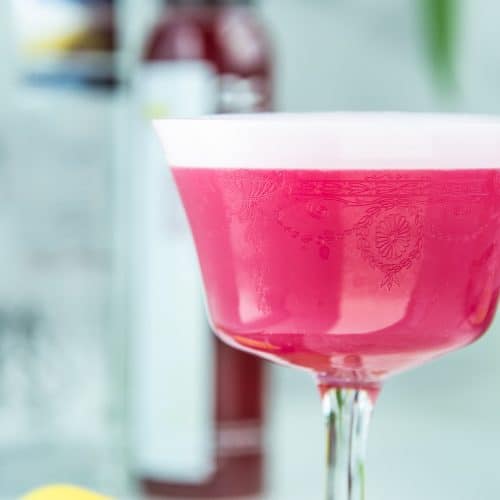 Beetin' Good Time
A Beet and Basil Gin Sour mixed with Martin Miller's Gin, Cedar Juice Good Roots Cold Press, Fresh Lemon and Egg Whites - Featured on CTV's The Social
- Difficulty: Intermediate
Ingredients
1.5

oz

Martin Miller's Gin

1

oz

Cedar Good Root's Beet and Apple Cold Press Juice

½

oz

Simple Syrup

1/2

oz

Freshly Squeezed Lemon

3

Basil Leaves

1 for garnish

1

Egg white
Instructions
Add all ingredients into a shaker and dry shake (do not shake with ice) - Shake for approximately 30 seconds

Add ice to your shaker and continue to shake for an additional 30 seconds until the shaker is too cold to hold

Strain into coupe glass and garnish with basil
Recipe Notes
All Simple Syrup Recipes use 1 part water to 1 part sugar