In an effort to bring you more easy cocktails, I put together this delicious Pineapple Rum cocktail with staples you'll likely have around the house. Combining some fresh Pineapple Juice, bitters, lime and a mix of Gosling's Black Seal Rum and Chairman's Reserve Rum, this will have you dreaming about vacations in no time…even if we can't physically get there.
The star of the cocktail here is definitely the Gosling's Rum. I've worked with them before, featured it in quite a few recipes on LC, but I wanted to create something fairly accessible to the public. Goslings is a staple and should be on most bars if you want to make a Dark n Stormy the RIGHT way. So I'd say if you don't have Goslings, you'll definitely want to grab a bottle.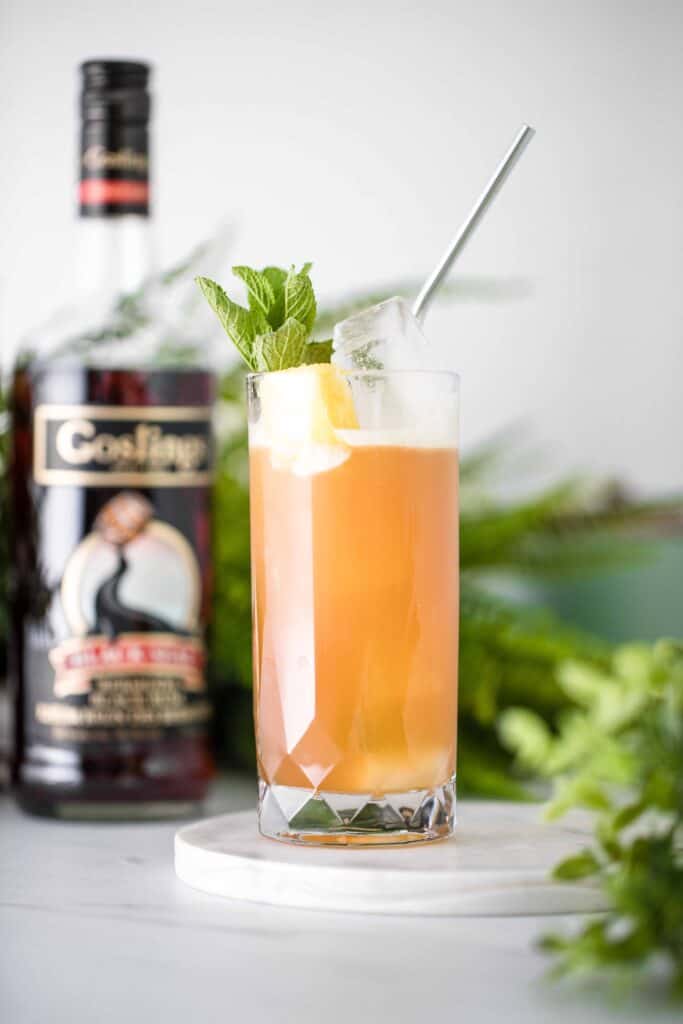 Citrus for this Pineapple Rum Cocktail
With Gosling's Black Seal Rum dictating the direction, I wanted to use produce I knew most would have access too. Fresh Lime and Pineapple is a given and easily available in most grocers. Now what I will say is, make sure to pick up the canned or non-concentrated pineapple juice. I find there's a huge difference in taste, and it's definitely worth seeking out.
Bitters
Next we have the Angostura Bitters, which if you're going to have ANY bitters on your bar, you have to include this. It's so common in recipes, that I typically find Angostura Bitters is most major grocery stores. Just keep an eye out for the section with the specialty juices and cans. Think of the section with specialty canned juices, ginger beer, malt beer and that weird neon green lime cordial.
Sugar
Lastly, we always need a sugar to help balance out the cocktail, and I promise you it's as easy as simple syrup. Well, technically it is simple syrup, but I've used Brown Sugar instead of Granulated Sugar. Don't know how Simple Syrup is made (don't laugh my novice bartenders, a lot of people don't know!)? All you have to do is combine equal parts Granulated Sugar with Boiled Water. Some will do this over the stove and let it simmer. Some use 2 parts sugar to 1 part water, but I find the 1:1 ratio easy to work with. Plus you just have to simply stir and not having to use a saucepan is a win in my books.
Now there's one more component to this cocktail that's an essential. The addition of blended rum. It's somewhat similar to adding a dash of whiskey to a cocktail to create more mouthfeel, body and complexity. It goes a long way, and I went with Chairman's Blended Rum from Saint Lucia here. IT has a weight to it that really helps bring this cocktail to life. You don't need much, and you likely have a nice aged rum that has what you're looking for. Barbados, such as Mount Gay, Real McCoy or Four Square are great options in case you can't find Chairman's in your liquor store. I'd avoid mixing with a Spanish or Jamaican Style rum, as their unique style will DRASTICALLY change this Pineapple Rum cocktail.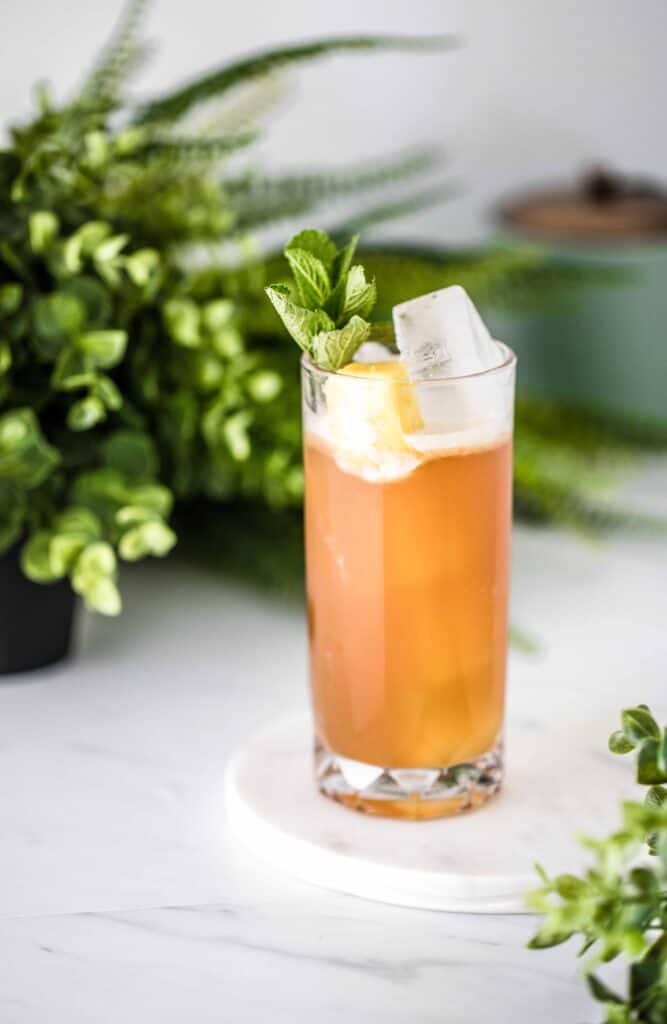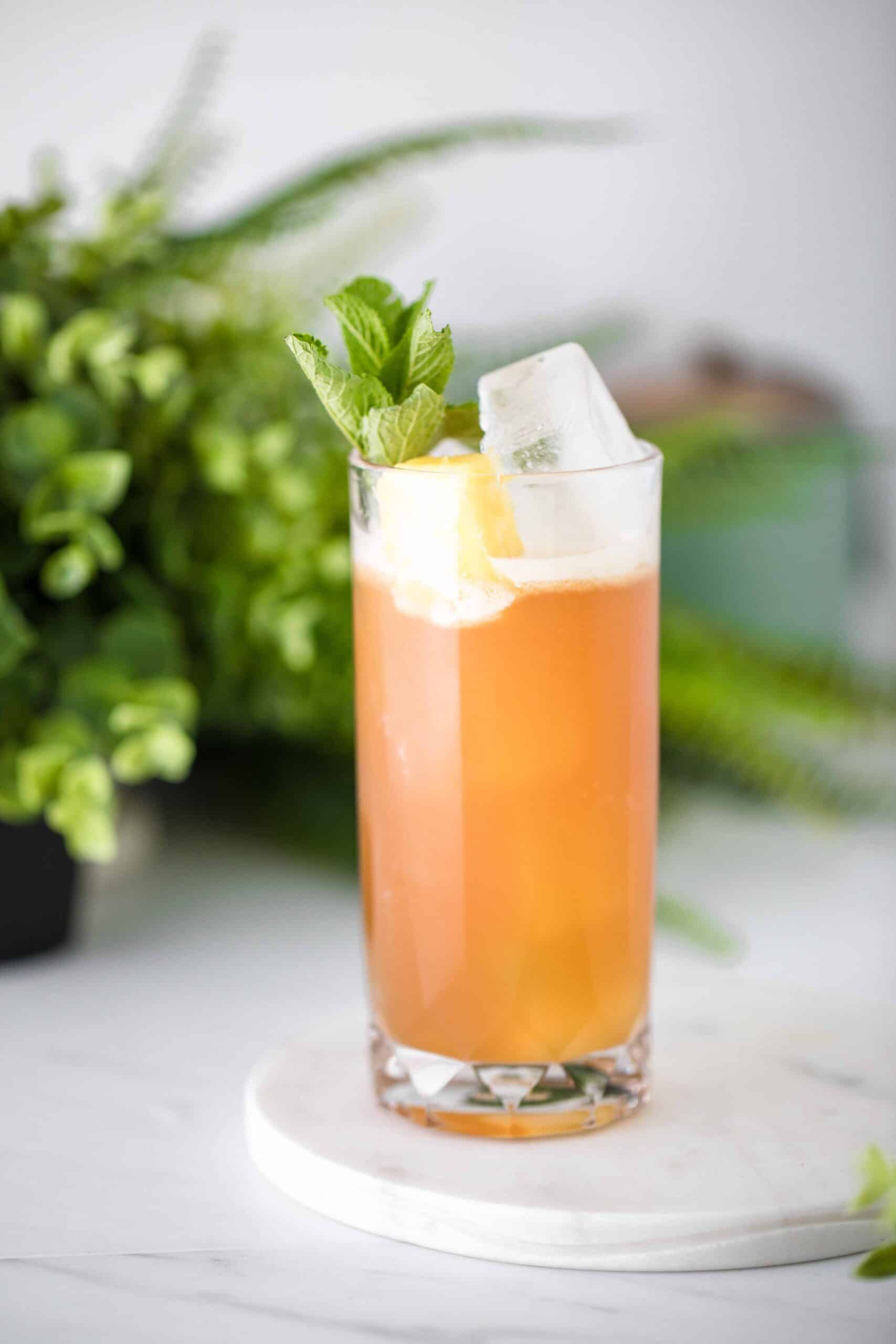 Bermy Pineapple Triangle
An easy Summer Rum cocktail combining Gosling's Black Seal Rum, Pineapple, Lime Juice, bitters and sugar!
– Difficulty: Easy
Ingredients
1.5

oz

Gosling's Black Seal Rum

1/2

oz

Chairman's Reserve Blended Rum

1.5

oz

Pineapple Juice

3/4

oz

Lime Juice

3/4

oz

Brown Simple Syrup

1:1

1

dash

Angostura Bitters
Instructions
In a shaker, combine all the ingredients and shake well.

Strain over fresh ice and garnish with Mint Leaves and Pineapple Slice.
Recipe Notes
Two things to make note of:
The Brown Simple Syrup is a simple combination of 1 part brown sugar to 1 part boiled water. Stir until dissolved and let it come to room temperature before use. Can last in fridge for 2 weeks.
With the Chairman's reserve, you want to go with a blended, lightly aged rum. See the write up on this page for more details of substitutions.
Want to find more recipes using Gosling's Rum? Make sure to check out this link here for inspiration!