It's another #DrinkYourGram for the books! I couldn't believe how easy, simple, yet delicious this mix turned out. If a Hot Toddy and Mulled Wine had a love child, this would be the result! For today's creation, we're bringing out the Irish Whiskey, Sparkling Wine and lots of fresh Ginger to this Mulled Ginger Toddy.
If you're new to the #DrinkYourGram concept, I created it as a way for me to connect with my audience on Instagram and have you vote for what YOU'D like to create at home. Since I started #DrinkYourGram in 2020, I've created some of my favourite cocktails PERIOD and I have all of you to thank. For this week, we had a hit of cold weather (followed by Spring weather as expected here in the GTA), so I wanted to warm up with something hot and here were the results:
Vote #1 – You had a choice between what spirits you'd like to use, including R(h)um, Whisk(e)y, Agave or Brandy. In the end, Whisk(e)y won the votes with R(h)um in a close second.
Vote #2 – Using Milk/Dairy vs. Hot Water (62%)
Vote #3 – Ginger (69%) vs. Chocolate
Vote #4 – Sweeten with Honey (63%) vs. Anything Else
With the results you see up here, it was clear that everyone was craving a Hot Toddy, but the thing is…I've done it. I've done it multiple times and I really wanted to branch out and experiment, but there's only so much you can do with the selection. But then it hit me.
I kept thinking about some of my favourite hot beverages and Mulled Wine is a given, so I thought, why not combine the two concepts?! This Mulled Ginger Toddy is everything! Plus, I had some Sparkling Wine in the fridge that was bound to go flat, so it ended up being the most convenient, zero-waste choice! Now let's break down the ingredients used in this Ginger Toddy.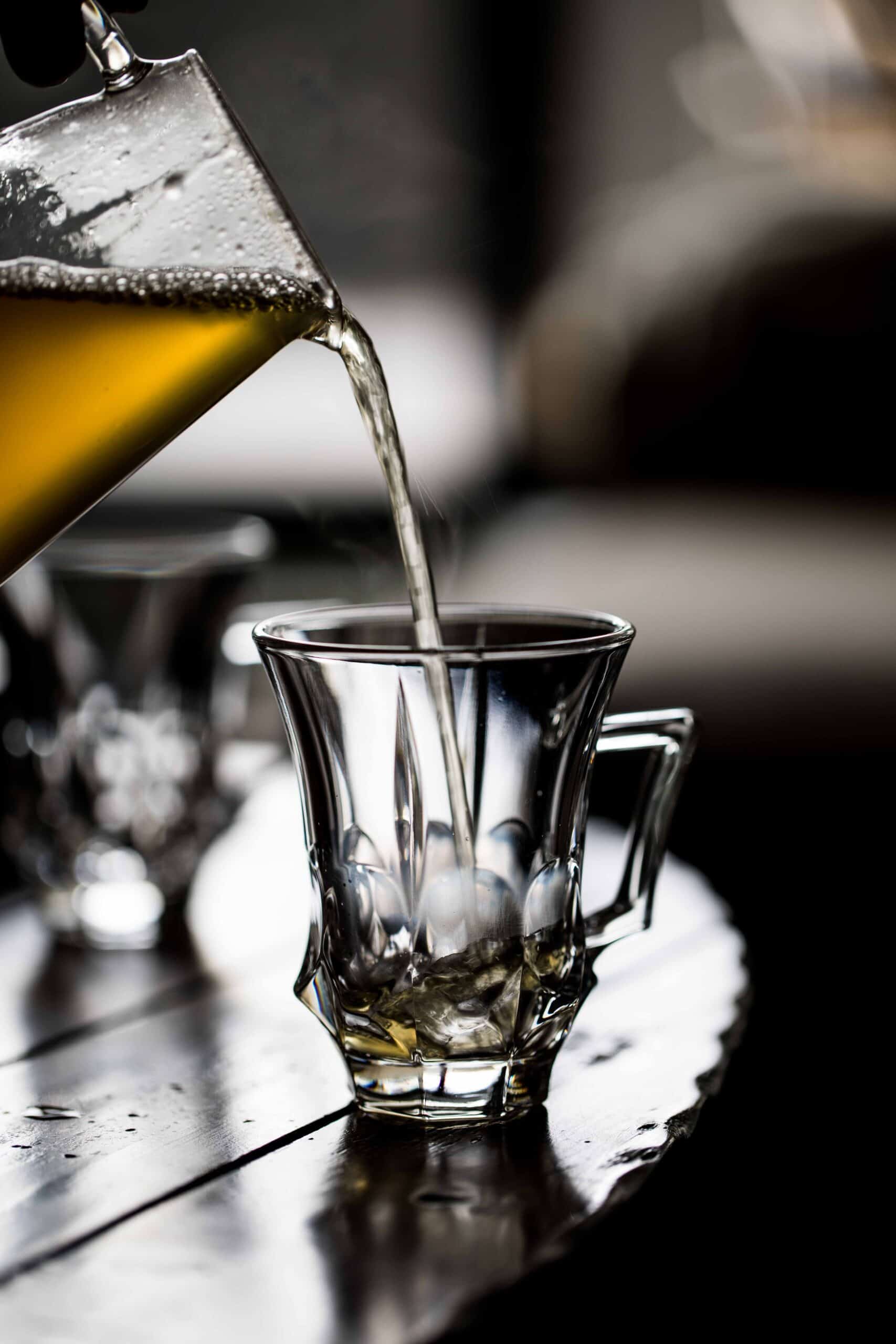 Choosing Your Wine
Great thing about Mulled Wine recipes is that it can be forgiving when choosing the wine. This time around, I had some extra Tawse Sparkling Wine in the fridge, which conveniently matched the flavour profile I was going for. I didn't want to go heavy with a red wine, and I wanted something that was going to be bright with a ton of citrus. In the end, the sparkling wine provided that citrus component to the cocktail we needed for balance!
Don't want to use Sparkling Wine? A white wine can definitely work. I nice acidic New World Riesling could work, a Pinot Gris, even a Sauvignon Blanc or Pinot Grigio. That's the whole point, this warmed cocktail is very forgiving, but if you aren't getting as much citrus notes as you want, throw in a couple lemon wheels while you bring up the mixture to a simmer.
Picking your Whisk(e)y in this Ginger Toddy
I particularly love using Irish Whiskey in warm drinks. It has a weight, body and heat to it that I know will come through in a warm beverage, especially after the addition of boiled water. But you can definitely go for a nice Straight Rye for this mix, or even a Single Malt. I would avoid a Bourbon, or anything too sweet. That wasn't the direction I was going with the cocktail, but if that's all you have in the house…no one will judge you, certainly not me.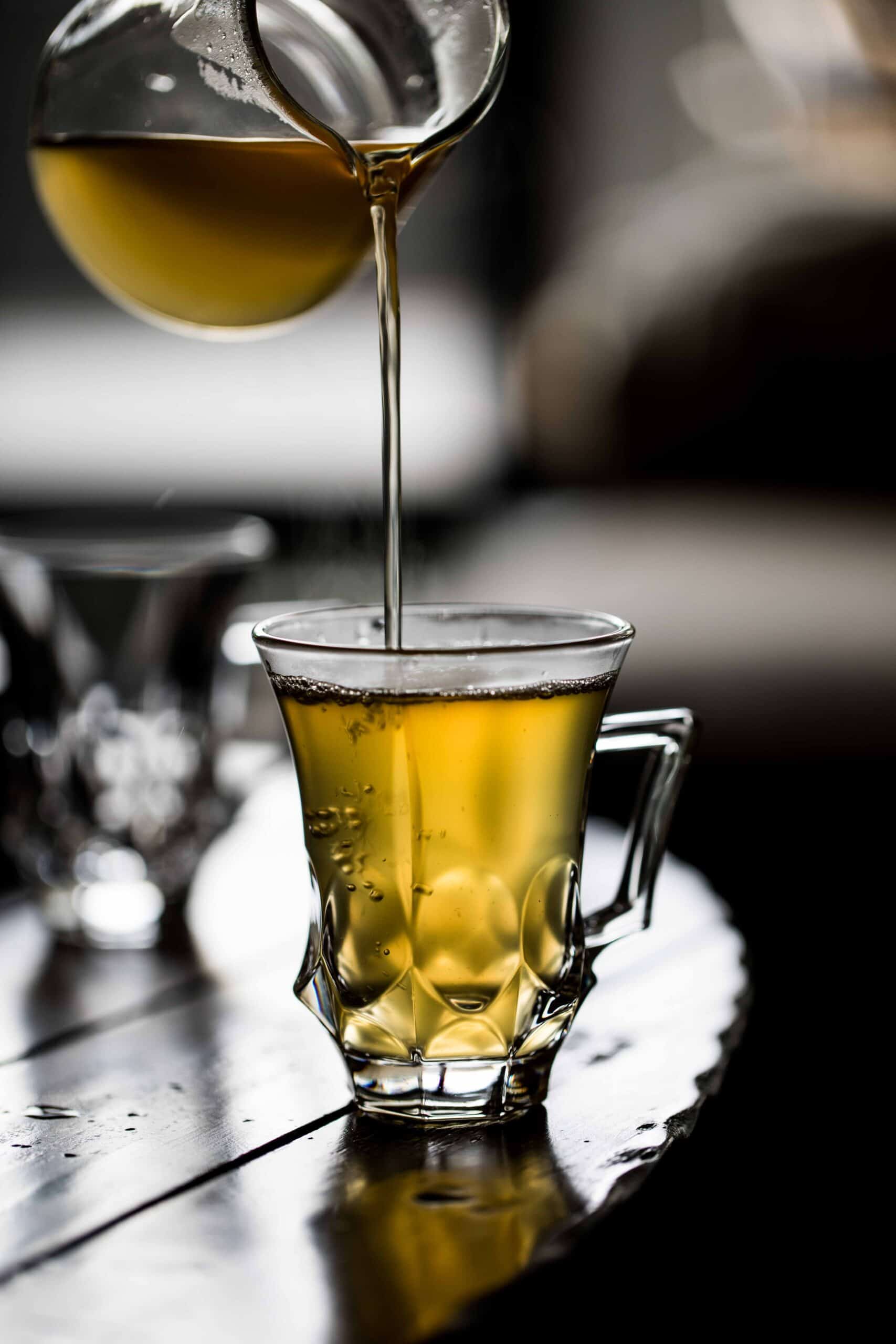 Why Drambuie?
Lately, I've been mixing with this classic liqueur. How come? Well, it's a whiskey based liqueur with added honey and spiced notes. It's the perfect Fall liqueur and a great addition to any bar. It's so versatile and I like to add a dash every once and awhile in cocktails if I want to add a bit more body and complexity. Plus it's easy to mix with almost every base spirit. Damn, this is sounding like a paid AD. I promise you it's not. What I can promise is that this liqueur won't go to waste.
Why Honey?
Well, the easy answer is, because of your votes. Plus it's a great sweetener I prefer to use in the Fall. Don't have Honey in the house? Try maybe an Agave Nectar, but I don't know why you'd have Agave Nectar and not Honey. If you want to add a granulated sugar instead, go for brown sugar for that added spice.
Choosing your Spices
Now I customized this recipe for my preference, and for simplicity. I toasted up some green cardamom because I can't get enough of it, and added one simple stick of cinnamon. YOU DO NOT have to do any of it. Or you can add cloves or star anise or all of the above I mentioned. Customize it for you.
Choosing your Ginger
Okay last note before I get to this Mulled Ginger Toddy. I'm BIG on pushing GOOD ginger. Sorry, but the ones coming from China just don't work for me. It doesn't have the weight, vibrancy or heat that I prefer. I tend to pick up Ginger from Jamaica, India or Peru. Keep an eye out at your grocery store if they offer different ones. I'm telling you, it goes a long way!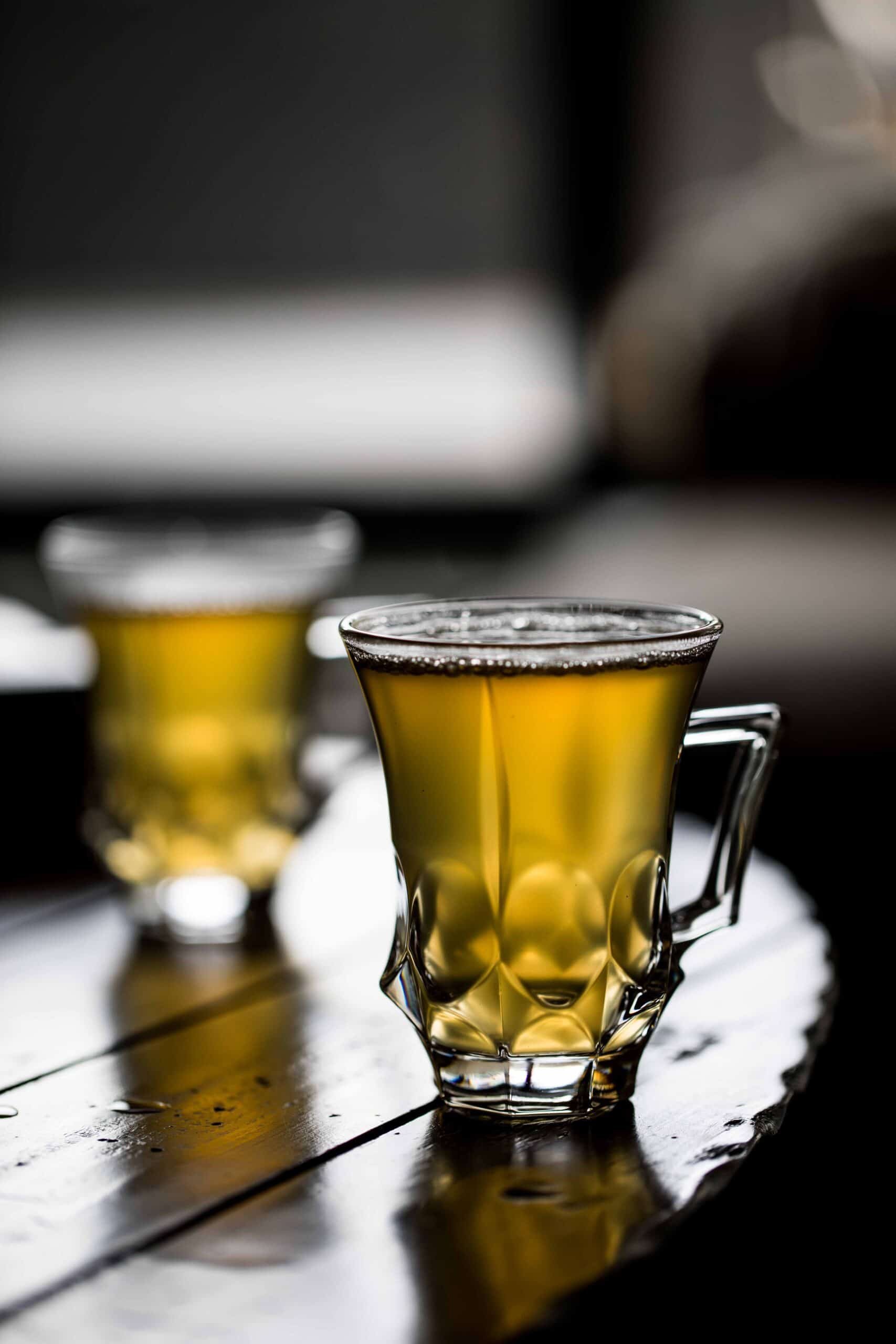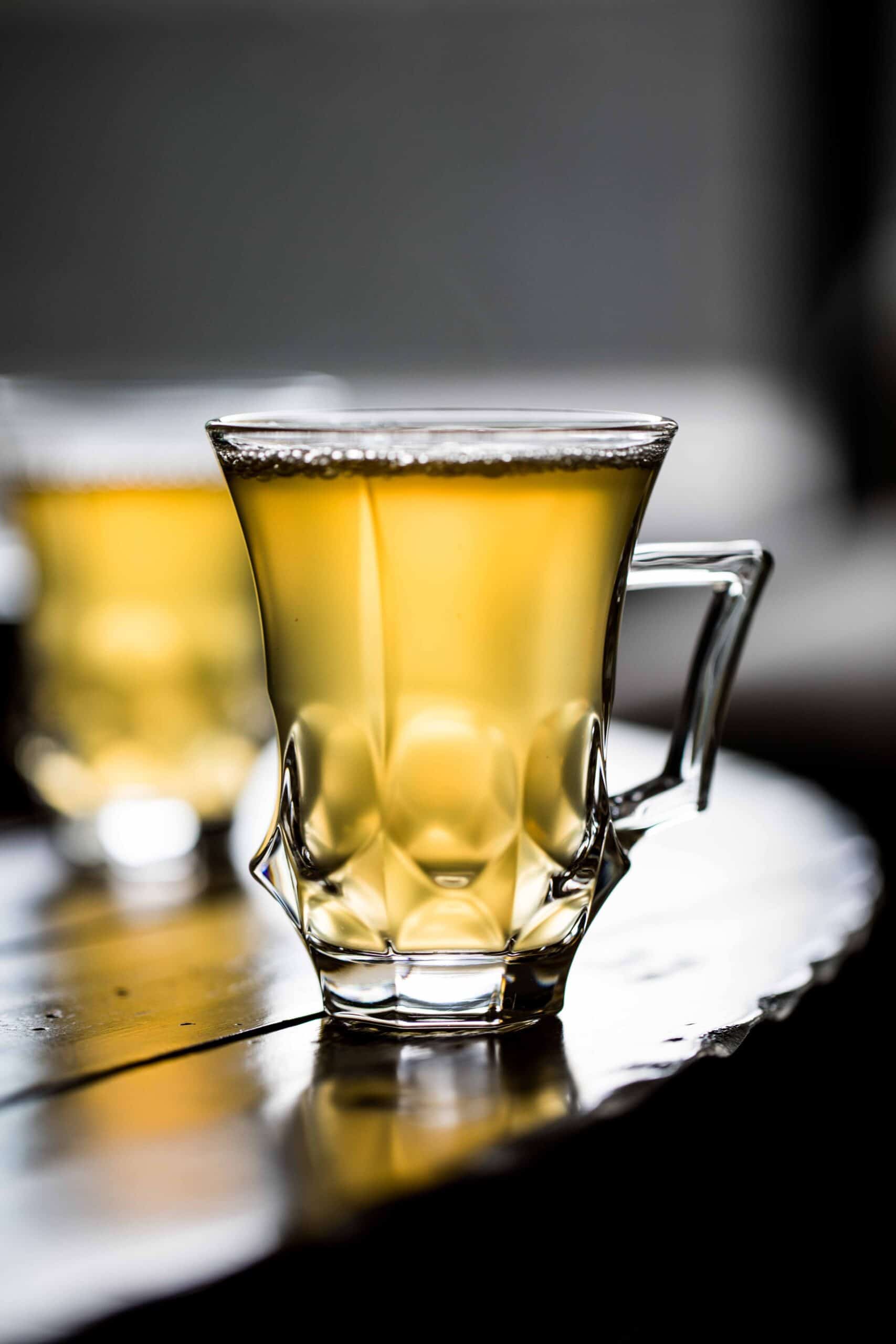 Mulled Whiskey Ginger Toddy
A Mulled wine and Hot Toddy come together as one in this simple, yet amazing warmed cocktail.
– Difficulty: Easy
Ingredients
1

cup

Sparkling Wine

1/4

cup

Teeling Irish Whiskey

1

tbsp

Honey

1/4

cup

Water

1/8

cup

Drambuie

1

tsp

Green Cardamom Pods

1

Cinnamon Stick

1

inch

Fresh Ginger, thinly sliced.
Instructions
In a small sauce pan, add to stove, put to medium-high heat and toast cardamom pods until fragrant.

Add the rest of the ingredients and let it come to a simmer before removing from the stove.

Strain and pour into your favourite tea cups. Enjoy!
Want to find more #DrinkYourGram creations? Make sure to follow the link attached for all the details!