National Fast Food Day is just around the corner, and I wanted to shake up a cocktail that would best go with your favourite fast food items! Based on your votes, the majority of you dream about tacos for fast food and I don't blame you for a second! With it being late fall, and Blood Oranges are finally in the market, I decided to make this a bit more winter inspired. It's incredible, trust me, but I'll also show you ways you can change it up for the season!
If you're new to the #DrinkYourGram concept, I created it as a way for me to connect with my audience on Instagram and have you vote for what YOU'D like to create at home. Since I started #DrinkYourGram in 2020, I've created some of my favourite cocktails PERIOD and I have all of you to thank. For this week, National Fast Food day is tomorrow, and I wanted to know what were some of your favourite fast foods and treats you'd like in a cocktail! Here were the results:
Vote #1 – You had a choice between what's your favourite Fast Food item. This included Pizza, Burgers, Tacos and Fried Chicken. Burger was a VERY close second, but tacos reigned supreme today!
Vote #2 – Make the cocktail Spirit Forward vs. Shaken (59%)
Vote #3 – Cocktail should have bubbles (57%) vs. no bubbles
Not Your Typical Margarita
This is far from a margarita, but really….there's nothing to compare this cocktail with, and for people to relate and understand the drink, we will start off with this base.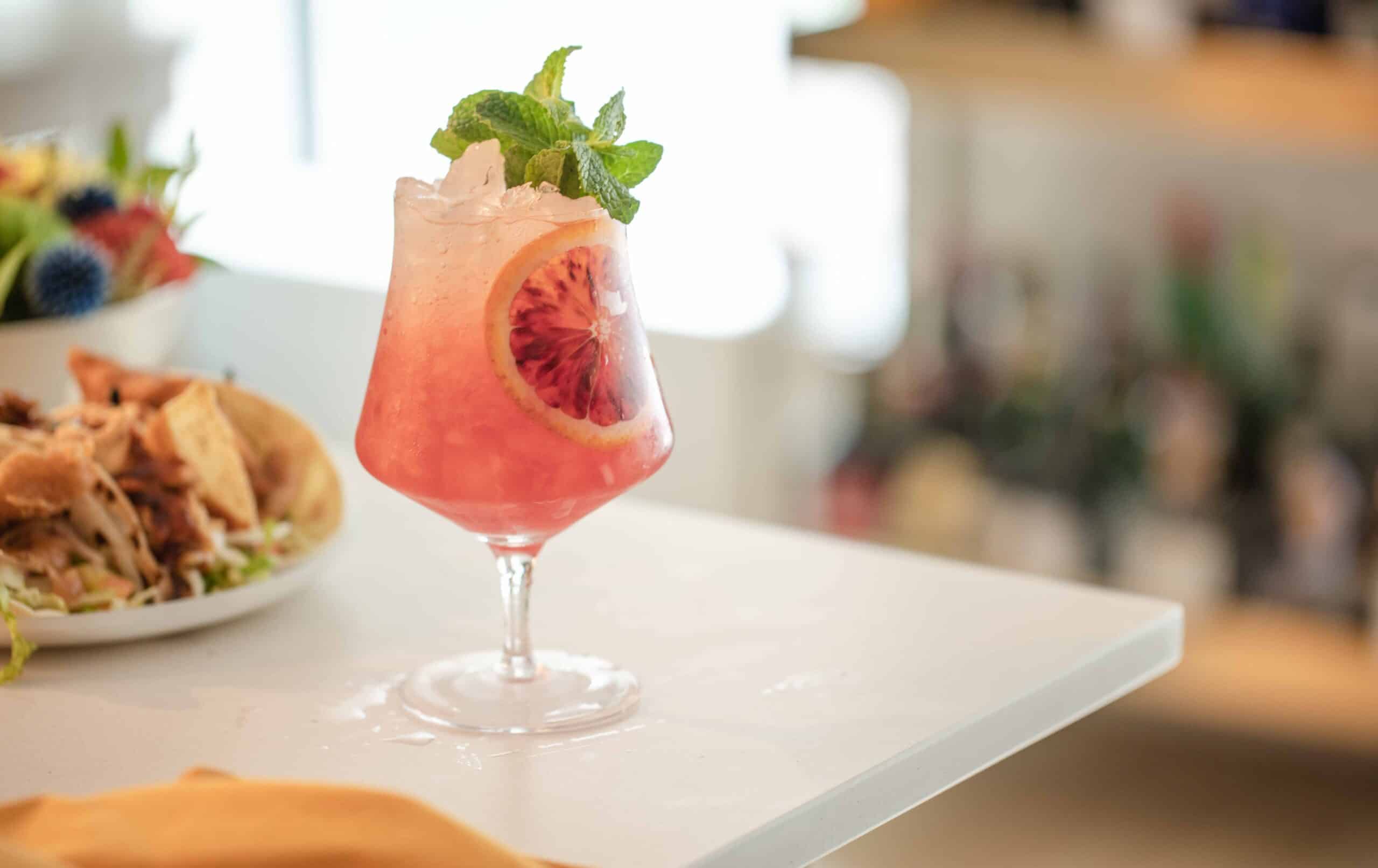 Tequila Amigo
The base of this blood orange cocktail somewhat started off as a margarita. With a heavy pour of Tequila Blanco, a major citrus component and agave syrup. That's pretty much it. I knew I wanted to work with tequila because whats grows together, goes together, and when I'm having tacos, it's almost a given I'll be shaking up an agave-based cocktail.
Could you go with a different spirit? Well technically, yes! Gin would work great here, even a whiskey base would be great with the Fall flavours going on. But again, you're having tacos, so why choose anything else?
Choosing the Citrus in this Blood Orange Cocktail
As mentioned earlier, Blood Oranges have finally hit our markets and I love creating Blood Orange cocktails the second they are in season. Why do I love Blood Oranges? Well they have a bitter attribute that you can't find in your typical orange that I love for the season. Plus that colour makes every drink stand out, PERIOD.
With that said, you can definitely change up the citrus component, say if you're reading this in the summer time. I love mixing with Pineapple juice or Passionfruit which I heavily debated using here today. Keep the fresh lime though, as it lends so well with the Tequila Blanco and agave syrup used.
Also, because I was using Blood Orange, I knew Mole bitters would lend well to a Fall profile. If it isn't fall or not exactly what you're craving, that's okay. Take it out, use another bitter flavour that would compliment or use no bitters at all for this blood orange cocktail!
Syrup Baby
Every cocktail needs a balance of some sweet component. That's a given. And whenever I'm working with Tequila, I like to bring out the Agave Syrup. Now this I have found easily in the grocery stores, but if you're having trouble, you could technically go with granulated sugar. It won't have the depth I went for with this cocktail, but it will at least give you balance. Just ensure that you make simple syrup with the granulated sugar, which would be a ratio of 2 parts sugar to 1 part water here.
Choosing your Bubbles
A sparkling component can really brighten up a cocktail, and seeing as the majority of you voted to see some bubbles, this was an easy decision. I decided to go with sparkling wine for a couple reasons. I wanted more of the bitter, citrus notes to comes through (so definitely pick up a dry sparkling wine). Plus, for something as grand as Fast Food day, let's cut through that fat with some effervescence that keeps it bright and fresh. I'd like to say, I'm upgrading the typical because I'm an adult now and it's 2020. I'm going to SPOIL myself with this.
Crushed Ice vs Up
Technically, this cocktail COULD work without crushed ice. I would just give everything a VERY vigorous shake and strain and top with chilled sparkling wine. It will be crisp and delicious.
The thing that would have to adjust is the tequila, and I'd bring this down to a 1.5 oz. The reason I say this is because with crushed ice, you can be a bit more heavy handed on the spirit component, as the water helps to balance out this blood orange cocktail.
The last note I would make is the fact that when I'm having tacos (especially if it's a fried fish taco), all I would crave is something very chilled and crisp, and a cocktail over crushed ice gives that to you. Again, it's all about choices here, so I'll leave this one up to you!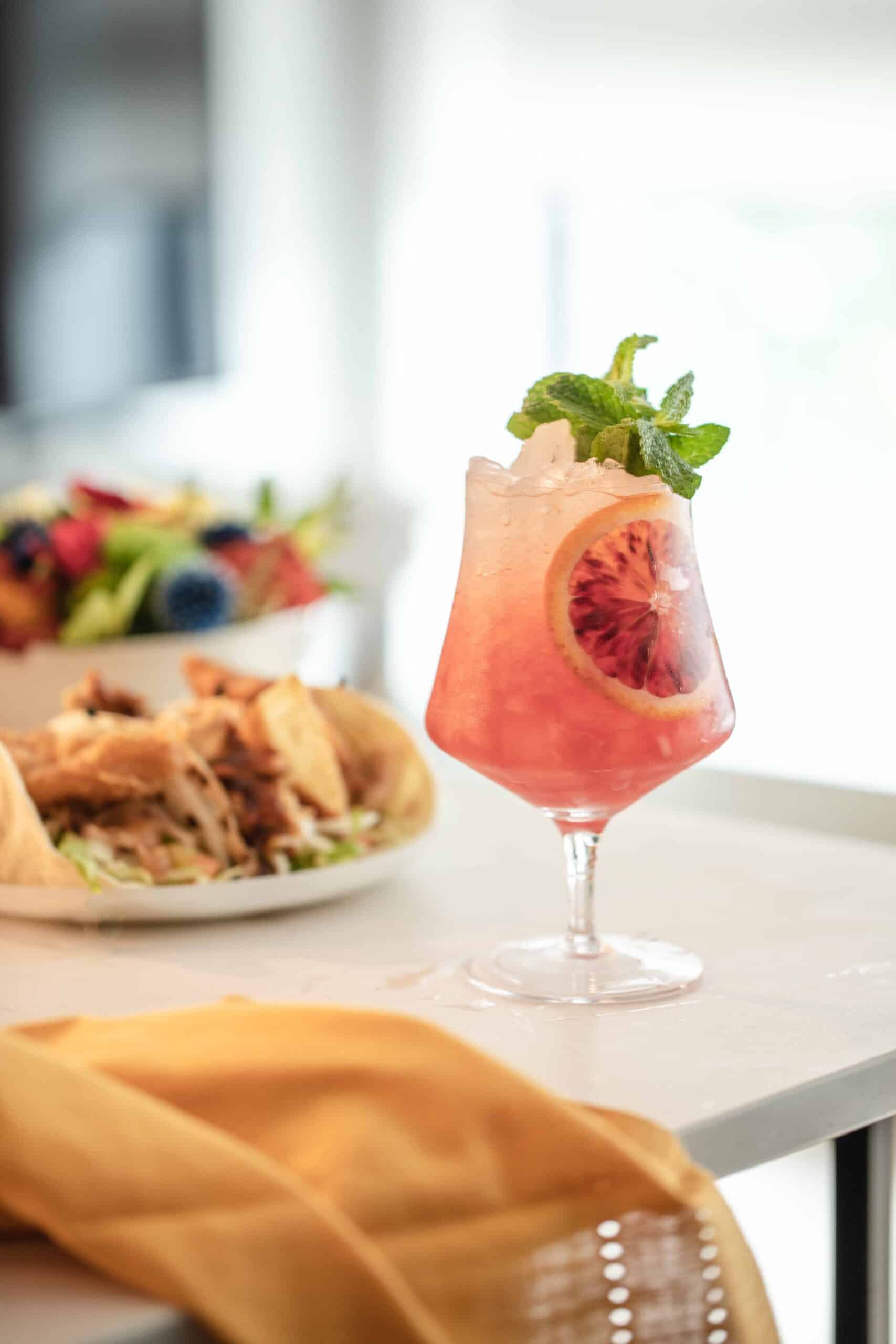 Blood Orange & Mole Grand Express
A Tequila based, citrus forward, bubbly cocktail with all the right Fall flavours to get you excited for your next Taco Tuesday!
– Difficulty: Intermediate
Ingredients
2

oz

Tequila Blanco

El Tequileno Blanco used here

1

oz

Blood Orange Juice

1/2

oz

Freshly Squeezed Lime Juice

2/3

oz

Agave Syrup

2

dashes

Mole Bitters

1

oz

Sparkling Wine

Tawse Spark used here

1

sprig

Mint
Instructions
Fill your glass with crushed ice before starting your cocktail.

In a shaker, add all the ingredients except Sparkling Wine and Mint. Fill with a handful fo ice cubes.

Give this a vigorous quick shake and strain over crushed ice.

Top with Sparkling Wine and garnish with Mint.
Want to find more Agave-based Cocktail Recipes? Make sure to head over to the link attached for more inspiration!