On paper, this cocktail is going to sound strange. Even I questioned it a little. But having experimented with ratios, and with the right ingredients, this was Spirit Forward Halloween Rum Cocktail was pure magic. If you're looking for a sophisticated Spiced Rum cocktail, you can stop the search. It's here, and ready to SLAY!
If you're new to the #DrinkYourGram concept, I created it as a way for me to connect with my audience on Instagram and have you vote for what YOU'D like to create at home. Since I started #DrinkYourGram in 2020, I've created some of my favourite cocktails PERIOD and I have all of you to thank. For this week, with Halloween around the corner, I wanted to create a Rum inspired beverage and thanks to your votes, we have an interesting sip! Here were the results:
Vote #1 – You had a choice between what rums to use including R(h)um Agricole, Cachaca, Spiced Rum or a Blended or Column Lightly Aged Rum. In the end, Spiced Rum won by just 2 votes!
Vote #2 – Tiki Inspired vs. Spirit Forward (63%)
Vote #3 – Bitter Aperitif (67%) vs. Whiskey
I won't lie to you, the results of something spirit forward surprised me, but it just forced me to be a bit more creative this time around which I love. Now in terms of the ingredients I chose, well that was interesting discovery…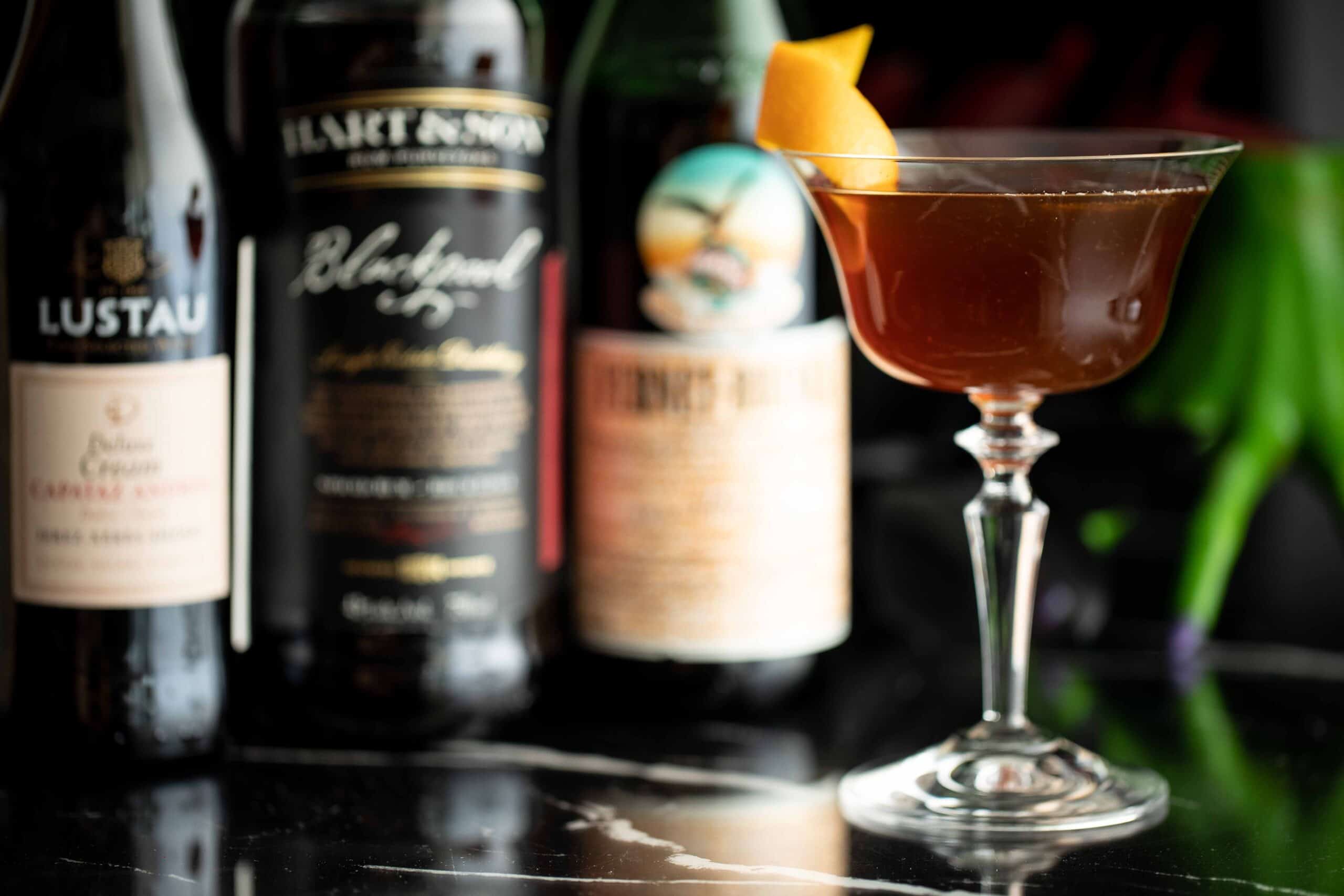 Working with Spiced Rum
Mixing with Spiced Rum isn't something I normally do. Not all spiced rums are bad, but unfortunately there's too many terrible ones out there, confusing the Rum category and adding way too much sugar and additives for my liking.
So when you find a Spiced Rum, and I mean a GOOD, quality Spiced Rum, cherish it. There was no question in my mind that Hart and Son Spiced Rum would be used for this Halloween Rum Cocktail. That was probably the easiest decision I had to make for this cocktail.
Why a Sweet Sherry?
In all aspects, it makes no sense. Spiced Rum tends to be sweet in the first place, so why add on a sweet sherry? When I tell you that this recipe is GOLD based SOLELY on the products I used, I mean it. The Deluxe Cream Capataz Andres from Lustau wasn't at all what I would have expected. It had some wood attributes and a ton of stone fruit and raisins. It obviously was on the sweet side of things, but somehow blended with the Spiced Rum perfectly.
I added them both together just to see what equal portions would create, and it almost seemed like a cross between some of my favourite ports with Whiskey and rum combined. It's very complex, well spiced, but not over bearing for this Halloween Rum Cocktail. This built a cocktail structure I never thought would work, but it did and I loved it!
Choosing a Bitter
When choosing a bitter, I knew I needed something that would stand out on its own against the Spiced Rum and Sherry. Fernet isn't always something I gravitate to, but with its sharp notes, I knew it would lend well with this cocktail.
Some of my specialty Chartreuse was debated, and even China China for this cocktail. Vermouth was out of the question considering the other spirits involved was bringing in that sweet element already. Amaro Montenegro would be too rich and dense for something that had enough of that to begin with. In the end, with Fernet adding a bit of brightness to a cocktail, while adding that bitter component as per your votes, it worked, and I'm so happy.
Why the Chocolate?
The sole purpose of adding Chocolate to the mix was initially to acknowledge that chocolate is a given for Halloween Treats. In the end, it ended up being a beautiful complimentary flavour to this Halloween cocktial. And you don't need much. Just a small spoon goes a long way, plus the combination of the orange zest would just bring everything together.
As I mentioned, don't even ATTEMPT to make this without these exact ingredients. They're all so unique on its own, that it's hard to replace. I hate doing this to the community, I usually like to be flexible with my cocktails so you can easily change it up if need be at home, but you can't here (except MAYBBBEEE the Spiced Rum and that's a big maybe). At least they are accessible to most, and if you ever need help or recommendations, email me or comment below!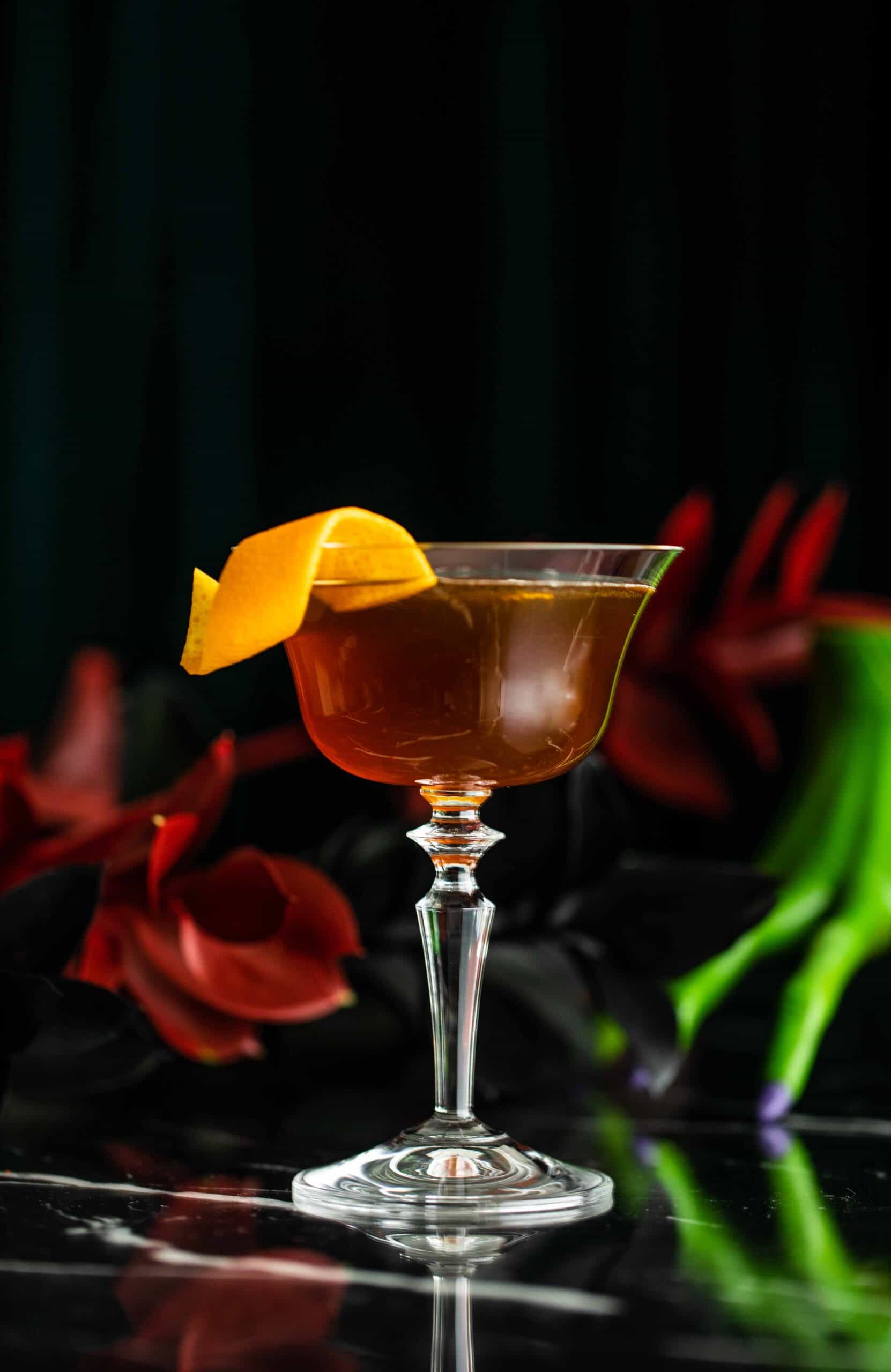 Bitter Rum Corpse Bride
Featuring a Chocolate, Sherry and Bitter Spiced Rum, Spirit Forward Cocktail created in honour of #DrinkYourGram.
– Difficulty: Intermediate
Ingredients
1.25

oz

Hart and Son Spiced Rum

1.25

oz

Lustau's Deluxe Cream Capataz Andres

1/2

oz

Fernet Branca

1

barspoon

Creme de Cacao

1

Orange Zest
Instructions
Grab a mixing glass and fill with ice. Add the rest of the ingredients (except Orange Zest) and stir WELL (approximately 30 seconds)

Strain into your favourite coupe and garnish with orange zest.
Want to find more Halloween Inspired Cocktails? Head over to this link here for inspiration!