---
Remember that intense societal battle between Apple and Blackberry phones? It feels like centuries ago, but it really hasn't been that long where we used to judge people heavily on what brand they used. I bring this up because I feel the battle is the same between Bourbon and Rye. I had a guest get so upset with me when I mentioned that the traditional Manhattan recipe is supposed to be made with Rye. The bourbon craze completely took Rye off consumers radar and I'm here to change that and also say that…I'm on the #TeamRye.
Now if you are a bourbon lover, you and I have no beef. I've tasted some amazing distillates that I'm happy to carry on my bar, but Rye for some reason does not get that kind of same love and appreciation that I believe it deserves. The past 5 years has seen an insane Bourbon craze. I know because I saw it everyday at work, and people were completely mystified by bourbon, ignoring all else on the bar. Well let me tell you the magic of Rye.
Rye Whiskey 101
The United States characterizes Rye very differently from the rest of the world. Much like bourbon, they've implemented strict boundaries for a label to include "Rye Whiskey" or "Straight Rye Whiskey". It standardizes an industry and helps consumers know the 'typical' style that they will find with this label. But I'm not going to mention the percentages and all that. The important thing to note is that it's spicy. Bourbon tends to have a velvet, smooth and rich mouthfeel, while Rye is a bit more robust and spicy on the palate. That's why there is always a time and a place for which whisk(e)y's to use.
Of course, you can ALWAYS create a manhattan with bourbon if you prefer, but why not give the other guys a chance. I mentioned that the rest of the world is a bit more lenient when it comes to Rye production and that's very much the case in Canada. That's why you'll see clear variants of Rye because they do not have to be aged in New Charred Oak Barrels like our neighbours to the south. I'm all for distillers having the freedom to re-imagine the traditional, which is why I love the products coming out of Canada, in particular Alberta.
---

---
Cocktail Inspiration
Now I'm talking a lot about Rye's and the Blackberry Apple Beef, but what does this have to do with Liquid Culture and for the Wednesday feature? Well one of my long-time followers tagged me in a post about #RyeFebruary, which I absolutely loved this concept but couldn't get around to it in February. So I want to apologize Melissa (@mbernais) that I couldn't get to this sooner but I wanted to showcase a Rye cocktail in honour of you for the Liquid Culture #WednesdayFeature.
I will admit, a lot of the times when I'm browsing through the supermarket, I try to grab the produce on sale. Typically it would indicate that produce is in season and available, and that's always a good practice to use when grocery shopping. I haven't done anything with blackberries in a while, and then the whole concept hit me. In addition, I wanted to add a flavour that would compliment the blackberry and robust nature of the rye and that's where the Almond (aka Disaronno) came in. That with the China China Liqueur, we had an instant Spirit-Forward Cocktail Winner!
So what I want to know from everyone is whether your #TeamRye or #TeamBourbon or #TeamIJustDontKnow. Comment below, but in the meantime, sip on this cocktail at home. It's very simple to recreate with NO ADDITIONAL SYRUPS (YAY!).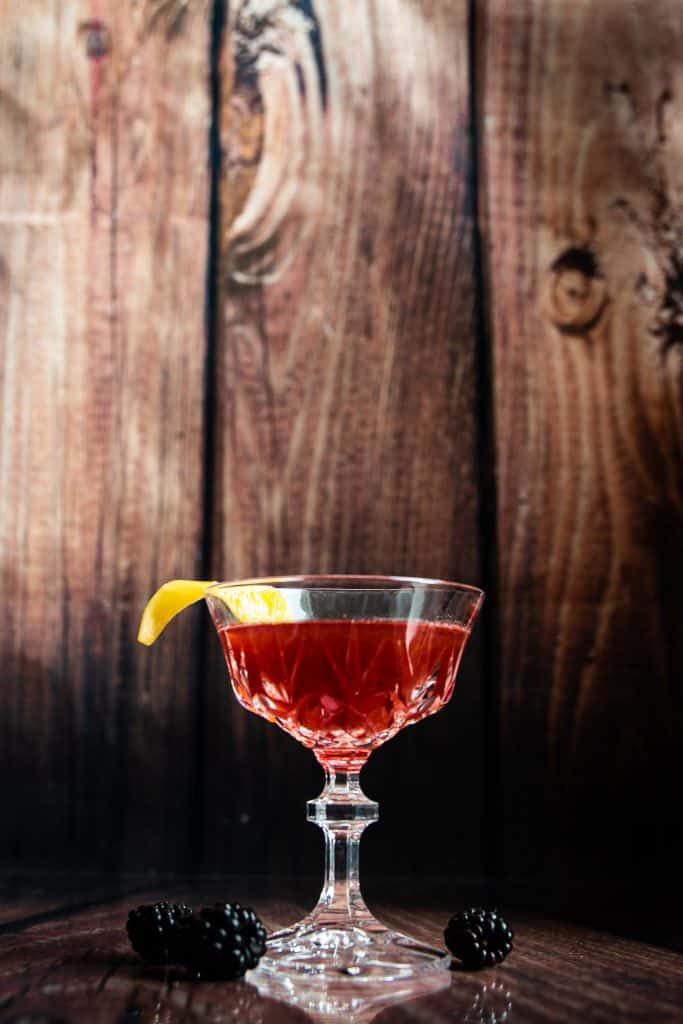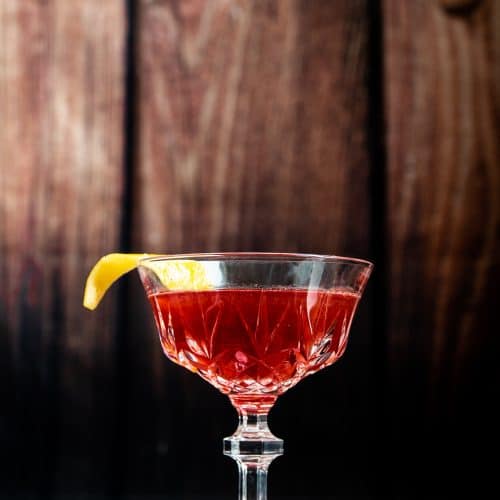 Blackberry Almond Tipple
Featured today is a Blackberry and Almond infused Manhattan, with a blog entry that highlights the significance of Rye Whiskey!
- Difficulty: Intermediate
Ingredients
2

oz

Rittenhouse 100% Bonded Straight Rye Whiskey

**

1/2

oz

Disaronno Amaretto

1/2

oz

China China Liqueur

2

dashes

Peychaud Bitters

1

Lemon Zest

For Garnish

6

Whole Blackberries
Instructions
Chill your coupe glass while you prepare your cocktail (can be done by simply adding ice and water).

In a mixing jar, muddle the blackberries. Add the rest of the ingredients (minus lemon zest), fill your mixing jar half way with ice and stir until well chilled.


Empty your coupe glass and double strain your cocktail into your coupe glass and zest with lemon.
Recipe Notes
**Make sure to have the Rittenhouse Rye as a staple, but once you start to expand on your Rye knowledge, you'll realize how many WONDERFUL products are out there! Dillon's Rye is wonderful, Mitchers is always a great American example, as well as Angel's Envy if you don't mind forking up a few extra dollars!