I'll admit, this title is a bit of a mouthful. As a bartender, you have no idea how difficult it is to create a cocktail with little to no sugar. Sugar in cocktails is like salting a meat, but I've managed to keep it to the very minimum, while still creating a tasty cocktail. There's a few reasons why this cocktail came about, but when my Aunt asked for a cocktail that helped those with Diabetes, I put it first on my list. What I love is that it's also deceptively similar to a delicious Gin Fizz but without the dairy!
First off, I just want to say how happy I am to slowly get back into the grind of things with writing on this blog and creating delicious recipes for my community. I took a bit of an unexpected break due to all my travelling and the fact that life was knocking on my door for some attention. However, I'm very excited to finally share this cocktail as its been on my radar for quite some time now and let me explain why!
Brazil
One of the first things I'm asked, especially behind the bar, is what is my background. As a Canadian, I tend to stand out with my big, frizzy curly hair, light complexion and big nose. It throws everyone off, and I think in all my years, no one has ever successfully guessed my background. What's the point of all this? Well I want to share my background with you, and tell you the inspiration of this cocktail. So my mom was born in Brazil and my dad is Cuban. I'm lucky enough to still have family in Brazil that I try and visit as much as I can. On my recent trip in February, I got a chance to try some amazing food and drinks, but one thing that really stuck out for me was how my aunt prepared Pineapple Juice. I know this sounds so simple, but the fact that she blended it up with water and sugar gave the illusion of a Ramos Gin Fizz that I HAD to attempt. It's the ultimate deception and I knew I wanted to play around with this idea at home.
Diabetes
A bit of a sore topic but definitely needs to be addressed is the fact that Diabetes runs in my family. I've been lucky enough that I love to cook and have access to fresh produce and fruits to keep it far away from myself, but my aunt came to me asking for a cocktail that tackles just that. I knew this was the time to mix up the concept of the Fizz with a truly health forward concept.
---

---
The Final Product
So with that in mind, I decided to tackle as much allergies and sensitivities that we as a generation face today. This cocktail uses a Vodka that isn't grain base (Gracias Chopin), there is no dairy whatsoever in this cocktail (for a Ramos Gin Fizz that's unheard of), but still has that delicious pillowy foam. Plus I've added as little sugar as possible to this cocktail, so you won't feel guilty about having a second glass.
I should mention a few of my thought processes when it came to this drink. For one, I decided to go with a natural sweetener and used maple syrup for this blend. Since Veganism means you can't have anything from animals, Honey was out of the question (although if you aren't vegan, switch it out to Honey!). It's a mere tablespoon of maple syrup for a cocktail that can serve at least 4 drinks! I also knew I wanted to keep this recipe simple for my audience. There is no special tools needed here except for a BLENDER, which I'm a majority of us have access to. Another important mention is that NO LIQUEURS were used in this cocktail. That's a biggie. Liqueurs are a great way to balance out a cocktail, but because I wanted to limit sugars, I vowed not to put it in this mix.
Now I don't typically use Vodka, but the concept of an all encompassing cocktail that's friendly to those gluten sensitive felt too overwhelming to ignore. That's when educating yourself on spirits and where they come from are very handy. You can create a mocktail with Seedlip if you'd like here, but for the concept to avoid grain and still be alcoholic, Chopin came to mind. I mention them because I know it's a product that's usually readily available. But learning about other brands, or local distilleries that offer some variant is definitely worth the effort!
This is a great way to get into cocktails if you were shy about it at first. So for my beginners, don't be shy and pick up your blender tonight!
---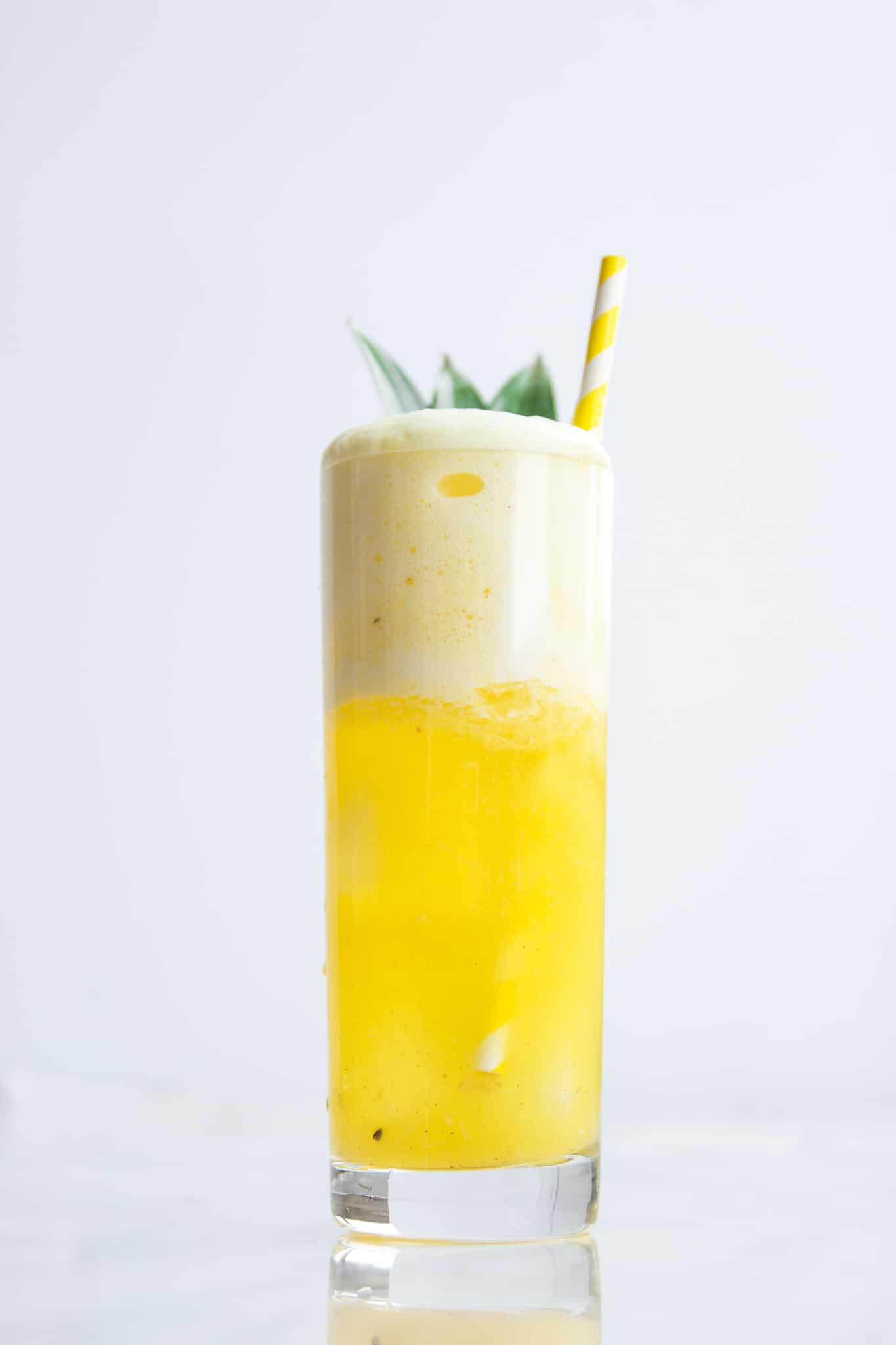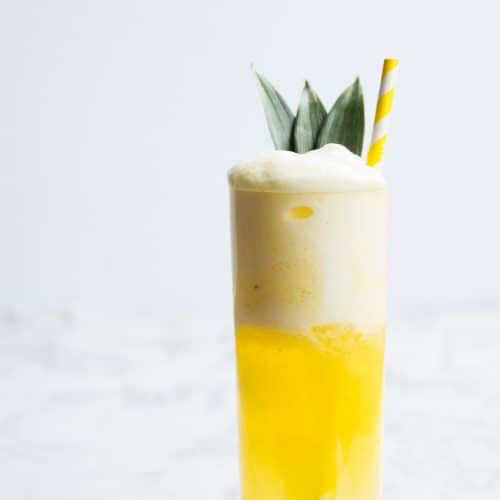 Vegan, Gluten, Dairy Free Pineapple Fizz
An alcoholic beverage that targets all the allergies out there, and it deceptively looks like a Ramos Gin Fizz!
Ingredients
1

cup

Chopin Vodka

Or any Non-grain Spirit

3

cups

Ripe and Fresh Pineapple Slices

Approx half of Whole Pineapple

1

tsp

Cinnamon Powder

2

inch

Ginger

skin removed

1

tsp

Cayenne Pepper

1

tbsp

Lemon Juice

half a lemon

1

tbsp

Maple Syrup

2

cups

Water

6

drops

Orange Blossom Water

5

Ice cubes

1

tsp

Saffron

Optional**

4

oz

Club Soda

For individual pours
Instructions
In a blender, combine all ingredients except Club Soda. If you have a frozen drink button on your blender, use this, or make sure to puree for at least 1 minute. Once blended, let this sit for 1 minute for the mixture to separate.

In a Tom Collins Glass, add ice and pour blended content 3/4 of the way. Top with a bit of the foam and add Club Soda.
Recipe Notes
This is one of those recipes that can easily be manipulated. I mentioned the saffron being optional, but I absolutely LOVED it in this drink. I also love this spice and know how well pineapple and saffron work together, but if you don't want to fork up the money, or don't like the taste, don't worry about it!