It's International Women's Day and obviously I had to drop a delicious cocktail recipe dedicated to all the AMAZING hustlers, grinders and bad ass women I know and love. This cocktail is for every single one of you and all I gotta say is…Cheers to you!
When it came to deciding what cocktail I would create for today, colour became a huge factor. I knew the gram would be filled with pink, dressed cocktails, but I really wanted to step away from that. I wanted a colour that best represented the women I know and admire, and they come with a boat load of Power, Strength and Ambition. This is the true image of women. This is how we should be seen. And this is why I feel so blessed to be surrounded by that kind of love and respect from everyone (including men)!
Okay, I went on a slight rant there, but back to the colour graph. I did so much reading on what colours meant what, and the thing is, as Women, we encompass a rainbow of colours. We have a hint of green, blue, yellow, orange and red. But what I gravitated towards was the colour purple. In theory, purple is created by combining red and blue, which are very strong and powerful colours. Blue offers stability while red has an immense amount of passion. This, and a number of other characteristics behind the colour purple made me realize where I wanted to go.
I few flavours came to mind to accomplish my 'purple' cravings, such as Creme de Violette or Creme de Cassis, but it was the Butterfly Pea Tea that won me over. The sad truth is, I have NEVER had a chance to create something with Butterfly Pea Tea, so I finally found a way to incorporate that beautiful colour.
---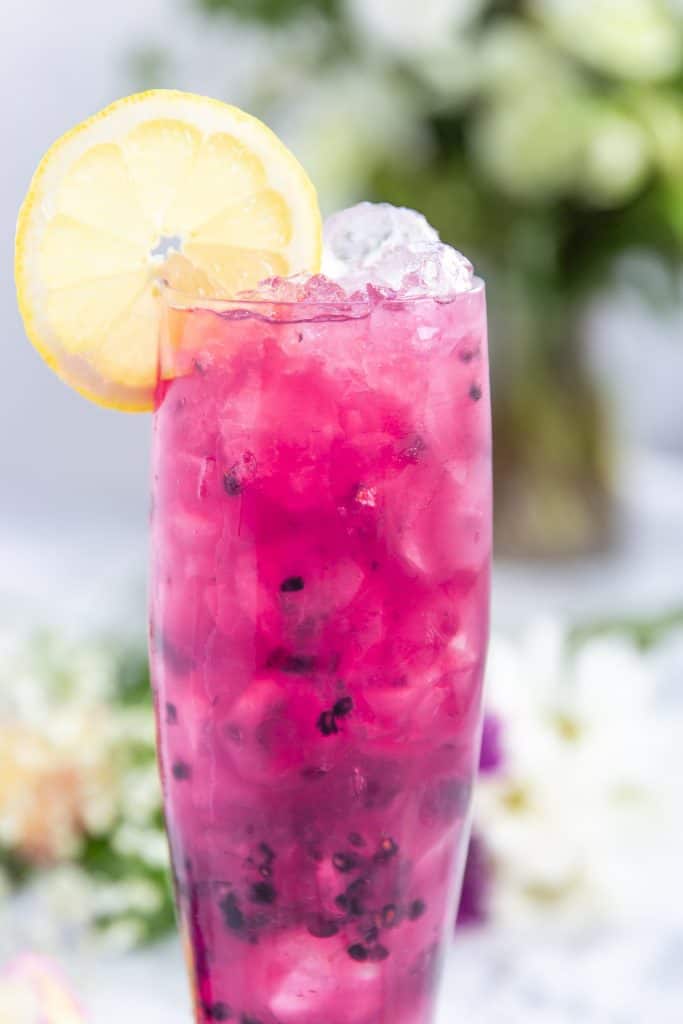 ---
What is Butterfly Pea Tea?
If you're one of the rare few that hasn't seen the craze trend for the mesmerizing butterfly pea tea affect, don't worry, I'm hear to explain. Butterfly pea (or also known as blue-pea) is a plant from the pea family. It's typically found in tropical Asia, but has since seen a wide distribution to most of Asia, Central and South America. The flower itself is what is used for brewing tea which has a woody and earthy note to it, characteristic to green tea. But the wow factor here, is it's ability to change colour.
This is an Instagram video dream right here. You have a blue drink that can turn purple with a simple introduction of citrus or it can turn to a deep red. With the cocktail I featured here, it ended up turning into a purple with deep roots of red, but I was very okay with this. As women, we are extremely passionate, its what drives me every single day with Liquid Culture, so I didn't disrupt this very natural occurrence here.
---
---
The Cocktail – Bramble
My first thought was to create an eye catching drip of the Butterfly Pea Tea reduction, but I ended up mixing in blackberries in the last minute, so it was not like the colour would have made a drastic contrast in the photo. In the end, I decided to shake up all the ingredients to create this unbelievable hue. Now there's a ton of Gin that would work for this cocktail, but I hadn't had a chance to open up Trafalgar's Ontario Honey Gin. I thought this would be a perfect introduction. We have a little bit of honey, blackberry, tea, gin and citrus, all a delicious combination to make the perfect cocktail. It has a little bit of everything, which to me, is the best way to describe a woman. Our ability to take on a multitude of roles in our lives and adapt to every scenario, is what makes us unbelievably strong…not to mention, this cocktail may be just as strong *wink*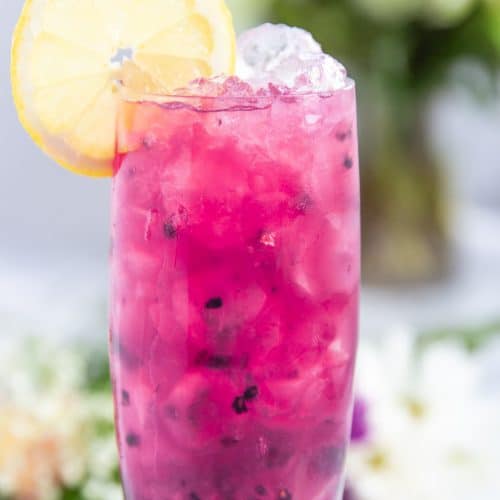 Butterfly Pea Tea Gin Bramble
Celebrating International Women's Day with a stiff and delicious Gin Bramble, infused with the mesmerizing colours of butterfly pea tea!
- Difficulty: Intermediate
Ingredients
4

Blackberries

2

oz

Gin

Trafalgar's Ontario Honey Gin Used Here

1

oz

Butterfly Tea Reduction

**

1/4

oz

Grand Marnier

1/2

oz

Fresh Orange Juice

1

oz

Lemon Juice
Instructions
In a shaker, muddle fresh blackberries. Add the rest of the ingredients with a handful of ice and shake.

Dump all contents into a pilsner glass and top with crushed ice. Use stir spoon to churn the ice and have the cocktail be evenly distributed.
Recipe Notes
** The reduction was simple. Boil 2 cups of water with 1 tbsp of butterfly pea tea flowers, add 1 cup granulated sugar and reduce this by at least half! (Simmer may take 10 minutes)