I've been anxiously waiting to showcase some of my inspirations from my Brazil trip this past February. Well, the wait is finally over and this week I'll be going over some classic flavours, new fruits and spirits that I found and SO much more! To start off the week, I decided to provide my community with a riff on a classic Caipirinha that encompasses both my Canadian and Brazilian heritage. 
Many people don't know this, but I am a duo citizen, with roots in Canada and Brazil. I don't advertise it much, and since my Portuguese is extremely poor, it avoids the awkward confrontation that I can't 'communicate' very well with my people. Both of these home hold a very special place in my heart, which is why I wanted to tie both concepts together as one. 
Every country tends to have its own unique spirit, for example Sherry dominates Spain, the people of Peru and Chile live and breathe Pisco and in the case of Brazil we are known for Cachaca. Never heard of Cachaca? Well don't worry, I'll get to that. 
---
---
I'm always shocked when people say they've never heard of Cachaca before. Okay, that may be a bit naive to say, but if you stop by any market or grocery store in Brazil, you can generally find a massive aisle dedicated to Cachaca alone. Simply put, Cachaca is a Brazilian based Rum that is made from fresh sugarcane juice. Now before you can start thinking you can substitute Havana Club with Cachaca, it has a completely unique profile and taste. You'll find that it has similar properties to Sherry and Pisco, while carrying a strong vegetal nose. It's often confused with a blanco tequila on the nose, but believe me, it is far from it.
This trip in February was the first time I was coming back to Brazil with Liquid Culture in full swing, so I was on the hunt for Cachaca. In Ontario, we're somewhat limited to what Cachaca brands are available and by this point, I was only exposed to the brands Leblon and Pitu. If you're going to pick up either of these bottles, make sure it's Leblon because it's an excellent introduction to learning and tasting Cachaca. Although this trip was focused on spending time with my family, I always kept a close eye on the markets and the booze aisle.
Now I have to mention, having stayed in a 'suburban' part of Brazil, access to main cocktail ingredients proved challenging. Perfect example was Angostura Bitters. If you're a seasoned bartender, or someone who loves an Old Fashioned, this will come as a shock that you can't find Angostura Bitters anywhere! My family had never heard or seen anything like bitters before, so I really had to go with what my surroundings provided. Mind you, I can't complain, the amount of exotic fruits and produce blew my mind and I can't wait to share!
---
---
Since this is my first cocktail of the week, I wanted to introduce something simple, traditional and combined my love for both homes. With Winter having a strong hold in Canada, I decided to bring out one of my favourite Winter citrus, which is the Blood Orange. With that, I developed a Winter-Inspired Caipirinha that I'm obsessed with. It's so simple to throw together and a great way to get introduced this outstanding spirit.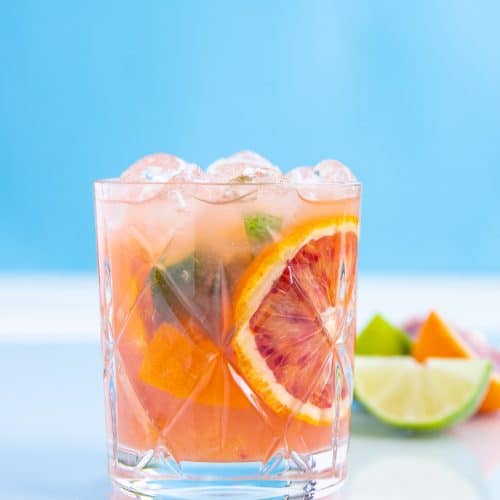 Blood Orange Caipirinha
Featured is a combination of my Canadian and Brazilian roots with a Blood Orange Caipirinha, starting off our week of Brazilian inspired cocktails!
- Difficulty: Easy
Ingredients
2

oz

Avua Cachaca

½

Lime

quartered

½

oz

Blood Orange Juice

2

slices

Blood Orange

1

Sugar Cube
Instructions
In a shaker, muddle sugar cube with lime and blood orange slices until fully dissolved.

Add the rest of the ingredients, add a handful of ice and shake.

Dump all contents into a double rocks glass
Recipe Notes
If you have access to Avua Cachaca (available in the United States, and oddly not sold in Brazil just yet), then you must pick this up. Since I couldn't get a chance to pick this up, I used what was available in Ontario, Leblon which is still an excellent expression of Cachaca