I hate coming up with cocktail names, but I couldn't resist the temptation of a funny word play that incorporates all the elements of this cocktail. This loose riff on a daiquiri is a combination of Cachaca, Avocado and Bananas, which all play an important role to Brazil's agriculture. With that said, what better way to celebrate some of Brazil's famous exports and blend it into a cocktail! If you love Avocado toast, the Cavonana may be your next drink obsession (pronounced Ka-Vo-Nana).
---

---
Brazilian Bananas
I mentioned earlier this week that I attempted to try Brazilian produce as if I've never tasted it before. Limes were sweet and plump, cold coconut water always saved the day, and when it came to avocados and bananas…well, lets just say — MIND BLOWN! This didn't come as a surprise as you'll find a variety of banana based liqueurs, for example Giffards, that only use Bananas from Brazil. Brazil produces approximately 10% of the world's Banana production, making it an influential export for the country. Now you're probably familiar with the Long, slightly sweet Banana Variety 'Cavendish', but what I fell in love with is the 'Lady Finger' style that are short and exceptionally sweet. They're extremely rich in flavour, and typically used in smoothies, so I thought, why not use them to create a cocktail instead?
Since smuggling in some Bananas were out of the question, I was on the hunt for an authentic Brazilian Banana Liqueur. There were so options available in the market, including some tasty looking Banana Cachaca Liqueurs. I gotta say, asking for help on which brands were the best, was a bit of an annoying task. They kept telling me that they were all good, and I have to admit, I wasn't the biggest fan of the product I picked up. You can tell there was a lot more artificial sweeteners involved, which is a shame considering the bananas they use should have all the rich, sweet flavour you need. Moral of the story, I wouldn't recommend the Banana Cachaca liqueur I picked up, but I do come with suggestions!
If you EVER SEE the 'Tempus Fugit Spirits – Creme de Banane' liqueur, GRAB IT! I even tasted it against the Giffards Banane du Brasil, and I have to admit, I loved the Tempus SO much more. It's like tasting a liquid banana bread and it's so wonderfully spiced that it came closer to my experience with tasting Brazilian Bananas than anything else! This also means that I'll need to go back to Brazil to continue my hunt for a quality Banana Cachaca liqueur.
---

---
Avocado
You rarely see in our markets different types of Avocados, but it wasn't until this trip where I realized that we had more than just 2! The Hass style, which you'll typically find in our markets, are very rich, oily and dense. This is the style you've likely seen. It's typically used in salads, on toast and for guacamole. In Brazil, I had a chance to try some of the larger varieties that were completely different from what I've tried back home. They had a slight nuttiness to them, fairly 'dry' in flavour and milder in taste. It tasted more like avocado water, which made it refreshing to use. You'll find that most Brazilians will eat it as a sweet dessert, adding sugar or honey and mash it up, which also made this the ideal choice for smoothies!
For this recipe, I used what was available in our markets which is the Hass style. If I were to have used the Brazilian avocados I tasted (similar to 'Hall' variety), it would have blended up and been a touch lighter on the palate, more refreshing. If you find these large avocados, which you probably can in Asian markets in our city, give them a try with this recipe, just slightly increase the Agave Syrup used.
The Cocktail – Cavonana
Alright all this fruit talk is getting me super hungry, and I'm feeling very good about my 'healthy' drink choice for the day. So lets get to the reason we're all here. All the ingredients I mentioned are great for blending, and with a bit of trial and error, I came up with this Brazilian Daiquiri that I am very proud of. The best part about it is…that it's so damn easy. It's almost a sin. But when it comes to blending cocktails, you don't have no complicated steps or techniques involved. THEREFORE this is the ultimate cocktail for beginners! It's different and unique, while still being insanely easy to throw together.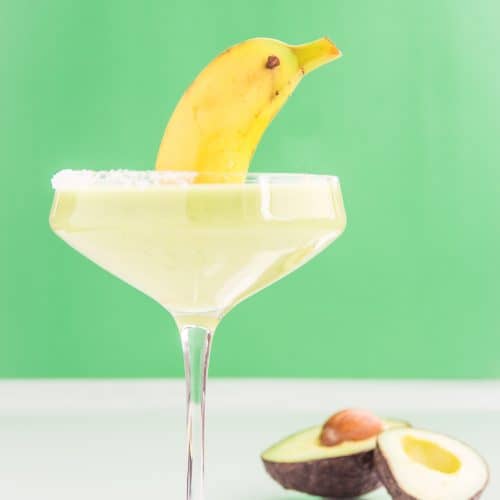 Cavonana - Brazilian Avocado and Banana Daiquiri
A Brazilian inspired Cachaca, Avocado and Banana Blended Daiquiri that you can enjoy all year round!
- Difficulty: Easy
Ingredients
2

oz

Cachaca

1.5

oz

Tempus Fugit Creme de Banane Liqueur

1.5

oz

Lime Juice

Freshly Squeezed

1

tbsp

Agave Syrup

1

Avocado

Preferably 'Hall' Variety - but Hass is good as well

1

handful of

Ice

1

tbsp

Course Salt

Optional for Rim
Instructions
Rim your Martini glass halfway with Salt *Optional

In a blender add all the ingredients (Do not include avocado skin and seed) and puree