I'm confident that if you've never had a big sweet tooth, then this will definitely turn you around. I've been wanting to create an 'adult' version of a banana split for some time now. The idea came to me back in the winter, but I try to keep things seasonal on Liquid Culture and blueberries are just way too expensive any other time of the year. Well, I finally got around to it and I'm really excited to show you how to put this all together. 
This takes a little bit of prep work, but in terms of putting this all together, it's very simple and easy. I would even create a whole table/station for this as a personalized "build your own split" bar.
So what are the components of this boozy banana split? Well we have a bit of whisky to showcase, and I go into detail of some other ways to booze it up. Let's start off with the banana. What I've done is cut off it's end and sliced it in half and tossed it in the oven with a sprinkle of sugar and cinnamon and broil. I would dress this up with some rum, but you don't need much. Just a sprinkle of some aged rum could do wonders, but that's all you need. Banana's already have a ton of liquid coming out of them when cooked. Then again, you don't HAVE to do this. I skipped on this part.
Once that is done and has slightly cooled, you can start to add the other components. I've baked my popcorn with the Bourbon Salted Caramel Sauce I created a while back. Again you don't have to necessarily add the bourbon to the caramel, but I want to show you some of the flexibilities involved.
The purpose of this split is actually to utilize a unique Canadian blueberry liqueur that I use in most of the ingredients. This liqueur is produced out of Quebec by distillers Sortilege which produce a maple whisky. They have a lineup of liqueurs with this base, but the one I'm using today is their Wild Blueberry Maple Whisky Liqueur. For my folks living in Ontario, you may be thinking this another bottle you can't get, but I assure you it's in our markets! If you've never had Sortilege before than you'll definitely want to get behind on this brand because they have a ton of unique Canadian flavours going on in their whisky! I tie in the whisky into a fresh homemade whipped cream I've made with a touch of citrus zest to balance.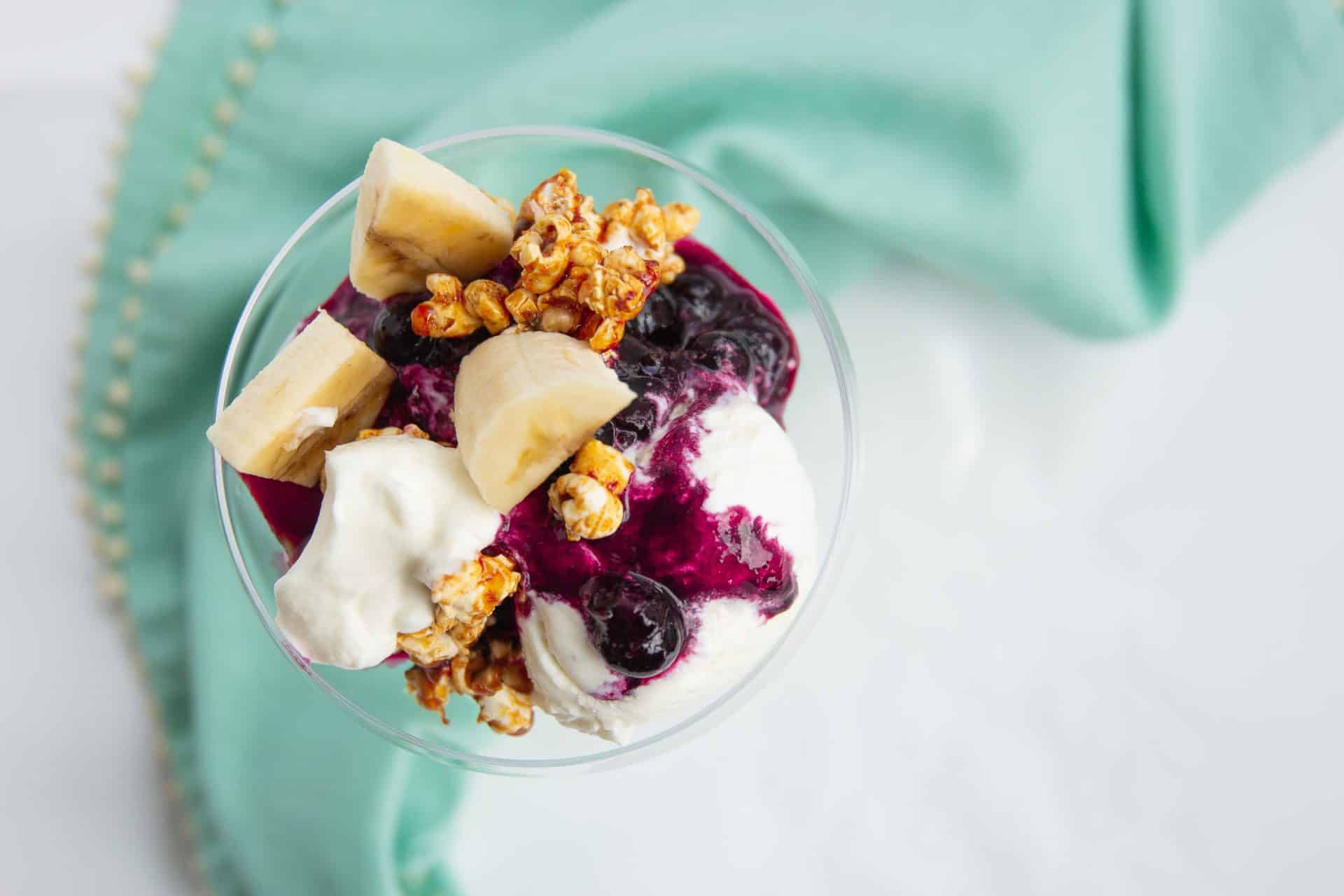 Now I would make some homemade Ice Cream, but I haven't invested in this kitchen aid attachment. Baby steps people. But you can bet I would do the same filling with the Ice cream by utilizing a sweet liqueur such as Creme de Casis or Tempus Fugit's unreal Creme de Banane. Again, another unfortunate product that isn't available in Ontario but you can bet when I do find it, I'll be buying the entire shelf.
There's a bit of everything here. From sweet and savoury, to bright and fresh. I know my party planners are definitely thinking about this banana split station as a real thing! Cheers!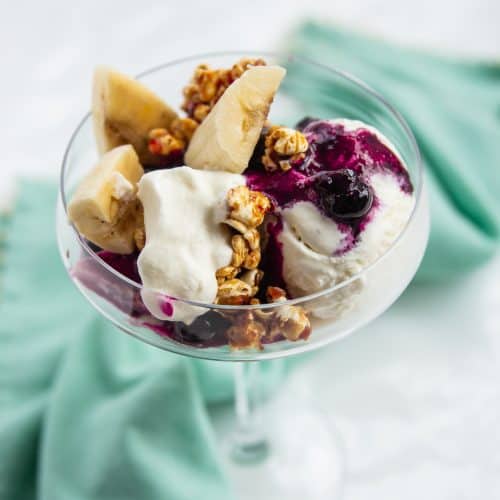 Blueberry and Banana Whisky Split
Providing you a unique Banana split highlighting Sortilege's Wild Blueberry and Maple Whisky Liqueur.
Difficulty: Easy
Ingredients
Blueberry Whisky Compote
1.75

cups

Fresh Blueberries

3

tbsp

Granulated Sugar

3

oz

Sortilege's Wild Blueberry Maple Whisky
Spiked Whipped Cream
1/2

cup

35% Liquid Cream

1.5

tsp

Confectioners Sugar

1.5

oz

Sortilege's Wild Blueberry Maple Whisky

1/2

Fresh Lemon

zest
Blueberry and Banana Whisky Split
4

Bananas

sliced in half

3

cups

Vanilla Ice Cream

Option to infuse with Sortilege Whisky

1

cup

Popcorn

1/2

cup

Spiced Whisky Salted Caramel Sauce

1

tbsp

Granulated Sugar

1

tsp

Cinnamon Powder
Instructions
Blueberry Whisky Compote
In a small saucepan over med-high heat, combine 3/4 cups of Blueberries and sugar. Stir this and crush the blueberries with a spoon or a small masher. Do this until it starts to gently pop and come to a light boil and syrup.

Take the pan from the oven and stir in the rest of the blueberries and pour the whisky. Stir until well combined and let this completely chill before use.
Spiked Whipped Cream
In a standup mixer, combine sugar and cream and whip on med-high for approximately 30 seconds before slowly adding the whisky and zesting the lemon peel.

Continue to whip the cream until it stiff peaks form (approximately 1-2 minutes)
Blueberry and Banana Whisky Split
Turn your oven on to broil. Combine the caramel sauce with the popcorn and mix until the sauce is thoroughly spread. Place on a baking sheet with parchment paper

Cut the ends of the bananas and slice horizontally (Keep the peel on). Sprinkle sugar and cinnamon over top. Place on a baking sheet and broil until the sugars slightly caramelize (2 minutes). You could also use a kitchen torch as you would with creme brulee to caramelize the sugars on top.

On a lower rack, place the caramel popcorn in the oven for approximately 2 minutes with the banana's.

Remove both items from the oven. Let the Bananas cool while you start to build your split. It is completely up to your preference, but the ratio used in the photos are 2 scoops of Vanilla Ice Cream, 1 heaping spoon of blueberry compote, 1 spoon full of caramelized popcorn, with a small dressing of spiked whipped cream. Make sure to remove skins from bananas.